Punters won't be able to refuse Dapto dogs promo from Neds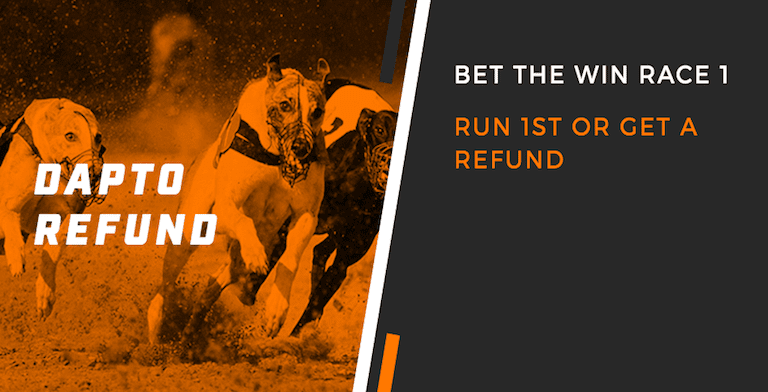 YOU may not have heard of Australia's newest bookmaker Neds.com.au – but if you plan on betting on tonight's Dapto dogs meeting it might pay dividends to get to know a bit more about the newest Aussie bookmaker.
Neds was launched by the former CEO of Ladbrokes Dean Shannon and – while the business has been registered in Australia since May 27 – the site only went live this month.
There is plenty to like for greyhound punters, with competitive odds on offer as well as some nice features on their site such as the money tracker and featured bets.
For those keen to have a flutter with Australia's newest bookie there is a great promo being run on the first race at Dapto tonight.
If you place a bet on any greyhound in the opening race of the meeting and it fails to win, Neds will refund your bet up to the value of $20 to have a crack at another race.
You really have nothing to lose – if your bet doesn't win, you get your money back! So what are you waiting for? Head on over and create a Neds.com.au – while you are there be sure to claim your lucrative matched bonus bet of $500.
One of the best things about this new bookie is that the wagering requirements aren't too harsh – you only need to turn over your bonus bet amount and winnings once before being able to withdraw them.
Dapto dogs – race one – 7.13pm
The short priced favourite in this race is likely to be Off The Leash from box seven, however considering we will get our money back if our bet loses we are going to look for a bit of extra value.

Melisandre (1) should be around the $3.50 mark and that looks a nice price to us. She is in a respected kennel and she went nicely in a performance trial here on August before running a handy third on debut at Nowra after finding trouble.

This is a big jump in distance, but she ran on nicely at her first start over the sprints and she gives every indication that the extra ground will suit.

Box one is always an advantage and to be fair this is a pretty steady line up – with a touch of good luck she should find the early lead and we reckon she will be far too good.


Notice: Trying to get property of non-object in /home/australianracinggreyhound/public_html/wpress/wp-content/plugins/Odds-Compare/Views/odds_table/odd_single.php on line 31

Notice: Trying to get property of non-object in /home/australianracinggreyhound/public_html/wpress/wp-content/plugins/Odds-Compare/Views/odds_table/odd_single.php on line 36

Notice: Trying to get property of non-object in /home/australianracinggreyhound/public_html/wpress/wp-content/plugins/Odds-Compare/Views/odds_table/odd_single.php on line 37

Notice: Trying to get property of non-object in /home/australianracinggreyhound/public_html/wpress/wp-content/plugins/Odds-Compare/Views/odds_table/odd_single.php on line 39

Notice: Trying to get property of non-object in /home/australianracinggreyhound/public_html/wpress/wp-content/plugins/Odds-Compare/Views/odds_table/odd_single.php on line 42

Warning: in_array() expects parameter 2 to be array, null given in /home/australianracinggreyhound/public_html/wpress/wp-content/plugins/Odds-Compare/lib/utility.php on line 97

Warning: in_array() expects parameter 2 to be array, null given in /home/australianracinggreyhound/public_html/wpress/wp-content/plugins/Odds-Compare/lib/utility.php on line 97

Warning: in_array() expects parameter 2 to be array, null given in /home/australianracinggreyhound/public_html/wpress/wp-content/plugins/Odds-Compare/lib/utility.php on line 97

Warning: in_array() expects parameter 2 to be array, null given in /home/australianracinggreyhound/public_html/wpress/wp-content/plugins/Odds-Compare/lib/utility.php on line 97

Warning: in_array() expects parameter 2 to be array, null given in /home/australianracinggreyhound/public_html/wpress/wp-content/plugins/Odds-Compare/lib/utility.php on line 97

Warning: in_array() expects parameter 2 to be array, null given in /home/australianracinggreyhound/public_html/wpress/wp-content/plugins/Odds-Compare/lib/utility.php on line 97

Warning: in_array() expects parameter 2 to be array, null given in /home/australianracinggreyhound/public_html/wpress/wp-content/plugins/Odds-Compare/lib/utility.php on line 97

Warning: in_array() expects parameter 2 to be array, null given in /home/australianracinggreyhound/public_html/wpress/wp-content/plugins/Odds-Compare/lib/utility.php on line 97

Warning: in_array() expects parameter 2 to be array, null given in /home/australianracinggreyhound/public_html/wpress/wp-content/plugins/Odds-Compare/lib/utility.php on line 97

Warning: in_array() expects parameter 2 to be array, null given in /home/australianracinggreyhound/public_html/wpress/wp-content/plugins/Odds-Compare/lib/utility.php on line 97

Warning: in_array() expects parameter 2 to be array, null given in /home/australianracinggreyhound/public_html/wpress/wp-content/plugins/Odds-Compare/lib/utility.php on line 97

Warning: in_array() expects parameter 2 to be array, null given in /home/australianracinggreyhound/public_html/wpress/wp-content/plugins/Odds-Compare/lib/utility.php on line 97

Warning: in_array() expects parameter 2 to be array, null given in /home/australianracinggreyhound/public_html/wpress/wp-content/plugins/Odds-Compare/lib/utility.php on line 97

Warning: in_array() expects parameter 2 to be array, null given in /home/australianracinggreyhound/public_html/wpress/wp-content/plugins/Odds-Compare/lib/utility.php on line 97

Warning: in_array() expects parameter 2 to be array, null given in /home/australianracinggreyhound/public_html/wpress/wp-content/plugins/Odds-Compare/lib/utility.php on line 97

Warning: in_array() expects parameter 2 to be array, null given in /home/australianracinggreyhound/public_html/wpress/wp-content/plugins/Odds-Compare/lib/utility.php on line 97

Warning: in_array() expects parameter 2 to be array, null given in /home/australianracinggreyhound/public_html/wpress/wp-content/plugins/Odds-Compare/lib/utility.php on line 97

Warning: in_array() expects parameter 2 to be array, null given in /home/australianracinggreyhound/public_html/wpress/wp-content/plugins/Odds-Compare/lib/utility.php on line 97

Warning: in_array() expects parameter 2 to be array, null given in /home/australianracinggreyhound/public_html/wpress/wp-content/plugins/Odds-Compare/lib/utility.php on line 97

Warning: in_array() expects parameter 2 to be array, null given in /home/australianracinggreyhound/public_html/wpress/wp-content/plugins/Odds-Compare/lib/utility.php on line 97

Warning: in_array() expects parameter 2 to be array, null given in /home/australianracinggreyhound/public_html/wpress/wp-content/plugins/Odds-Compare/lib/utility.php on line 97

Warning: in_array() expects parameter 2 to be array, null given in /home/australianracinggreyhound/public_html/wpress/wp-content/plugins/Odds-Compare/lib/utility.php on line 97

Warning: in_array() expects parameter 2 to be array, null given in /home/australianracinggreyhound/public_html/wpress/wp-content/plugins/Odds-Compare/lib/utility.php on line 97

Warning: in_array() expects parameter 2 to be array, null given in /home/australianracinggreyhound/public_html/wpress/wp-content/plugins/Odds-Compare/lib/utility.php on line 97

Warning: in_array() expects parameter 2 to be array, null given in /home/australianracinggreyhound/public_html/wpress/wp-content/plugins/Odds-Compare/lib/utility.php on line 97

Warning: in_array() expects parameter 2 to be array, null given in /home/australianracinggreyhound/public_html/wpress/wp-content/plugins/Odds-Compare/lib/utility.php on line 97

Warning: in_array() expects parameter 2 to be array, null given in /home/australianracinggreyhound/public_html/wpress/wp-content/plugins/Odds-Compare/lib/utility.php on line 97

Warning: in_array() expects parameter 2 to be array, null given in /home/australianracinggreyhound/public_html/wpress/wp-content/plugins/Odds-Compare/lib/utility.php on line 97

Warning: in_array() expects parameter 2 to be array, null given in /home/australianracinggreyhound/public_html/wpress/wp-content/plugins/Odds-Compare/lib/utility.php on line 97

Warning: in_array() expects parameter 2 to be array, null given in /home/australianracinggreyhound/public_html/wpress/wp-content/plugins/Odds-Compare/lib/utility.php on line 97

Warning: in_array() expects parameter 2 to be array, null given in /home/australianracinggreyhound/public_html/wpress/wp-content/plugins/Odds-Compare/lib/utility.php on line 97

Warning: in_array() expects parameter 2 to be array, null given in /home/australianracinggreyhound/public_html/wpress/wp-content/plugins/Odds-Compare/lib/utility.php on line 97

Warning: in_array() expects parameter 2 to be array, null given in /home/australianracinggreyhound/public_html/wpress/wp-content/plugins/Odds-Compare/lib/utility.php on line 97

Warning: in_array() expects parameter 2 to be array, null given in /home/australianracinggreyhound/public_html/wpress/wp-content/plugins/Odds-Compare/lib/utility.php on line 97

Warning: in_array() expects parameter 2 to be array, null given in /home/australianracinggreyhound/public_html/wpress/wp-content/plugins/Odds-Compare/lib/utility.php on line 97

Warning: in_array() expects parameter 2 to be array, null given in /home/australianracinggreyhound/public_html/wpress/wp-content/plugins/Odds-Compare/lib/utility.php on line 97

Warning: in_array() expects parameter 2 to be array, null given in /home/australianracinggreyhound/public_html/wpress/wp-content/plugins/Odds-Compare/lib/utility.php on line 97

Warning: in_array() expects parameter 2 to be array, null given in /home/australianracinggreyhound/public_html/wpress/wp-content/plugins/Odds-Compare/lib/utility.php on line 97

Warning: in_array() expects parameter 2 to be array, null given in /home/australianracinggreyhound/public_html/wpress/wp-content/plugins/Odds-Compare/lib/utility.php on line 97

Warning: in_array() expects parameter 2 to be array, null given in /home/australianracinggreyhound/public_html/wpress/wp-content/plugins/Odds-Compare/lib/utility.php on line 97

Warning: in_array() expects parameter 2 to be array, null given in /home/australianracinggreyhound/public_html/wpress/wp-content/plugins/Odds-Compare/lib/utility.php on line 97

Warning: in_array() expects parameter 2 to be array, null given in /home/australianracinggreyhound/public_html/wpress/wp-content/plugins/Odds-Compare/lib/utility.php on line 97

Warning: in_array() expects parameter 2 to be array, null given in /home/australianracinggreyhound/public_html/wpress/wp-content/plugins/Odds-Compare/lib/utility.php on line 97

Warning: in_array() expects parameter 2 to be array, null given in /home/australianracinggreyhound/public_html/wpress/wp-content/plugins/Odds-Compare/lib/utility.php on line 97

Warning: in_array() expects parameter 2 to be array, null given in /home/australianracinggreyhound/public_html/wpress/wp-content/plugins/Odds-Compare/lib/utility.php on line 97

Warning: in_array() expects parameter 2 to be array, null given in /home/australianracinggreyhound/public_html/wpress/wp-content/plugins/Odds-Compare/lib/utility.php on line 97

Warning: in_array() expects parameter 2 to be array, null given in /home/australianracinggreyhound/public_html/wpress/wp-content/plugins/Odds-Compare/lib/utility.php on line 97

Warning: in_array() expects parameter 2 to be array, null given in /home/australianracinggreyhound/public_html/wpress/wp-content/plugins/Odds-Compare/lib/utility.php on line 97

Warning: in_array() expects parameter 2 to be array, null given in /home/australianracinggreyhound/public_html/wpress/wp-content/plugins/Odds-Compare/lib/utility.php on line 97

Warning: in_array() expects parameter 2 to be array, null given in /home/australianracinggreyhound/public_html/wpress/wp-content/plugins/Odds-Compare/lib/utility.php on line 97

Warning: in_array() expects parameter 2 to be array, null given in /home/australianracinggreyhound/public_html/wpress/wp-content/plugins/Odds-Compare/lib/utility.php on line 97

Warning: in_array() expects parameter 2 to be array, null given in /home/australianracinggreyhound/public_html/wpress/wp-content/plugins/Odds-Compare/lib/utility.php on line 97

Warning: in_array() expects parameter 2 to be array, null given in /home/australianracinggreyhound/public_html/wpress/wp-content/plugins/Odds-Compare/lib/utility.php on line 97

Warning: in_array() expects parameter 2 to be array, null given in /home/australianracinggreyhound/public_html/wpress/wp-content/plugins/Odds-Compare/lib/utility.php on line 97

Warning: in_array() expects parameter 2 to be array, null given in /home/australianracinggreyhound/public_html/wpress/wp-content/plugins/Odds-Compare/lib/utility.php on line 97

Warning: in_array() expects parameter 2 to be array, null given in /home/australianracinggreyhound/public_html/wpress/wp-content/plugins/Odds-Compare/lib/utility.php on line 97

Warning: in_array() expects parameter 2 to be array, null given in /home/australianracinggreyhound/public_html/wpress/wp-content/plugins/Odds-Compare/lib/utility.php on line 97

Warning: in_array() expects parameter 2 to be array, null given in /home/australianracinggreyhound/public_html/wpress/wp-content/plugins/Odds-Compare/lib/utility.php on line 97

Warning: in_array() expects parameter 2 to be array, null given in /home/australianracinggreyhound/public_html/wpress/wp-content/plugins/Odds-Compare/lib/utility.php on line 97

Warning: in_array() expects parameter 2 to be array, null given in /home/australianracinggreyhound/public_html/wpress/wp-content/plugins/Odds-Compare/lib/utility.php on line 97

Warning: in_array() expects parameter 2 to be array, null given in /home/australianracinggreyhound/public_html/wpress/wp-content/plugins/Odds-Compare/lib/utility.php on line 97

Warning: in_array() expects parameter 2 to be array, null given in /home/australianracinggreyhound/public_html/wpress/wp-content/plugins/Odds-Compare/lib/utility.php on line 97

Warning: in_array() expects parameter 2 to be array, null given in /home/australianracinggreyhound/public_html/wpress/wp-content/plugins/Odds-Compare/lib/utility.php on line 97

Warning: in_array() expects parameter 2 to be array, null given in /home/australianracinggreyhound/public_html/wpress/wp-content/plugins/Odds-Compare/lib/utility.php on line 97

Warning: in_array() expects parameter 2 to be array, null given in /home/australianracinggreyhound/public_html/wpress/wp-content/plugins/Odds-Compare/lib/utility.php on line 97

Warning: in_array() expects parameter 2 to be array, null given in /home/australianracinggreyhound/public_html/wpress/wp-content/plugins/Odds-Compare/lib/utility.php on line 97

Warning: in_array() expects parameter 2 to be array, null given in /home/australianracinggreyhound/public_html/wpress/wp-content/plugins/Odds-Compare/lib/utility.php on line 97

Warning: in_array() expects parameter 2 to be array, null given in /home/australianracinggreyhound/public_html/wpress/wp-content/plugins/Odds-Compare/lib/utility.php on line 97

Warning: in_array() expects parameter 2 to be array, null given in /home/australianracinggreyhound/public_html/wpress/wp-content/plugins/Odds-Compare/lib/utility.php on line 97

Warning: in_array() expects parameter 2 to be array, null given in /home/australianracinggreyhound/public_html/wpress/wp-content/plugins/Odds-Compare/lib/utility.php on line 97

Warning: in_array() expects parameter 2 to be array, null given in /home/australianracinggreyhound/public_html/wpress/wp-content/plugins/Odds-Compare/lib/utility.php on line 97

Warning: in_array() expects parameter 2 to be array, null given in /home/australianracinggreyhound/public_html/wpress/wp-content/plugins/Odds-Compare/lib/utility.php on line 97

Warning: in_array() expects parameter 2 to be array, null given in /home/australianracinggreyhound/public_html/wpress/wp-content/plugins/Odds-Compare/lib/utility.php on line 97

Warning: in_array() expects parameter 2 to be array, null given in /home/australianracinggreyhound/public_html/wpress/wp-content/plugins/Odds-Compare/lib/utility.php on line 97

Warning: in_array() expects parameter 2 to be array, null given in /home/australianracinggreyhound/public_html/wpress/wp-content/plugins/Odds-Compare/lib/utility.php on line 97

Warning: in_array() expects parameter 2 to be array, null given in /home/australianracinggreyhound/public_html/wpress/wp-content/plugins/Odds-Compare/lib/utility.php on line 97

Warning: in_array() expects parameter 2 to be array, null given in /home/australianracinggreyhound/public_html/wpress/wp-content/plugins/Odds-Compare/lib/utility.php on line 97

Warning: in_array() expects parameter 2 to be array, null given in /home/australianracinggreyhound/public_html/wpress/wp-content/plugins/Odds-Compare/lib/utility.php on line 97

Warning: in_array() expects parameter 2 to be array, null given in /home/australianracinggreyhound/public_html/wpress/wp-content/plugins/Odds-Compare/lib/utility.php on line 97

Warning: in_array() expects parameter 2 to be array, null given in /home/australianracinggreyhound/public_html/wpress/wp-content/plugins/Odds-Compare/lib/utility.php on line 97

Warning: in_array() expects parameter 2 to be array, null given in /home/australianracinggreyhound/public_html/wpress/wp-content/plugins/Odds-Compare/lib/utility.php on line 97

Warning: in_array() expects parameter 2 to be array, null given in /home/australianracinggreyhound/public_html/wpress/wp-content/plugins/Odds-Compare/lib/utility.php on line 97

Warning: in_array() expects parameter 2 to be array, null given in /home/australianracinggreyhound/public_html/wpress/wp-content/plugins/Odds-Compare/lib/utility.php on line 97

Warning: in_array() expects parameter 2 to be array, null given in /home/australianracinggreyhound/public_html/wpress/wp-content/plugins/Odds-Compare/lib/utility.php on line 97

Warning: in_array() expects parameter 2 to be array, null given in /home/australianracinggreyhound/public_html/wpress/wp-content/plugins/Odds-Compare/lib/utility.php on line 97

Warning: in_array() expects parameter 2 to be array, null given in /home/australianracinggreyhound/public_html/wpress/wp-content/plugins/Odds-Compare/lib/utility.php on line 97

Warning: in_array() expects parameter 2 to be array, null given in /home/australianracinggreyhound/public_html/wpress/wp-content/plugins/Odds-Compare/lib/utility.php on line 97

Warning: in_array() expects parameter 2 to be array, null given in /home/australianracinggreyhound/public_html/wpress/wp-content/plugins/Odds-Compare/lib/utility.php on line 97

Warning: in_array() expects parameter 2 to be array, null given in /home/australianracinggreyhound/public_html/wpress/wp-content/plugins/Odds-Compare/lib/utility.php on line 97

Warning: in_array() expects parameter 2 to be array, null given in /home/australianracinggreyhound/public_html/wpress/wp-content/plugins/Odds-Compare/lib/utility.php on line 97

Notice: Trying to get property of non-object in /home/australianracinggreyhound/public_html/wpress/wp-content/plugins/Odds-Compare/Views/odds_table/odd_single.php on line 57


Notice: Trying to get property of non-object in /home/australianracinggreyhound/public_html/wpress/wp-content/plugins/Odds-Compare/Views/odds_table/odd_single.php on line 67
- Race

Notice: Trying to get property of non-object in /home/australianracinggreyhound/public_html/wpress/wp-content/plugins/Odds-Compare/Views/odds_table/odd_single.php on line 68


Notice: Trying to get property of non-object in /home/australianracinggreyhound/public_html/wpress/wp-content/plugins/Odds-Compare/Views/odds_table/odd_single.php on line 69

Class:
Notice: Trying to get property of non-object in /home/australianracinggreyhound/public_html/wpress/wp-content/plugins/Odds-Compare/Views/odds_table/odd_single.php on line 70


Notice: Trying to get property of non-object in /home/australianracinggreyhound/public_html/wpress/wp-content/plugins/Odds-Compare/Views/odds_table/odd_single.php on line 72

Track Rating:
Notice: Trying to get property of non-object in /home/australianracinggreyhound/public_html/wpress/wp-content/plugins/Odds-Compare/Views/odds_table/odd_single.php on line 73


Notice: Trying to get property of non-object in /home/australianracinggreyhound/public_html/wpress/wp-content/plugins/Odds-Compare/Views/odds_table/odd_single.php on line 75
10:00am

Notice: Trying to get property of non-object in /home/australianracinggreyhound/public_html/wpress/wp-content/plugins/Odds-Compare/Views/odds_table/odd_single.php on line 102


Notice: Trying to get property of non-object in /home/australianracinggreyhound/public_html/wpress/wp-content/plugins/Odds-Compare/Views/odds_table/odd_single.php on line 102
m

Notice: Trying to get property of non-object in /home/australianracinggreyhound/public_html/wpress/wp-content/plugins/Odds-Compare/Views/odds_table/odd_single.php on line 105
m

Notice: Trying to get property of non-object in /home/australianracinggreyhound/public_html/wpress/wp-content/plugins/Odds-Compare/Views/odds_table/odd_single.php on line 107
Monday 10:35pm

Notice: Trying to get property of non-object in /home/australianracinggreyhound/public_html/wpress/wp-content/plugins/Odds-Compare/Views/odds_table/odd_rows_section.php on line 10

Warning: Invalid argument supplied for foreach() in /home/australianracinggreyhound/public_html/wpress/wp-content/plugins/Odds-Compare/Views/odds_table/odd_rows_section.php on line 10