Sandown Cup, Sapphire Crown & Harrison Dawson tips & best odds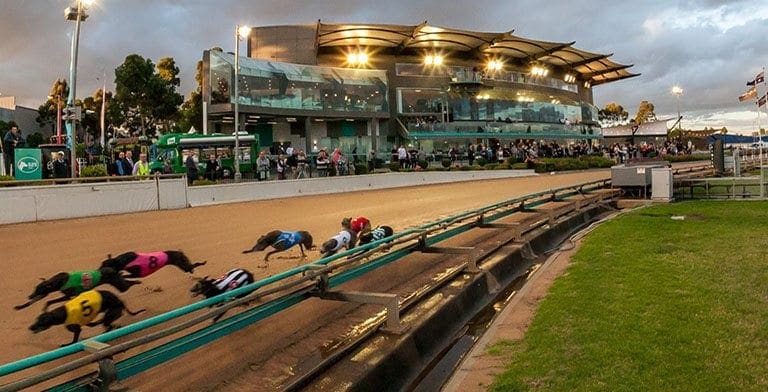 ALL eyes will be on Sandown Park this Thursday night for the running of three group 1 events, including the world's richest staying race, the Group 1 Sandown Cup (715m).

The current favourite for the $175,000 race is champion stayer Burn One Down (box one), which will be looking for his second group race win since returning from a spell. However, it will be no easy task for the son of Buck Fever and Fancy Jaffa, facing a field including triple group 1 winners Fanta Bale (box six) and Dundee Osprey (box eight) as well as Super Stayers hero Trip To Eden (box five) and the in-form Dundee Calypso (box seven).

Also set to be run and won on Thursday is the Group 1 Sapphire Crown, which has attracted some of the best bitches in training in pursuit of the $100,000 winner's cheque. Dual group 1 winner Striker Light (box three) is likely to start the favourite – with a victory set to elevate her career earnings above half a million dollars.

The boys will also get their chance for a shot at group 1 glory when the lids fly open for the Harrison-Dawson. The feature appears to be at the mercy of star sprinter Bewildering (box one), which comes into the race on the back of superb wins in the Group 2 Warrnambool Classic and the Group 3 Bill Collins Speed Star.

Fancy a bet this Thursday night? Get the best value for your money by claiming free bet offers available to readers of Australian Racing Greyhound.


Notice: Trying to get property of non-object in /home/australianracinggreyhound/public_html/wpress/wp-content/plugins/Odds-Compare/Views/odds_table/odd_single.php on line 31

Notice: Trying to get property of non-object in /home/australianracinggreyhound/public_html/wpress/wp-content/plugins/Odds-Compare/Views/odds_table/odd_single.php on line 36

Notice: Trying to get property of non-object in /home/australianracinggreyhound/public_html/wpress/wp-content/plugins/Odds-Compare/Views/odds_table/odd_single.php on line 37

Notice: Trying to get property of non-object in /home/australianracinggreyhound/public_html/wpress/wp-content/plugins/Odds-Compare/Views/odds_table/odd_single.php on line 39

Notice: Trying to get property of non-object in /home/australianracinggreyhound/public_html/wpress/wp-content/plugins/Odds-Compare/Views/odds_table/odd_single.php on line 42

Notice: Trying to get property of non-object in /home/australianracinggreyhound/public_html/wpress/wp-content/plugins/Odds-Compare/Views/odds_table/odd_single.php on line 57


Notice: Trying to get property of non-object in /home/australianracinggreyhound/public_html/wpress/wp-content/plugins/Odds-Compare/Views/odds_table/odd_single.php on line 67
- Race

Notice: Trying to get property of non-object in /home/australianracinggreyhound/public_html/wpress/wp-content/plugins/Odds-Compare/Views/odds_table/odd_single.php on line 68


Notice: Trying to get property of non-object in /home/australianracinggreyhound/public_html/wpress/wp-content/plugins/Odds-Compare/Views/odds_table/odd_single.php on line 69

Class:
Notice: Trying to get property of non-object in /home/australianracinggreyhound/public_html/wpress/wp-content/plugins/Odds-Compare/Views/odds_table/odd_single.php on line 70


Notice: Trying to get property of non-object in /home/australianracinggreyhound/public_html/wpress/wp-content/plugins/Odds-Compare/Views/odds_table/odd_single.php on line 72

Track Rating:
Notice: Trying to get property of non-object in /home/australianracinggreyhound/public_html/wpress/wp-content/plugins/Odds-Compare/Views/odds_table/odd_single.php on line 73


Notice: Trying to get property of non-object in /home/australianracinggreyhound/public_html/wpress/wp-content/plugins/Odds-Compare/Views/odds_table/odd_single.php on line 75
10:00am

Notice: Trying to get property of non-object in /home/australianracinggreyhound/public_html/wpress/wp-content/plugins/Odds-Compare/Views/odds_table/odd_single.php on line 102


Notice: Trying to get property of non-object in /home/australianracinggreyhound/public_html/wpress/wp-content/plugins/Odds-Compare/Views/odds_table/odd_single.php on line 102
m

Notice: Trying to get property of non-object in /home/australianracinggreyhound/public_html/wpress/wp-content/plugins/Odds-Compare/Views/odds_table/odd_single.php on line 105
m

Notice: Trying to get property of non-object in /home/australianracinggreyhound/public_html/wpress/wp-content/plugins/Odds-Compare/Views/odds_table/odd_single.php on line 107
Wednesday 10:56pm
$200

$140

$500

$150

$501

$100

$502


Notice: Trying to get property of non-object in /home/australianracinggreyhound/public_html/wpress/wp-content/plugins/Odds-Compare/Views/odds_table/odd_rows_section.php on line 10

Warning: Invalid argument supplied for foreach() in /home/australianracinggreyhound/public_html/wpress/wp-content/plugins/Odds-Compare/Views/odds_table/odd_rows_section.php on line 10


BEWILDERING (1) has really stepped up in recent weeks with more race experience. He went undefeated throughout the Group 2 Warrnambool Classic series and followed that performance with a scintillating victory in the Group 3 Bill Collins Speed Star earlier this month. Last week he once again asserted his dominance, leading all the way to win his Harrison-Dawson heat in a fast 29.18. If he can begin well from the inside, he should be fast enough to take the early lead and if he finds the bunny there isn't a dog in this race capable of running him down.

JIMMY NEWOB (7) generally shows good early toe and if he can make his way across from the wide draw he is right in contention. He was far from disgraced when finishing second behind Bewildering in his heat last week and if the favourite makes any mistakes on Thursday night he looks the greyhound ready to capitalise.

BUBBLE GUPPY (2) is sure to improve off his third here last week which was his first start over the track and trip. Drawn in box two which is ideal – he should be able to slot in on the fence behind Bewildering and he can run a cheeky race at odds.

UNLAWFUL ENTRY (6) is one of the most consistent greyhounds in training and he can never be left out of contention. Probably not capable of running sub 29 like he once was – but he is drawn well off the track and can figure in the finish.


Notice: Trying to get property of non-object in /home/australianracinggreyhound/public_html/wpress/wp-content/plugins/Odds-Compare/Views/odds_table/odd_single.php on line 31

Notice: Trying to get property of non-object in /home/australianracinggreyhound/public_html/wpress/wp-content/plugins/Odds-Compare/Views/odds_table/odd_single.php on line 36

Notice: Trying to get property of non-object in /home/australianracinggreyhound/public_html/wpress/wp-content/plugins/Odds-Compare/Views/odds_table/odd_single.php on line 37

Notice: Trying to get property of non-object in /home/australianracinggreyhound/public_html/wpress/wp-content/plugins/Odds-Compare/Views/odds_table/odd_single.php on line 39

Notice: Trying to get property of non-object in /home/australianracinggreyhound/public_html/wpress/wp-content/plugins/Odds-Compare/Views/odds_table/odd_single.php on line 42

Notice: Trying to get property of non-object in /home/australianracinggreyhound/public_html/wpress/wp-content/plugins/Odds-Compare/Views/odds_table/odd_single.php on line 57


Notice: Trying to get property of non-object in /home/australianracinggreyhound/public_html/wpress/wp-content/plugins/Odds-Compare/Views/odds_table/odd_single.php on line 67
- Race

Notice: Trying to get property of non-object in /home/australianracinggreyhound/public_html/wpress/wp-content/plugins/Odds-Compare/Views/odds_table/odd_single.php on line 68


Notice: Trying to get property of non-object in /home/australianracinggreyhound/public_html/wpress/wp-content/plugins/Odds-Compare/Views/odds_table/odd_single.php on line 69

Class:
Notice: Trying to get property of non-object in /home/australianracinggreyhound/public_html/wpress/wp-content/plugins/Odds-Compare/Views/odds_table/odd_single.php on line 70


Notice: Trying to get property of non-object in /home/australianracinggreyhound/public_html/wpress/wp-content/plugins/Odds-Compare/Views/odds_table/odd_single.php on line 72

Track Rating:
Notice: Trying to get property of non-object in /home/australianracinggreyhound/public_html/wpress/wp-content/plugins/Odds-Compare/Views/odds_table/odd_single.php on line 73


Notice: Trying to get property of non-object in /home/australianracinggreyhound/public_html/wpress/wp-content/plugins/Odds-Compare/Views/odds_table/odd_single.php on line 75
10:00am

Notice: Trying to get property of non-object in /home/australianracinggreyhound/public_html/wpress/wp-content/plugins/Odds-Compare/Views/odds_table/odd_single.php on line 102


Notice: Trying to get property of non-object in /home/australianracinggreyhound/public_html/wpress/wp-content/plugins/Odds-Compare/Views/odds_table/odd_single.php on line 102
m

Notice: Trying to get property of non-object in /home/australianracinggreyhound/public_html/wpress/wp-content/plugins/Odds-Compare/Views/odds_table/odd_single.php on line 105
m

Notice: Trying to get property of non-object in /home/australianracinggreyhound/public_html/wpress/wp-content/plugins/Odds-Compare/Views/odds_table/odd_single.php on line 107
Wednesday 10:56pm
$200

$140

$500

$150

$501

$100

$502


Notice: Trying to get property of non-object in /home/australianracinggreyhound/public_html/wpress/wp-content/plugins/Odds-Compare/Views/odds_table/odd_rows_section.php on line 10

Warning: Invalid argument supplied for foreach() in /home/australianracinggreyhound/public_html/wpress/wp-content/plugins/Odds-Compare/Views/odds_table/odd_rows_section.php on line 10


STRIKER LIGHT (3) got a bump after the start last week which took her momentum – from there she did a good job to qualify for the final behind the talented FLYRITE (5). She is more suited in box three this week and she should get the chance to find the front in the early stages. The Brett Bravo-trained flyer is probably capable of getting down around the 29.25 mark and if she happens to do that on Thursday it is hard to see her being beaten.

MAJA MAHI MAHI (2) was gallant in defeat last week and should strip fitter for the run which was her first '500' since last November. Box two is ideal and she represents value.

UP HILL JILL (5) is ultra consistent and she is aiming to break through for a deserved group 1 win in this race. Box five does her no favours but she generally makes her own luck out in front and she is capable of running fast time.

PEPPER FIRE (6) is a top class WA greyhound and she has great early speed. However, this race is packed with pace so she will need luck getting to the front early which she probably needs to do in order to win.


Notice: Trying to get property of non-object in /home/australianracinggreyhound/public_html/wpress/wp-content/plugins/Odds-Compare/Views/odds_table/odd_single.php on line 31

Notice: Trying to get property of non-object in /home/australianracinggreyhound/public_html/wpress/wp-content/plugins/Odds-Compare/Views/odds_table/odd_single.php on line 36

Notice: Trying to get property of non-object in /home/australianracinggreyhound/public_html/wpress/wp-content/plugins/Odds-Compare/Views/odds_table/odd_single.php on line 37

Notice: Trying to get property of non-object in /home/australianracinggreyhound/public_html/wpress/wp-content/plugins/Odds-Compare/Views/odds_table/odd_single.php on line 39

Notice: Trying to get property of non-object in /home/australianracinggreyhound/public_html/wpress/wp-content/plugins/Odds-Compare/Views/odds_table/odd_single.php on line 42

Notice: Trying to get property of non-object in /home/australianracinggreyhound/public_html/wpress/wp-content/plugins/Odds-Compare/Views/odds_table/odd_single.php on line 57


Notice: Trying to get property of non-object in /home/australianracinggreyhound/public_html/wpress/wp-content/plugins/Odds-Compare/Views/odds_table/odd_single.php on line 67
- Race

Notice: Trying to get property of non-object in /home/australianracinggreyhound/public_html/wpress/wp-content/plugins/Odds-Compare/Views/odds_table/odd_single.php on line 68


Notice: Trying to get property of non-object in /home/australianracinggreyhound/public_html/wpress/wp-content/plugins/Odds-Compare/Views/odds_table/odd_single.php on line 69

Class:
Notice: Trying to get property of non-object in /home/australianracinggreyhound/public_html/wpress/wp-content/plugins/Odds-Compare/Views/odds_table/odd_single.php on line 70


Notice: Trying to get property of non-object in /home/australianracinggreyhound/public_html/wpress/wp-content/plugins/Odds-Compare/Views/odds_table/odd_single.php on line 72

Track Rating:
Notice: Trying to get property of non-object in /home/australianracinggreyhound/public_html/wpress/wp-content/plugins/Odds-Compare/Views/odds_table/odd_single.php on line 73


Notice: Trying to get property of non-object in /home/australianracinggreyhound/public_html/wpress/wp-content/plugins/Odds-Compare/Views/odds_table/odd_single.php on line 75
10:00am

Notice: Trying to get property of non-object in /home/australianracinggreyhound/public_html/wpress/wp-content/plugins/Odds-Compare/Views/odds_table/odd_single.php on line 102


Notice: Trying to get property of non-object in /home/australianracinggreyhound/public_html/wpress/wp-content/plugins/Odds-Compare/Views/odds_table/odd_single.php on line 102
m

Notice: Trying to get property of non-object in /home/australianracinggreyhound/public_html/wpress/wp-content/plugins/Odds-Compare/Views/odds_table/odd_single.php on line 105
m

Notice: Trying to get property of non-object in /home/australianracinggreyhound/public_html/wpress/wp-content/plugins/Odds-Compare/Views/odds_table/odd_single.php on line 107
Wednesday 10:56pm
$200
$140
$500
$150
$501
$100
$502

Notice: Trying to get property of non-object in /home/australianracinggreyhound/public_html/wpress/wp-content/plugins/Odds-Compare/Views/odds_table/odd_rows_section.php on line 10

Warning: Invalid argument supplied for foreach() in /home/australianracinggreyhound/public_html/wpress/wp-content/plugins/Odds-Compare/Views/odds_table/odd_rows_section.php on line 10

BURN ONE DOWN (1) is the best stayer in the country which is why he is the odds on favourite with bookmakers. Box one should allow him to miss early interference and settle back in the pack – from there he is going to need luck but he is certainly the one to beat. Small query on how he will back up from last week which was his first 700 since March – but he is a naturally strong greyhound so I can't see it being a major issue.
MIDNIGHT ELSA (4) is a kennel mate to the favourite and she was having just her fifth start when running second behind Fanta Bale last week. She came into that race following a short back up when winning at Sale over 650m just four days prior, so should be fitter and a bit fresher with a full week to recover from the run. Looks poised to get a nice run into the race on the outside of the speedy TEDDY MONELLI (2) and can run a cheeky race.
FANTA BALE (5) is all class and she is searching for her fourth group 1 in this race. Has the speed to get up near the lead, however she won't want to work too hard in the early stages or she might pay for it at the end.
DUNDEE CALYPSO (7) is racing in career best form and must be included in the multiples.