Sure To Excite one to watch ahead of Northern Districts Cup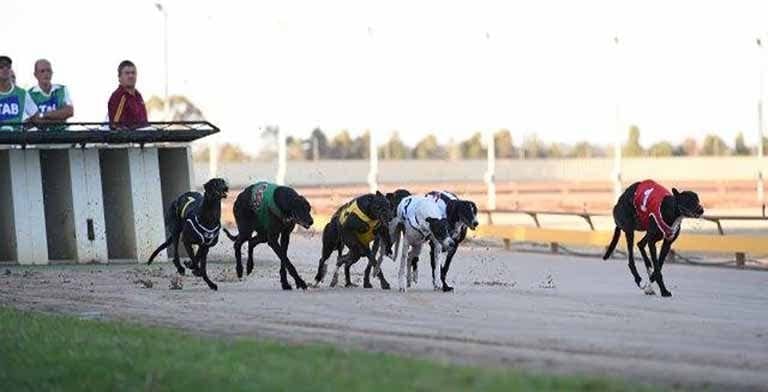 SURE To Excite appears poised to live up to his name this weekend when the lids fly open for the Listed Northern Districts Cup (450m) at Shepparton.
The black dog qualified for the $25,000 to the winner feature with a breathtaking 25.09 performance in his heat last week – making the August 2015 whelp the fastest qualifier.
Trainer Graham James said he is happy with his promising youngster headed into the final, open to Victorian bred greyhounds only.
"He has pulled up super so he is ready to go this week," James told Australian Racing Greyhound.
"I was really happy with his heat run – he has only ever drawn middle and wide boxes throughout his career so I wasn't overly concerned about box five in his heat because he tends to run a pretty straight line.
"I knew there was a bit of speed in the three, but I thought he handled himself well and he got to the line nice and strong – it's probably the best he has run home so far."
Sure To Excite will exit box eight in the final, with James pleased with the wide alley.
He will meet a talented field including the unbeaten Aston Dinnigan (box one), and speed machine Master Riot (box five), but looks capable of matching motors.
"In this type of race box one is always an advantage, but because he has never drawn the inside now was probably not going to be the best week for him to have drawn on that side of the track," James said.
"I am happy with box eight – he has shown he can handle it in the past.
"He boxes ok but he certainly isn't a lid pinger – however once he hits the ground he can certainly move.
"There are four or five dogs in the race which can run about a 6.50 first split and he is one of them, so I expect him to be right there with them.
"From there we are hoping for a little bit of luck around the first turn where he can show his mid race pace.
"The best thing about him is that he is pretty smart – he knows how to work around them so hopefully that's what he can do this week."

James said there is plenty of upside to the son of Goodesy and Paua To Excite and is looking forward to seeing what his future holds.

"He is a smart young pup and it is worth remembering that he is only 20 months old so he is the youngest going into the race," he said.

"He has got exceptional mid-race speed which really puts him in the race this week and he has only had the seven starts so he is going to get stronger as he matures and keeps racing.

"I think we will probably see the best of him in a few months time when he hits the two turns.

"At this stage he is showing plenty of ability – the main thing for us now is to make sure we keep him sound and that he makes it through this week safe."

A winner of five from seven, a victory on Saturday night would take Sure To Excite's career earnings above the $30,000 mark.

However, it appears as though this race could just be the beginning of an exciting career for the 35-kilogram powerhouse, bred and owned by the James family.

"We bred him ourselves so that makes it even more special to be in the final with him – it would be fantastic to win," James said.

"Particularly for the dog – to come into this race at such an early stage of his career – it would just set him up nicely for the next 12-18 months of his career."

The Listed Northern Districts Cup is race eight at Shepparton on Saturday night and is set to jump at 8.02pm.


Notice: Trying to get property of non-object in /home/australianracinggreyhound/public_html/wpress/wp-content/plugins/Odds-Compare/Views/odds_table/odd_single.php on line 31

Notice: Trying to get property of non-object in /home/australianracinggreyhound/public_html/wpress/wp-content/plugins/Odds-Compare/Views/odds_table/odd_single.php on line 36

Notice: Trying to get property of non-object in /home/australianracinggreyhound/public_html/wpress/wp-content/plugins/Odds-Compare/Views/odds_table/odd_single.php on line 37

Notice: Trying to get property of non-object in /home/australianracinggreyhound/public_html/wpress/wp-content/plugins/Odds-Compare/Views/odds_table/odd_single.php on line 39

Notice: Trying to get property of non-object in /home/australianracinggreyhound/public_html/wpress/wp-content/plugins/Odds-Compare/Views/odds_table/odd_single.php on line 42

Notice: Trying to get property of non-object in /home/australianracinggreyhound/public_html/wpress/wp-content/plugins/Odds-Compare/Views/odds_table/odd_single.php on line 57


Notice: Trying to get property of non-object in /home/australianracinggreyhound/public_html/wpress/wp-content/plugins/Odds-Compare/Views/odds_table/odd_single.php on line 67
- Race

Notice: Trying to get property of non-object in /home/australianracinggreyhound/public_html/wpress/wp-content/plugins/Odds-Compare/Views/odds_table/odd_single.php on line 68


Notice: Trying to get property of non-object in /home/australianracinggreyhound/public_html/wpress/wp-content/plugins/Odds-Compare/Views/odds_table/odd_single.php on line 69

Class:
Notice: Trying to get property of non-object in /home/australianracinggreyhound/public_html/wpress/wp-content/plugins/Odds-Compare/Views/odds_table/odd_single.php on line 70


Notice: Trying to get property of non-object in /home/australianracinggreyhound/public_html/wpress/wp-content/plugins/Odds-Compare/Views/odds_table/odd_single.php on line 72

Track Rating:
Notice: Trying to get property of non-object in /home/australianracinggreyhound/public_html/wpress/wp-content/plugins/Odds-Compare/Views/odds_table/odd_single.php on line 73


Notice: Trying to get property of non-object in /home/australianracinggreyhound/public_html/wpress/wp-content/plugins/Odds-Compare/Views/odds_table/odd_single.php on line 75
10:00am

Notice: Trying to get property of non-object in /home/australianracinggreyhound/public_html/wpress/wp-content/plugins/Odds-Compare/Views/odds_table/odd_single.php on line 102


Notice: Trying to get property of non-object in /home/australianracinggreyhound/public_html/wpress/wp-content/plugins/Odds-Compare/Views/odds_table/odd_single.php on line 102
m

Notice: Trying to get property of non-object in /home/australianracinggreyhound/public_html/wpress/wp-content/plugins/Odds-Compare/Views/odds_table/odd_single.php on line 105
m

Notice: Trying to get property of non-object in /home/australianracinggreyhound/public_html/wpress/wp-content/plugins/Odds-Compare/Views/odds_table/odd_single.php on line 107
Saturday 3:34am
NA
$300
$500
$150
$501
$100
£30

Notice: Trying to get property of non-object in /home/australianracinggreyhound/public_html/wpress/wp-content/plugins/Odds-Compare/Views/odds_table/odd_rows_section.php on line 10

Warning: Invalid argument supplied for foreach() in /home/australianracinggreyhound/public_html/wpress/wp-content/plugins/Odds-Compare/Views/odds_table/odd_rows_section.php on line 10