Can Burman's girl score a magical win in QLD Futurity?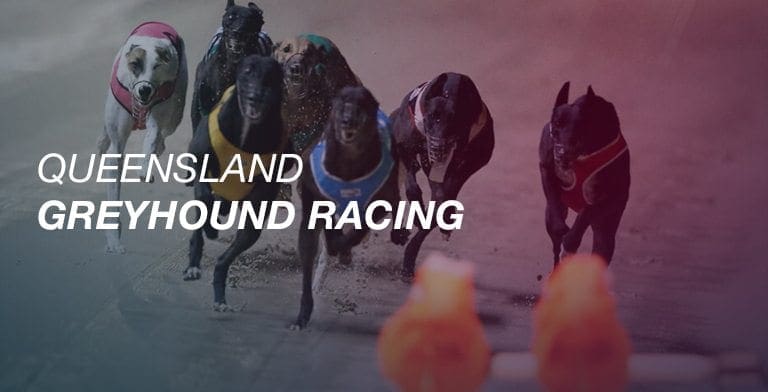 RAY Burman will have his fingers crossed for a bit of luck in the early stages when he heads to Albion Park on Thursday night to contest the Group 2 Queensland Futurity (520m) with his bonny bitch Magic Hornet.
The Park Ridge conditioner bred the daughter of Barcia Bale and former stayer Bizarre Barbie which has so far faced the starter on 20 occasions for six wins and five minor placings.
Her most recent success was in her heat of the Queensland Futurity last Thursday night, coming from the back of the pack to defeat Spare Cash in 30.21.
It was her first success for 2017, with Burman feeling she is reaching her peak once again.
"She lost a bit of confidence after she got into big trouble one night at Albion Park on the first corner and it has taken her a while to come back from it," Burman told Australian Racing Greyhound.
"We started putting her up the straight and giving her plenty of galloping to change things around with her and she seems to be getting back to her best now.
"I am extremely happy with her – she tries her little heart out every week."

Magic Hornet takes on a classy field this Thursday including Neeky's Way (box one), Spare Cash (box four) and Joyce Rumble (box seven).

The April 2015 whelp will move into box two for the $40,000 to the winner feature, with Burman elated with the inside draw.

"There is a lot of speed in the race, but I am very happy with where she is drawn so I am hoping she can get a sit just behind the leaders," he said.

"If she can get on the rails behind the speed she should be able to run them down if she is close enough."

A greyhound racing veteran of more than four decades, Burman, whose wife Mary owns Magic Hornet, said it would be a massive thrill to win the race.

"I would be chuffed to win it – to breed, rear, break-in and train a whole litter of pups and then have one of them come out and win a group 2 it would be great."

After the series Burman has big plans for the 26-kilogram pocket rocket, feeling her best racing will be over the longer journey.

"She is going to be a top little stayer – she is out of a bitch called Bizarre Barbie which won the Australasian run of the year a few years back over the 700 down in Victoria.

"She will definitely get the 700 and after this series we will start building her back up in trip because there are a couple of nice staying races in the next six or seven weeks in Brisbane – if she measures up like we think she will she will probably end up racing down in Victoria."

The Group 2 Queensland Futurity is race seven at Albion Park on Thursday night and is set to jump at 8.46pm.


Notice: Trying to get property of non-object in /home/australianracinggreyhound/public_html/wpress/wp-content/plugins/Odds-Compare/Views/odds_table/odd_single.php on line 31

Notice: Trying to get property of non-object in /home/australianracinggreyhound/public_html/wpress/wp-content/plugins/Odds-Compare/Views/odds_table/odd_single.php on line 36

Notice: Trying to get property of non-object in /home/australianracinggreyhound/public_html/wpress/wp-content/plugins/Odds-Compare/Views/odds_table/odd_single.php on line 37

Notice: Trying to get property of non-object in /home/australianracinggreyhound/public_html/wpress/wp-content/plugins/Odds-Compare/Views/odds_table/odd_single.php on line 39

Notice: Trying to get property of non-object in /home/australianracinggreyhound/public_html/wpress/wp-content/plugins/Odds-Compare/Views/odds_table/odd_single.php on line 42

Notice: Trying to get property of non-object in /home/australianracinggreyhound/public_html/wpress/wp-content/plugins/Odds-Compare/Views/odds_table/odd_single.php on line 57


Notice: Trying to get property of non-object in /home/australianracinggreyhound/public_html/wpress/wp-content/plugins/Odds-Compare/Views/odds_table/odd_single.php on line 67
- Race

Notice: Trying to get property of non-object in /home/australianracinggreyhound/public_html/wpress/wp-content/plugins/Odds-Compare/Views/odds_table/odd_single.php on line 68


Notice: Trying to get property of non-object in /home/australianracinggreyhound/public_html/wpress/wp-content/plugins/Odds-Compare/Views/odds_table/odd_single.php on line 69

Class:
Notice: Trying to get property of non-object in /home/australianracinggreyhound/public_html/wpress/wp-content/plugins/Odds-Compare/Views/odds_table/odd_single.php on line 70


Notice: Trying to get property of non-object in /home/australianracinggreyhound/public_html/wpress/wp-content/plugins/Odds-Compare/Views/odds_table/odd_single.php on line 72

Track Rating:
Notice: Trying to get property of non-object in /home/australianracinggreyhound/public_html/wpress/wp-content/plugins/Odds-Compare/Views/odds_table/odd_single.php on line 73


Notice: Trying to get property of non-object in /home/australianracinggreyhound/public_html/wpress/wp-content/plugins/Odds-Compare/Views/odds_table/odd_single.php on line 75
10:00am

Notice: Trying to get property of non-object in /home/australianracinggreyhound/public_html/wpress/wp-content/plugins/Odds-Compare/Views/odds_table/odd_single.php on line 102


Notice: Trying to get property of non-object in /home/australianracinggreyhound/public_html/wpress/wp-content/plugins/Odds-Compare/Views/odds_table/odd_single.php on line 102
m

Notice: Trying to get property of non-object in /home/australianracinggreyhound/public_html/wpress/wp-content/plugins/Odds-Compare/Views/odds_table/odd_single.php on line 105
m

Notice: Trying to get property of non-object in /home/australianracinggreyhound/public_html/wpress/wp-content/plugins/Odds-Compare/Views/odds_table/odd_single.php on line 107
Saturday 1:46pm
NA
$300
$500
$150
$501
$100
£30

Notice: Trying to get property of non-object in /home/australianracinggreyhound/public_html/wpress/wp-content/plugins/Odds-Compare/Views/odds_table/odd_rows_section.php on line 10

Warning: Invalid argument supplied for foreach() in /home/australianracinggreyhound/public_html/wpress/wp-content/plugins/Odds-Compare/Views/odds_table/odd_rows_section.php on line 10