Alpha Georgiou the one to beat in Albion Park Young Guns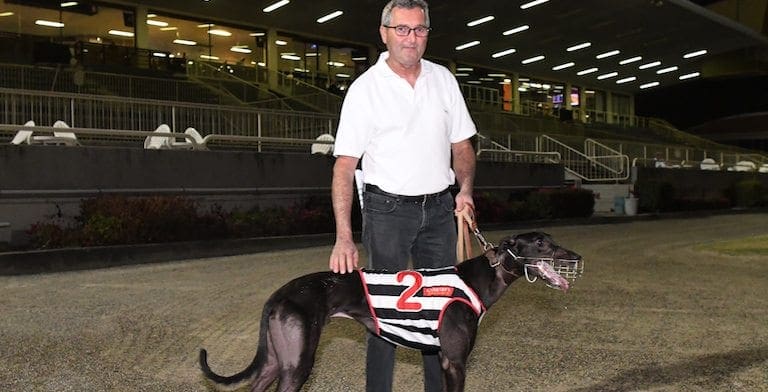 ALPHA Georgiou (Magic Sprite x Queen Of Cyprus Jul '15) will be aiming to record his second feature race success in as many weeks when he lines up in Thursday night's Young Guns (520m) at Albion Park.
A winner of the $10,250 Publican's Cup on September 14, Alpha Georgiou returned to Albion Park last Thursday night to contest a heat of the Young Guns series and, despite a poor beginning from box two, proved superior to its opponents in 30.04.
Trained by Mick and Selena Zammit, Alpha Georgiou is owned by Chris Georgiou, who was stoked with the tenacious victory.
"He had to do it the hard way – but he chases hard and he wanted to get to the front," Georgiou told Australian Racing Greyhound.
"He is doing everything we are asking from him at this stage and he has a lot of ability – it would be great to see him take out the final."
The final is set to be a cracker – with his main rival appearing to be Joyce Rumble (Cosmic Rumble x Dulcinea Jun '15), which took out her heat in a best of night 29.87.
Alpha Georgiou has really hit his straps in recent weeks, winning eight of his past 10 starts.
Georgiou said he is proud to see his star greyhound performing well under the care of the Zammits, who he has had dogs with for a decade.

"I used to be into horses and I owned a shop which I ran seven days a week. I was trying to find ways of getting out of the shop and a customer suggested ringing up a trainer and racing a dog.
"That's how we got onto Mick, who told us he wasn't interested in any dogs unless they could run 500, so we rang up and bought a dog from Melbourne and the rest is history.
"I don't always have a dog good enough for them – but Mick and Selena were always going to get this dog to train. Ever since he was a pup he has always been a bit special, so I promised him to them."
Georgiou, who also raced Alpha Georgiou's dam Queen Of Cyprus, has had a great time with her progeny, including top class chasers Alpha Demeter and Alpha Hermes from her 2013 litter to Cosmic Rumble.
However, he has high hopes for her Magic Sprite litter, with Alpha Georgiou's litter mates already making a name for themselves in Victoria, including recent Speed Star finalist Alpha Aion and Group 3 SA Oaks finalist Alpha Themis.
"She has had 39 pups now and 33 of them have race with 30 of them winning races so she has been a very good broodbitch," Georgiou explained.
"She looks like she is going to throw some nice broodbitches too as one of her daughter's has a litter which have just been broken in very well so hopefully there are some exciting times ahead."
The Young Guns final will be run and won at Albion Park this Thursday night.
More Greyhounds News