Andrea Dailly dominates 2022 Group 1 Australian Cup heats at The Meadows greyhounds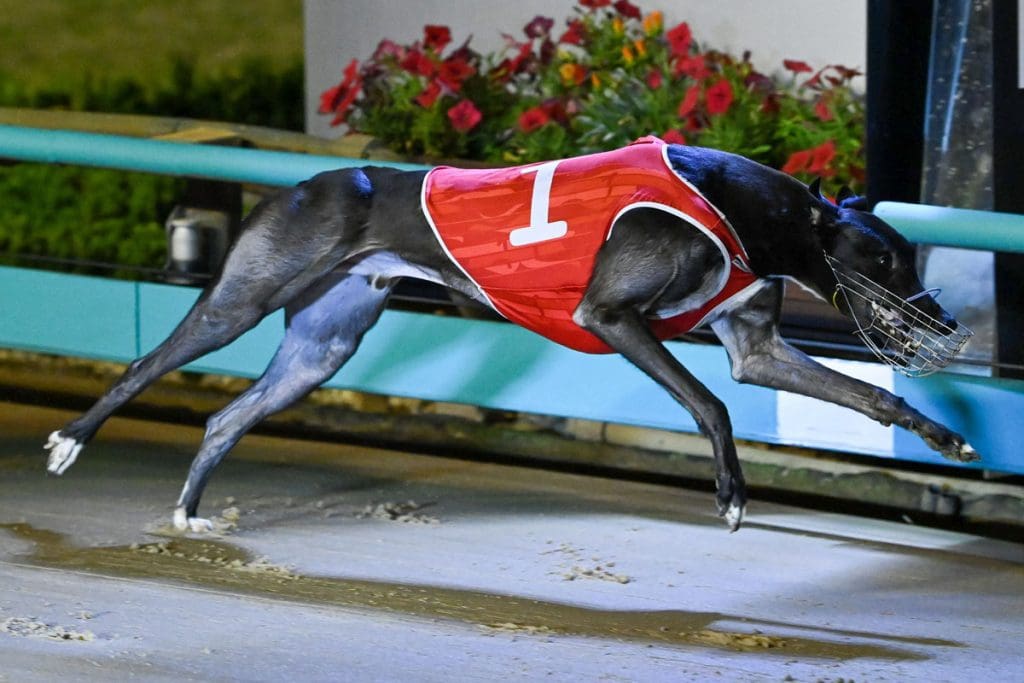 Andrea Dailly trained three Australia Cup heat winners on what was a fast night of greyhound racing at The Meadows on Saturday night.
Gypsy Bun, Zippy Tesla and Daph's Ascend all progressed to their grand final on Saturday fpr the Dailly kennels.
Heat one saw Immunity use box one to advantage for Jason Thompspn to lead all of the way to get punters off to a good start in the first leg of the quaddie.
Team Dailly won the next two heats with Gypsy Bun and Lala Kiwi paying $8 and $5 respectively with greyhound bookmakers. Pre-heat Australia Cup favourite Aston Rupee, was unlucky running a quality second behind Lala Kiwi after missing the start by of the race by one length.
Heat four saw $3.20 favourite Paddy Wants Pats salute after late backing in late in greyhound betting markets. After jumping well from box five, the Kelly Bravo trained greyhound never looked like losing.
From a favourable draw, Titan Blazer, started $1.65 from the cherry red inside box in the fifth heat, winning comfortably by 1.33 lengths in 29.924. After the scratchings of key chances Spotted Elk and Aston Amigo, it always looked like it could be a win for the trainer Daniel Gibbons trained chaser and that proved to be the case.
Titan Blazer's trainer, Daniel Gibbons, said the family was "so happy" with the effort, and the fact they have an Australian Cup finalist is "crazy" as they didn't think much of the greyhound when he first arrived at their kennel.
"We all thought he was a dud when he first started trailing," he said.
"But now he has come along in leaps and bounds from the crazy 'stressy" slow dog, to one of the best in the country."
Gibbons said it would "mean the world" for him for the dog to win on Saturday but the family is "just grateful" that he has even made it" in to the Group 1 final.
Gibbon's wife Rebecca took to facebook to sum up the families thrill of reaching the final with Titan Blazer:
Oh my god Danny Gibbons we are in the Australian cup. Titan blazer you are simply amazing.
Wow! I'm shaking 🤭
Dallan Klemke Jordi McQuillen team Giblet 😍😍
Peter Arnott congratulations! And thanks for trusting us with your boy. Giblet Greyhounds
Heat six looked one of the best races of the night on paper until the first three favourites in boxes one, two and three all collided soon after the start decimating their chances. Team Dailly was able to claim their second Australian Cup finalist when Daph's Ascend capitalised on the trouble to lead throughout from box five in 29.796.
Heat seven was another with interference, which enabled the Lee Moore trained $35 outsider Orlando to cruise to victory after landing on the lure early. Despite the price Orlando ran a very respectable 29.855 in winning by 4.94 lengths.
In the last Australian Cup heat Zippy Tesla was sent out a $2.80 favourite to become the last greyhound attempting to gain a spot in next weeks Australia Cup final. Exiting from box 5, Zipping Tesla took advantage of a first corner scrimmage to rail under the field and romp away with the win by 7.74 lengths in 29.754. The win brought up three wins for Team Dailly in the Cup heats.
---
Fanta Bale Super Stayers throws up mixed results
The Fanta Bale Super Stayers we saw a mixed bag of results for punters.
In heat one $2.00 favourite Stanley Road missed a top four finish, with Fernando's Quest for Michelle Mallia getting up at the nice odds of $9.50.
Stephen Nagy had one of his biggest thrills of his training career training $34 pop Orca, to win the second heat The first 4 paying over $14,000 with punters left shaking their heads.
Untapped didn't show her customary early speed in heat three which ended her chances early on, but Mick's Recall was strongest to the line for John Hosking.
In the final heat it looked like Mepunga Ruby's race on paper and that proved true, with the Jeff Britton trained greyhound winning at a very short quote from box four. She has drawn the blue again in the final next Saturday night.
Similar Greyhound Racing News