GRNSW Chief Steward Clint Bentley Passes First Test, Just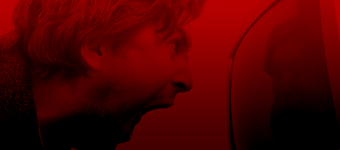 Incoming GRNSW Chief Steward Clint Bentley has passed his first test and while I had always assumed my first article here might have been a brickbat, this time we have to throw a bouquet, well half a one anyway.
In last night's New South Wales National Sprint Championship the wayward Foxhill Bella didn't just do the punters cash cold, she completely stuffed the race and gave it to Did I Entertain on a plate.
Yes she copped some interference from behind just prior, but that did not excuse the brain fade that occurred immediately after, where she lost all interest in the lure and decided Zambola Bale's left ear was an easier target.

Watching live in run it did look like she made contact with the muzzle, but on replay it was hard to confirm. That being the case she definitely warranted a fail to chase ticket, especially given the second attempt on him 10 metres later, but should really have been issued a "marring" ticket.
Quite rightly, Clint Bentley called connections in for a "chat".
What was out of the new Chief Stewards hands, was the fact the track Vet found an injury to Foxhill Bella's offside shoulder, probably from lunging at poor old Zambola Bale so hard!
Nonetheless though, it meant the Stewards could only issue a fail to chase by reason of injury ticket, which to their credit they did.
But given she also eased mid way through the home corner to have yet another look at Zambola Bale, I would like to see the Stewards say …"Yes, there MAY be an injury, but that performance was too bad too ignore".
The current rules of greyhound racing are deficient in this area and the balance of power has been shifted from Stewards to Vets, with Stewards bound to the "by reason of injury ticket" if a Vet finds any injury at all. Lets just say the injury rate seems to be unnaturally high in greyhounds that mar of fail to chase.
However, more often than not stewards seem to take a rugby league like State Of Origin approach to high profile races, trainers and greyhounds, letting things go that they normally wouldn't.
It was refreshing to see the GRNSW Stewards under Clint Bentley pass this first small test, but I would like see to Stewards stand up to Vets who seem to consistently find injuries in wayward greyhounds.
Concidentally, if GHRRA Stewards officiating at the Wentworth Park greyhound racing meeeting on Saturday 7th March 2009 had've shown more resolve, Foxhill Bella would not have been able to use the injury excuse last night as it would have been a second offence. GHRRA Stewards that night gave her the "benefit of doubt" for an identical offence at the same point in the race.
A bigger test for Bentley will come when recent re-arrival from New Zealand Jodie Gilbert faces GRNSW Stewards in mid September due to a positive swab finding in one of her greyhounds.
Gilbert did 18 months on the sideline for a positive swab not long ago, and has previously "got off" a swab or two due to surreal circumstances.
Not only will I be watching Clint Bentley's decision carefully but also the penalty imposed, if any.
Similar Greyhound Racing News