2009 Group 2 Ladies Bracelet Final Thrown Wide Open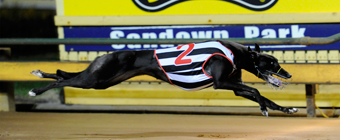 Four heats of this Group 2 event over 520 metres at Wentworth Park last Saturday night saw some
unexpected results leading to a wide open final this Saturday.
Some gloss was taken off the heats when star performer Miss Elly Mint was scratched due to injury earlier in the week along with Joanne Monelli.
However, the fields remained strong with Golden Easter Egg winner Dana Beatrice expected to go through despite a wide draw in heat one.

Unfortunately on a rain affected track Dana Beatrice could not overcome box 8 and some fast beginners on her inside, eventually finishing fourth, beaten just over four lengths. McKew trained by Tony Duggan won the race in 30.25 after working to the lead mid race from Starfire Havoc trained by Vic Bartolo.
The second heat saw the Denice Warren trained Foxhill Bella overcome an injury enforced layoff of nearly two months to record a very slick 29.86. In less than perfect conditions she won effortlessly by over four lengths from Flash of Light trained in Victoria by Mark Delbridge. This was the winner's twelfth career start only and her third win from six at Wentworth Park (best 30.34).
Certain Magic, another lightly raced performer, won the third heat narrowly for trainer Michael Abbott in 30.39, leading throughout. The Richard Dean trained Brislane finished strongly for second, beaten a nose.
Runners drawn in close faired best on the night, with the final heat seeing the Mark Arncliffe trained Compact Journey leading all the way from the coveted rails draw in 30.41 to defeat Steadfast Tammy trained by Eric Castle by two lengths.
The winner of Saturday's final will receive $25,000 and a magnificent ladies bracelet manufactured by Evans & Son Jeweller. All ladies will be admitted free to the meeting and the first 300 ladies through the gate will receive a free gift.
Gates open at 5.30 pm and the first race is at 7.27 pm.
The box draw was conducted at the track last Saturday night and the field for the final is:
2009 Group 2 Ladies Bracelet Final Box DRaw
Box 1 – McKew – Anthony Duggan
Box 2 – Starfire Havoc – Victor Bartolo
Box 3 – Flash Of Light – Mark Delbridge
Box 4 – Brislane – Richard Dean
Box 5 – Certain Magic – Michael Abbott
Box 6 – Foxhill Bella – Denice Warren
Box 7 – Compact Journey – Mark Arncliffe
Box 8 – Steadfast Tammy – Eric Castle

Reserves

1st Res – Navada Sunrise – Tracey Bruce
2nd Res – Dolphin Call – Mark Arncliffe
More Greyhounds News