Aussie Infrared trialling well ahead of Group 2 Bendigo Cup heats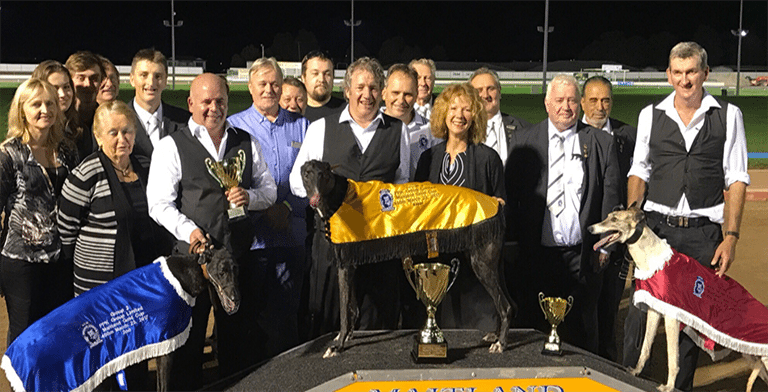 GEOFF Collins concedes Aussie Infrared may not be 100 per cent heading into Sunday's Group 2 Bendigo Cup (425m) heats, but says his talented greyhound is still going well enough to make his presence felt.
A son of Bella Infrared and Ebby Miss, Aussie Infrared goes into the heats as the winner of his past seven starts including the Group 2 Maitland Cup (450m) back in March.
However, since taking out the $40,000 feature in NSW, Aussie Infrared has had just two starts, his most recent being a flying 21.75 victory at Warrnambool on June 15.
Collins, who trains Aussie Infrared with his wife Ros Hume, explained a series of minor complications have kept his speedster off the track.
"Everything that could have gone wrong, has gone wrong," Collins told Australian Racing Greyhound.
"There was nothing major, just stupid little things that have prevented him from racing. He had an incident at one of the race tracks when trialling which kept him out of the Warrnambool Cup and since then we've just been trying to get him back to full fitness."
Collins says Aussie Infrared has been trialling brilliantly ahead of the Bendigo Cup series, but admits the black greyhound has been taking longer than normal to recover from his runs.
However, the Wattle Flat-based conditioner says the issue should resolve itself as Aussie Infrared continues to gain race fitness.
"He is the type of dog which only has two modes – stop and flat out – he comes out and puts everything into his runs," Collins said.
"He went very well at Warrnambool last start and he trialled 23.60 at Bendigo recently, which was an outstanding run.
"Our worry is that he hasn't been recovering from his runs as well which I think is just a fitness thing, but he is still trialling enormous."

Collins admits he may be worrying too much and says the 36-kilogram powerhouse is going well enough to feature in the series.
"I think Ros and I worry about everything, but you want your dogs to be right at all times," he said.
"I am happy enough with him heading into Sunday and I think he could still go very well even though he isn't 100 per cent."
Aussie Infrared looks ideally positioned in his heat, having drawn box seven in the first of eight Cup heats, with a win needed to book a place in the $47,000 to the winner decider.
"He can't do anything wrong– Jimmy Newob [box six] is a very good dog so he needs to do everything right," he said.
"He is well boxed and is in an early race which is perfect for him – if he comes out well I expect a good performance."
The Bendigo Cup heats are packed with quality, with other big names including Fabregal (heat two box five), Crunchin' Numbers (heat two box six), Unlawful Entry (heat three box six), Aston Bolero (heat three box seven), Black Mumbo (heat four box one), Matt Machine (heat four box four), Barton Bale (heat five box five), Striker Light (heat five box seven), Jesaulenko (heat six box five), Zinzan Brooke (heat six box seven), Pepper Fire (heat seven box four), Pantera Nera (heat eight box four) and Aston Dee Bee (heat eight box six).
Meanwhile, Kelly Bravo has confirmed that Striker Light will not take her place in Sunday's heats if she is able to qualify for the Group 1 Winter Cup at Albion Park this Thursday night.
The first Bendigo Cup heat is race two this Sunday and is scheduled to jump at 2.09pm.
Similar Greyhound Racing News