Better Call Caul: Ballinabola Ed heads English Derby betting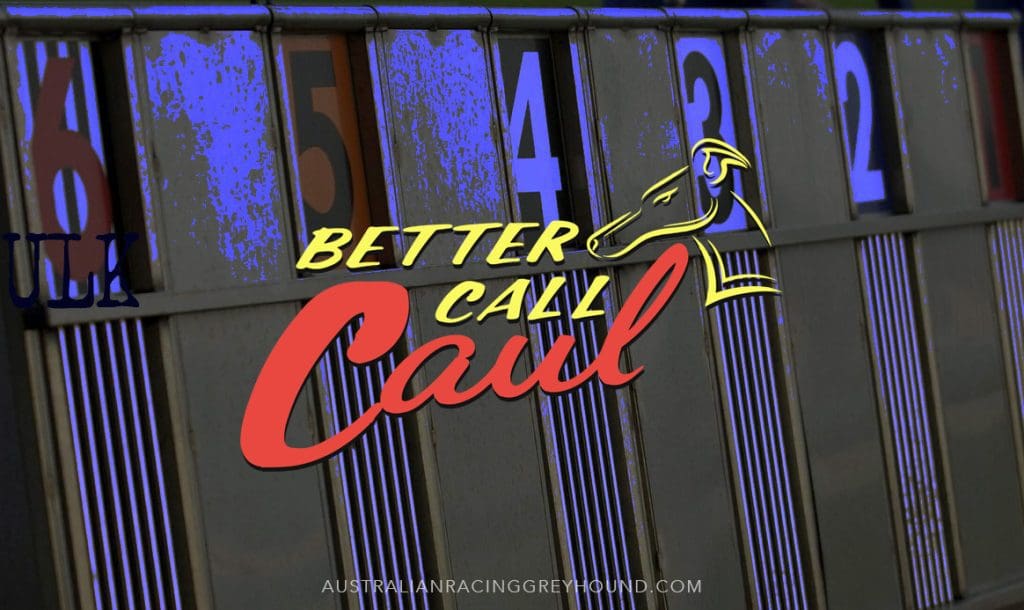 Ballinabola Ed is now as short as $2.50 to take this year's English Derby at Towcester following another stunning performance when he was once again the fastest heat winner of the night. Breaking smartly from box five Pat Buckley's charge was soon in front and ran out comfortable winner from Aussie Captain in 29:12. Buckley was also responsible for the next fastest heat winner when Singalong Sally showed fine battling qualities to beat Signet Ace, we lost last years derby winner Thorn Falcon is this heat, he could never recover from a slow start. Last year's finalist Ballymac Fairone is still there, he won well in 29:54 for Liam Dowling. Other heat winners on the night were Global Vision (29:52) Savana Beau (29:55) Cape Cloud (29:38) Signet Goofy (29:55) and Kilkenny Santy (29:60). The four quarter finals take place at Towcester this Saturday night, let us look at the heats.
---
2022 English Derby quarter finals
First three greyhounds qualify for the semi finals
Heat prizemoney
 – 1st £1000, 2nd £500, Others £250 = Total £2500
Race 5 19:10 500m Flat (OR1)
English Greyhound Derby 2022 – Quarter Final 1

KILDARE Peter Cronin (Irish)

GLOBAL VISION Seamus Cahill (Hove)

SIGNET ACE Kevin Hutton

CAPE CLOUD Peter Cronin (Irish)
COPPICE FOX (M) Kevin Hutton

PRICELESS JET (W) Paul Hennessy (Irish)
Three Irish take on three English in the first quarter final. Priceless Jet is a former track record holder around here in the past and has been one of the most consistent greyhounds in training over a variety of trip for the past couple of years, he is perfectly drawn in six and is sure to be on the premises at the business end. Kildare was a shade disappointing last week from four but is much better when in red. Its vital he holds his position early as you expect the middle pair of Signet Ace and Cape Cloud will be attempting catch me if you can tactics. Towcester is not the easiest track in the world to come from off the pace. Coppice Fox will struggle to get around the middle runners early and will have to do it the hard way. Global Vision is another who will be coming from off the pace and will need luck. I will side with the well-drawn Signet Ace to make all in heat one for Kevin Hutton.
Selection: Signet Ace
Race 6 19:30 500m Flat (OR1)
English Greyhound Derby 2022 – Quarter Final 2

BALLYMAC FAIRONE Liam Dowling (Irish)

AUSSIE CAPTAIN Patrick Janssens

HELLO HAMMOND Paul Hennessy (Irish)

DEELISH FRANKIE Patrick Janssens
BALLINABOLA ED (M) Pat Buckley (Irish)
FAUGHAN REBEL (W) Richard Yeates (Hove)
Ballinabola Ed will once again be all the rage to take heat two, he is a general $2.75 shot for outright glory and as short as $1.40 to take this heat on Saturday. There is not a lot of early pace on show in this heat if the truth be told and a level break should see Ballinabola Ed lead comfortably with only Aussie Captain and maybe Ballymac Fairone able to live with him early. Hello Hammond has been running the track well but is inconsistent at traps. Old man of the party Faughan Rebel is a real credit to connections and is running as well as ever as he approaches his fifth birthday. I can see Ballinabola Ed making all here with Ballymac Fairone most likely to follow him home.
Selection: Ballinabola Ed
Race 7 19:48 500m Flat (OR1)
English Greyhound Derby 2022 – Quarter Final 3
BOBSLEIGH DREAM Pat Buckley (Irish)

MAKE NOISE Seamus Cahill (Hove)
SIGNET DENVER Kevin Hutton
ROMEO MAGICO Graham Holland (Irish)

DERRINASAFA BOSS (M) Seamus Cahill (Hove)

LAUTARO (M) Patrick Janssens
Romeo Magico ran a blinder to get as close as he did last weekend, and he is much better drawn in four this weekend. All six dogs in heat three have a sub 4:18 sectional which suggests they can all come away racing on their day. Romeo Magico is due one of his better breaks and I can see it coming this weekend. He is one of the absolute best around when getting to the front early and at around about $4.0 he makes plenty of appeal in this. Record holder Lautaro will be a treat from six, but we have yet to see a dog fly out from six in the competition and have still only seen two heat winners from the outside box in the entire competition. Bobsleigh Dream and Make noise have chances from the inside boxes but will need one of their better exits. Romeo Magico to make all in heat three for me.
Selection: Romeo Magico
Race 8 20:05 500m Flat (OR1)
English Greyhound Derby 2022 – Quarter Final 4

SAVANA BEAU Diane Henry
KILKENNY SANTY Seamus Cahill (Hove)
BALLYMAC BELVULT Liam Dowling (Irish)

SINGALONG SALLY Pat Buckley (Irish)

SIGNET GOOFY (M) John Mullins

MICKYS BARRETT (M) Jason Gray (Notts)
The break will be crucial in the fourth quarter final. If Singalong Sally can make one of her flying starts, she will head for the rails and may impede those one her left. The three on her inside are not renowned for fast starting or early pace so she has a definite chance to get across to the rails. Signet Goofy is unbeaten in the competition thus far and yet again finds himself with a dead railer on his left, the draw could not have been any better and he should turn second at worse. Every neutral fan is rooting for Mickys Barrett, and his legion of owners and he has a big chance of qualification. The prices for this heat would sway me towards Signet Goofy at $4.5.
Selection: Signet Goofy
---
Irish Oaks at Shelbourne Park
The Irish Oaks has reached the semi-final stage and the two semis are due to take place at the famous Dublin venue this Saturday night. Despite suffering defeat in the quarter finals Scooby Duchess remains the outright favourite. However, it is not an exaggeration to say any of the remaining twelve could win it. Let us look at both semi-finals.
Irish Oaks Semi Final 1
Ballymac Whispa
Ballymac Miranda
Raha Mofo
Droopys Gloss
Reckless Nanny (m)
Tullovin Vita (w)
Ballymac Whispa and Droopys Gloss remain the only two unbeaten bitches in the competition. Ballymac Whispa is a bitch that possesses a huge finishing kick and ran a remarkable race to take Scooby Duchess in the shadow of the post last week, despite having her back legs taken from her up the home straight. Droopys Gloss is a former Juvenile Derby winner around here, she goes up well and stays strongly. Raha Mofo is a kennel companion of Droopys Gloss and trainer Murt Leahy will be hoping both can make it through to the final. Droopys Gloss has a good draw in four and will kook to hold of the late challenge of Ballymac Whispa and Raha Mofo.
Selection: Droopys Gloss
Irish Oaks Semi Final 2
Ballymac Art
Droopys Nextone
Dark Ava
Scooby Duchess
Florentis (m)
Fahy Devine (w)
Dark Ava holds the key to this race for me. Mark Robinsons talented bitch is a snappy trapper on occasions but does head straight for the rails. Droopys Nextone and Ballymac Art will really need to be alert at trap rise. Scooby Duchess looks to have an ideal draw on the outside of Ava, and she should have a clear run in the early yards. Fahy Devine and Florentis face each other again from the same starting positions as last week when Florentis proved too strong. The break is crucial, but for me Scooby Duchess has an ideal make up and could well make all.
Selection: Scooby Duchess
---
Gaston Pecas takes Produce Stakes for Buckley
Gaston Pecas got up late to take the Au$25,000 Larry O Rourke sponsored Produce Stakes at Clonmel on Sunday night. Swords Rex was all the rage in the betting and went to traps at $1.40. Rex missed the kick and had no room to operate early as four went for the rails. Outsider of the race Serene Tiger took advantage and just led around the first couple of bends from Gaston Pecas as Swords Rex lost any chance after more trouble at the first bend. Serene Tiger was chased down the back straight by Gaston Pecas and held a two-length lead at halfway, as they turned for home Gaston Pecas switched to the outside of the early pace setter and took it up in the shadow of the post to just pip the rallying Serene Tiger in 28:36.
---
This weekend's best bets
Towcester Saturday
*Odds correct at time of publication
*Odds correct at time of publication