2017 Listed Northern Districts Cup – free tips and best odds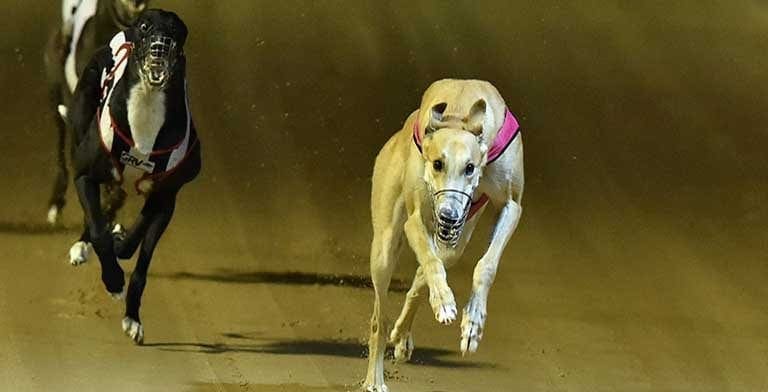 SOME exciting youngsters will do battle this Saturday night when the lids fly open for the Listed Northern Districts Cup (450m) at Shepparton.
The series is open to the best Victorian bred greyhounds with less than $25,000 in prize money earnings which have had two or more starts at Shepparton at the close of nominations.
This year's series attracted a stellar line-up, with the favourite with most online bookmakers being the promising youngster Aston Dinnigan.
The daughter of Barcia Bale and Aston Elle, which is a litter sister to star youngster Aston Dee Bee, will jump from box one and is shooting for her seventh win at her seventh career start.
Also right in contention is Sure To Excite. Trained by Graham James, Sure To Excite is a winner of five of his seven starts and will exit box eight in the $25,000 to the winner feature.
The only other runner given a big chance by the bookies is Master Riot, prepared by leading conditioner Anthony Azzopardi, with the black dog holding the fastest personal best over the track and trip but drawn awkwardly in box five.
The Listed Northern Districts Cup is race eight at Shepparton and will jump at 8.02pm.
Box One – Aston Dinnigan
Black Bitch 29.2kg – April 2015
Barcia Bale x Aston Elle
Prize money: $16,940
Trainer: Paul Abela
Career: 6: 6-0-0
T/D: 3: 3-0-0
T/D Best: 25.19
Box: 2: 2-0-0
"Has been flawless since starting her career with six wins from as many starts. This is by far her biggest test to date, but she is beautifully drawn on the inside and can run a big race."
Box Two – Meehan Blue
Black Dog – 32.7kg – February 2015
Fabregas x Miss Meehan
Prize money: $9,725
Trainer: Jodie Elliott
Career: 11: 7-0-2
T/D: 1: 1-0-0
T/D Best: 25.63
Box: 0: 0-0-0
"Good beginner which led all the way here in 25.68 last week. Has won four in a row but will need to lift again in order to be a winning chance."
Box Three – Waleonjon
Blue Dog – 31.6kg – May 2015
Cosmic Rumble x Come On Luann
Prize money: $4,720
Trainer: Glenn Dainton
Career: 9: 3-1-2
T/D: 3: 2-0-1
T/D Best: 25.47
Box: 1: 1-0-0
"Is likely to be midfield in the early stages so will need some luck, but is capable of figuring in the multiples."
Box Four – Hi Ho Geronimo
White and Black Dog – 33.3kg – November 2014
Cosmic Chief x Bailey's Princess
Prize money: $12,045
Trainer: Mark Grima
Career: 23: 8-4-1
T/D: 3: 1-1-1
T/D Best: 25.95
Box: 2: 2-0-0
"Far from disgraced when second in his heat behind Aston Dinnigan, but this is harder and he will need a lot of luck from the draw."
Box Five: Master Riot
Black Dog – 33.6kg – April 2015
Fabregas x Ready To Riot
Prize money: $11,610
Trainer: Anthony Azzopardi
Career: 16: 6-3-3
T/D: 3: 1-1-1
T/D Best: 24.94
Box: 3: 2-0-1
"Stepped beautifully last week but was no match for Sure To Excite in the run to the line. Can improve off that run and holds a 24.94 personal best here."
Box Six – Don Lesta
Black Dog – 31.7kg – June 2015
Red Lesta x Rellum Lilly
Prize money: $7,950
Trainer: John Magri
Career: 15: 5-3-2
T/D: 4:1-1-1
T/D Best: 25.47
Box: 1: 1-0-0
"Clocked handy time when winning his heat here last week and can handle a wide draw. Place hope."
Box Seven – Shades Of Sassy
Black Dog – 30.4kg – February 2014
Oaks Road x Cavendish Flyer
Prize money: $21,155
Trainer: Tammy Collins
Career: 41: 13-7-6
T/D: 2: 0-1-1
T/D Best: NBT
Box:4: 0-1-0
"Stepped well and led for a long way in her heat last week before being run down by Waleonjon. Drawn on the wrong side of the track."
Box Eight – Sure To Excite
Black Dog – 34.5kg – August 2015
Goodesy x Paua To Excite
Prize money: $6,615
Trainer: Graham James
Career: 7: 5-0-0
T/D: 4: 3-0-0
T/D Best: 25.09
Box:1: 1-0-0
"Boom pup with a bright future. He was fairly away last week but quickly asserted his dominance with a 25.09 win. Can go better than that and could give the 25 second barrier a shake – if he does that he should be winning."
Tips: 8 – 1 – 5 – 3
More greyhound news