2017 Listed Richmond Riches free tips and betting preview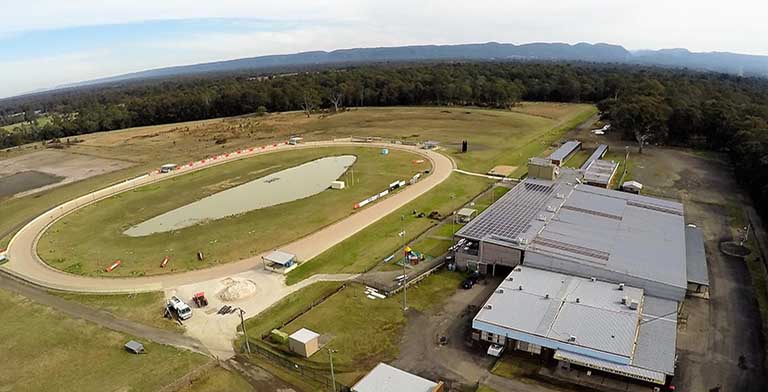 EIGHT talented youngsters will line up at Richmond on Friday night to contest the final of the Listed Richmond Riches (535m) race series.
The series was open to greyhound purchased through the 2015 Richmond Riches Puppy Auction, with the favourite to take home the $100,000 winner's cheque being Jason Mackay's exciting sprinter Mister Twister (box one).
The black dog is drawn ideally on the fence and is capable of running around the 30.50 mark – if he can produce an effort like that on Friday night he will be very hard to beat.
The biggest threat to the favourite appears to be Queenslander Fast Times, drawn out wide in box seven. The powerhouse is trained by one of the best in the business, Tony Brett, who won the 2016 edition of the race with star greyhound Thirty Talks.
Big Black, a finalist in the Group 3 Nowra Summer Puppy Classic, is also given a big chance of landing the pay check and comes into the final having run credible placings in both his heat and semi-final behind the two top fancies for the feature.
Meanwhile, Kong, which remains unbeaten throughout the series, represents value – although the 39-kilogram heavyweight won't be able to make mistakes from box six.
The Listed Richmond Riches is race eight this Friday night and is set to jump at 9.38pm.
Box One – Mister Twister
Black Dog – 31.7kg – January 2015
Collision x Double Twist
Prize money: $70,600
Trainer: Jason Mackay
Career: 28: 11-9-2
T/D: 3: 2-1-0
T/D best: 30.50
Career Highlights: 2ND 2016 Group 1 Vic Peters Classic, 2016 Group 3 Christmas Gift
"Ideally drawn on the fence – looks perfectly positioned to take the early lead and will take some catching on the bunny."
Box Two – Arden Emgrand
Black Dog – 35.0kg – January 2015
Turanza Bale x Destiny's Imp
Prize money: $5,210
Trainer: Riana Groom
Career: 11: 2-4-1
T/D: 2: 0-1-1
T/D best: 31.19
Career Highlights: WON Shepparton 25.52
"Started his career in Victoria and has raced well throughout the series without winning, although this looks a bit beyond him."
Box Three – Big Black
Black Dog – 37.5kg – February 2015
El Grand Senor x Time And Money
Prize money: $9,045
Trainer: Donna Campbell
Career: 15: 6-6-2
T/D: 2: 0-1-1
T/D best: 30.99
Career Highlights: FINALIST 2017 Group 3 Nowra Summer Puppy Classic
"Big boy and he will have no worries barging greyhounds out of his way. Not a great beginner – but he is well drawn towards the fence and should get every chance."
Box Four – Pick It Up
Black and White Bitch – 26.2kg – March 2015
Tomac Bale x Senorita Ally
Prize money: $5,625
Trainer: Joanne Zammit
Career: 13: 4-6-3
T/D: 6: 0-4-2
T/D best: 31.03
Career Highlights: WON Richmond 22.91
"Speedy beginner capable of leading although this is a big rise in class."
Box Five – Victor Charlie
Black Dog – 30.6kg – May 2015
Fabregas x Little Charlie
Prize money: $6,835
Trainer: Sam Sultana
Career: 13: 3-4-0
T/D: 6: 2-2-0
T/D best: 30.79
Career Highlights: WON Bulli 26.26, Richmond 30.80
"Massive run in his semi-final and he should get a nice run into the race on the outside of Pick It Up if he can step on terms."
Box Six – Kong
Black Dog – 39.1kg – January 2015
Mogambo x Fantasy Royale
Prize money: $17,370
Trainer: Cheryl Murray
Career: 18: 9-2-1
T/D: 2: 2-0-0
T/D best: 30.81
Career Highlights: WON Maitland 24.87, Bulli 26.10
"Has a stack of ability but won't be able to make mistakes from the draw."
Box Seven – Fast Times
Black Dog – 33.6kg – April 2015
Barcia Bale x Clockwise
Prize money: $37,798
Trainer: Tony Brett
Career: 11: 7-1-0
T/D: 2: 2-0-0
T/D best: 30.56
Career Highlights: FINALIST 2017 Group 2 Queensland Derby
"Probably suited out wide – he is a flying machine and only needs some luck to showcase his best."
Box Eight – Bobby Rudd
Black Dog – 31.1kg – May 2015
Fabregas x Little Charlie
Prize money: $4,470
Trainer: Dean Swain
Career: 6: 2-1-2
T/D: 4: 1-1-1
T/D best: 31.07
Career Highlights: WON Richmond 31.24, Maitland 25.47
"Good effort to win his semi-final, although this is much harder."
Tips: 1 – 7 – 5 – 3
Similar Greyhound Racing News