Australian greyhound racing tips for Monday 14th August 2017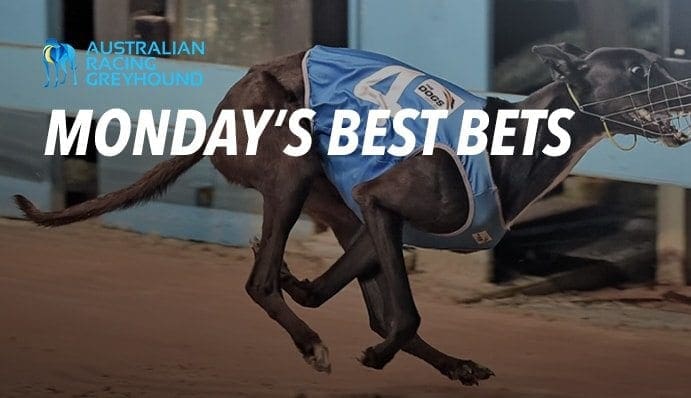 STELLAR is the only way to describe the results from yesterday's free greyhound tips. Australian Racing Greyhound sent you in to four best bets, and all saluted the judge first. Best of all we got set on each runner at a better price than we assessed their chances.



Peter Galo (Peter Rocket x Flossy Dec '15) kicked off our 100% winning day with the race panning out as predicted and we were able to get set at $3.6 (SP $3.4, Our price $2.75). Lektra Aly (Fabregas x Supreme Vision Oct '14) then managed to run the race upside down to how we expected, but came from behind to win paying $3.30 SP (Bet price $3.50, Our price $2.25). Stitch 'Em Up (Bekim Bale x Niamh Premier Jun '15) contributed at short odds but never looked like losing. We had him assessed at $1.44 and managed to get set at $1.50 (SP $1.46). To round it out Zipping Nicole (Dyna Tron x Yarramundi Flash Aug '15) ran the race exactly as we expected and got there late to win paying $2.80 SP. Fortunately we were able to find $3.60 about this one which represented great value given we'd priced her in at $2.75.
Yesterday's Greyhound Tip Results
| Turnover (Units) | Our Avg Price | Avg SP | Avg Bet | Value (Units) | Return (Units) | Strike Rate | Profit/Loss (Units) | Profit On Turnover |
| --- | --- | --- | --- | --- | --- | --- | --- | --- |
| 36 | 2.30 | 2.74 | 3.03 | +0.73 | 106.08 | 100% | +70.8 | 197% |
So the first daily full book for our tips and a great plus 70.8 units day. The month is looking great so far with a 92.55 unit profit at a strike rate of 38%.
August Greyhound Tip Results
| Turnover (Units) | Our Avg Price | Avg SP | Avg Bet | Value (Units) | Return (Units) | Strike Rate | Profit/Loss (Units) | Profit On Turnover |
| --- | --- | --- | --- | --- | --- | --- | --- | --- |
| 272 | 2.98 | 4.30 | 5.12 | +2.14 | 364.55 | 38% | +92.55 | +34% |
After almost two weeks of results we can now assess some of our betting and reflect on areas that might be weak, and consolidate our strengths. Our average stake has been 6.04 units which is slightly high. If you consider your punting bank or bankroll as 100 units, then we've been on average risking just a tad over 6% of our bank. This is fractionally too high as the general rule of thumb is not too risk more than 5% of you bank on any one opportunity. Its the same rules that apply to online poker.
To overcome this we need to make some small adjustments to the way we stake our bets. Fortunately there is a mathematical method we can use to calculate how much each of our bets should be on any given greyhound once we have assessed its chances in the race and the odds on offer. This method is called the Kelly Criterion and is a complex mathematic equation that was made famous by the MIT blackjack teams that ravaged US casinos during the 1980's. The team's name is synonymous with card counting, but the counting was only the tool they used to know when they had an "edge" – when the odds were likely to be in their favour.


The team's method was to bet up when they knew they had an "edge" and used Kelly Criterion to calculate the bet sizes when the edge was present. As punters we can do the same by using our own assessed chances of each greyhound and comparing it to the odds on offer. If we are getting value in that the odds on offer are greater than the chance we give the dog, then we have found our edge. By additionally applying our strike rate and profit on turnover (POT) we can optimise our bet sizes to apply what is known as a "Fractional Kelly" bet. Again this is complex, but in simple form; rather than applying the full suggested stake calculated by Kelly Criterion, we apply a fraction of that so as not too put too much of our bank roll at risk.
Looking at our results from the first 45 bets, we are finding the winners at a strike rate of 38%, and our selections are going around at odds which are on average $2.14 more than what we priced them at. This value is our "edge" and means that we are assessing our tips as having on average a 34% chance of winning, but the bookmakers are giving them only a 20% chance of winning. The difference of 14% is our edge and it is large. It could be easy to suggest that our pricing is too aggressive and we are getting our own markets wrong, but the fact that our strike rate of 38% is so close to our assessed chances of 34% would suggest we are pretty close to right.
To cut too the chase, we will be applying fractional kelly bet sizing to our stakes going forward which will mean more variation in bet sizes for our tips, and should optimise our collects when our edge is higher and the odds are in our favour.
After yesterday's "fill up" it will be hard to find runners today on what is the worst day of racing for the week. As we discussed last Monday, Victoria are intent on putting us to sleep offering up 36 races of lowest common denominator greyhound racing. The results are unpredictable and volatile. You will go broke betting on it, so don't.
Australia wide it's a very ordinary day's greyhound racing on offer. We've tried hard but can only offer up one selection anywhere in the country and it will not be at flash odds but should be getting the prize.
Grafton Greyhounds
Best Bet: Race 7 Box 2 Golden Nanger – Deposit $50 & bet with $150 on Topbetta's Global Tote
Looking to the 1-3 win final at Grafton in the hope we can get some value from the fact it is a final, and most dogs will find support, but Golden Nangar (Barcia Bale x All Too Fancy Dec '15) does look a standout in the race. Won his heat last week in 23.12 best of day and led on that occasion running an 8.33 first section. A repeat start like that will see him a length clear early, which should prove an unassailable lead. Consistency at the start has been the issue for this dog in his five start career to date, but this is the closest he's been drawn to the rail yet. Taking the punt that it's where he wants to be drawn so we have at least one opportunity on an otherwise terrible day of racing.

Golden Nangar Betting Strategy
| Bet Type | Assessed Price | Bet Units | Confidence |
| --- | --- | --- | --- |
| Win | $1.62 | 4 | High |
Today's Greyhound Tip Results
| Turnover (Units) | Our Avg Price | Avg SP | Avg Bet | Value (Units) | Return (Units) | Strike Rate | Profit/Loss (Units) | Profit On Turnover |
| --- | --- | --- | --- | --- | --- | --- | --- | --- |
| 4 | 1.62 | 1.70 | 1.80 | +0.10 | 0 | 0% | -4 | -100% |
AustralianRacingGreyhound.com recommends betting with The Global Tote which consistently beats the TAB odds on offer. To access this product you need to join Topbetta.com.au.
More Greyhounds News