Best greyhound racing multi bet tips for Tuesday February 20 2018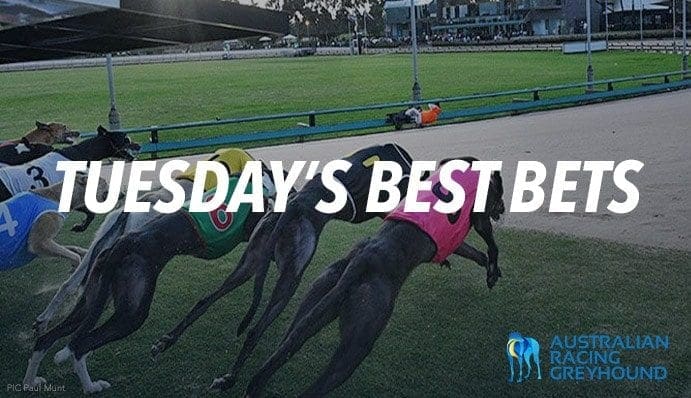 BACK at it today trying to find some winners and we think we are on the money with our selections at Lismore, Townsville, Horsham and Cranbourne.
If you combine all of our tips into a multi you will be looking at a $10 profit for every $1 wagered if they all salute which is juicy odds considering we are very confident they can get the job done.
If you want to have a bet, be sure to check out the free bet bonuses available to readers of Australian Racing Greyhound to ensure you get the best bang for your betting buck.

Free greyhound racing multi bet
Lismore R5 No.6 Fabrique

Flew out last week at his first start over the track and trip and led all the way in 29.86. Capable of improvement with a look at the track under his belt and if he can find the front again tonight he should prove hard to catch.


Warning: count(): Parameter must be an array or an object that implements Countable in /home/australianracinggreyhoundzzz/webapps/app-australianracinggreyhound/wpress/wp-content/plugins/Odds-Compare/vendor/guzzlehttp/guzzle/src/Handler/CurlFactory.php on line 67


Townsville R4 No.1 Magic Doug

Only a baby but he is racing well and comes up with the gun draw. With a good beginning he should be able to hold the front and is capable of running around the 22.00 second mark which should see him winning if he can avoid early bother.


Warning: count(): Parameter must be an array or an object that implements Countable in /home/australianracinggreyhoundzzz/webapps/app-australianracinggreyhound/wpress/wp-content/plugins/Odds-Compare/vendor/guzzlehttp/guzzle/src/Handler/CurlFactory.php on line 67


Horsham R8 No.1 Riveting

Drops in class on his most recent runs and has come up with box one which should suit him. Not the speediest of beginners, but if he can hold his spot and barge his way towards the front I doubt there is a greyhound in this race which could match motors with him.


Warning: count(): Parameter must be an array or an object that implements Countable in /home/australianracinggreyhoundzzz/webapps/app-australianracinggreyhound/wpress/wp-content/plugins/Odds-Compare/vendor/guzzlehttp/guzzle/src/Handler/CurlFactory.php on line 67


Cranbourne R10 No.5 Canya Wilber

Blitzed his rivals last start in fast time and he finds himself in a winnable race here tonight. Box five won't help him at all, but he has enough early burn to find the front and should be too good if he can get on the bunny.


Warning: count(): Parameter must be an array or an object that implements Countable in /home/australianracinggreyhoundzzz/webapps/app-australianracinggreyhound/wpress/wp-content/plugins/Odds-Compare/vendor/guzzlehttp/guzzle/src/Handler/CurlFactory.php on line 67