Better Call Caul: English Greyhound Derby Betting Preview Round 1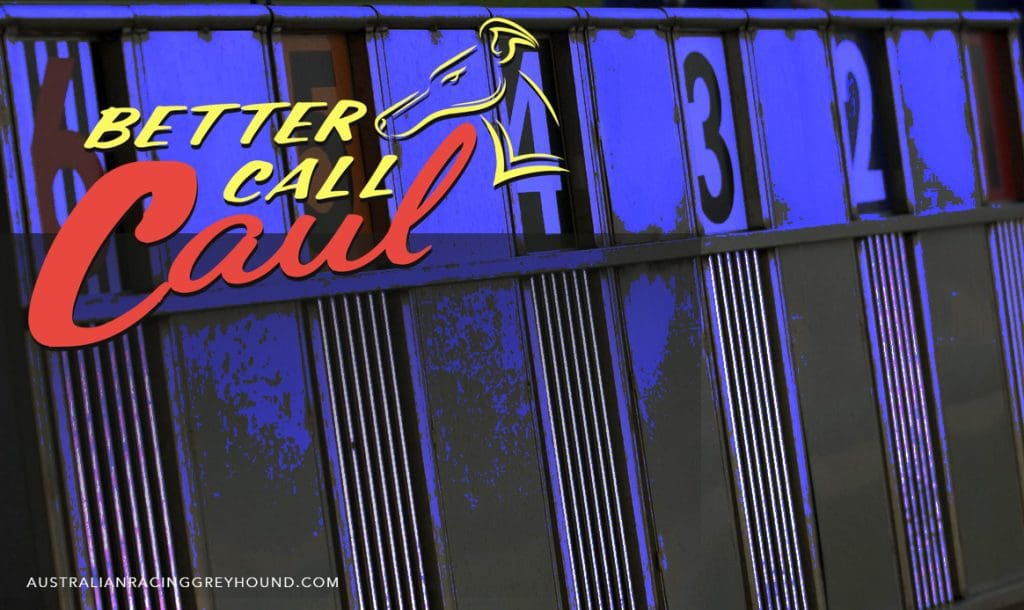 English Greyhound Derby Betting Preview Round 1.
(m)= Middle Seed
(w)= Wide Seed
Thursday May 19th, 2022 Heat 1 – 18:35

Aussie Captain
Scooby Prince
Narcos The Great
Skywalker Forte
Savana Eruption
Trionas Travel
Verdict: A decent opener, Trionas Travel has been flying at Perry Barr lately and posted a good trial effort around here recently, he is perfectly drawn in six. Irish raider Scooby Prince won the Irish National Puppy stake at Shelbourne Park late last year and made the final of the recent Kirby memorial final at Limerick. Savana Eruption, Aussie Captain and Skywalker Forte have all won around here in the past, while Narcos The Great can go up strongly.
Selection: Scooby Prince
---
Heat 2 – 18:50
Jaguar Macie
Beatties Syd
Bockos Belly
Hoodoo Brown
Savana Camino (m)
Cochise (w)
Verdict: Plenty of strong runners in this, Bockos Belly made the semi finals of this event last year and seems to be returning to something like his best. Jaguar Macie won the ARC Northern Flat Final at Newcastle in March and is perfectly drawn in one. Savana Camino has plenty of course knowledge and is sure to finish well. Irish Challenger Hoodoo Brown may only have the one win to his name, but he is a dog with unbelievable pace and power, he performed minor miracles to win at Shelbourne Park recently and his recent trial was a step in the right direction.
Selection: Hoodoo Brown
---
Heat 3 – 19:10
Ballyblack Speed
Innfield Trojan
Make Noise
Goldies Perryman
Farneys Buster (m)
Drumcrow Brent (w)
Verdict: One of the more open heats, Drumcrow Brent is well drawn as the sole wide seed and his recent 16:07 trial was impressive. Ballyblack Speed and Goldies Perryman have some smart form around here and should be involved. Its unwise to rule out Innfield Trojan in two. Preference is for Drumcrow Brent in six, he has raced in much better company and the drawn is ideal.
Selection: Drumcrow Brent
---
Heat 4 – 19:30
Spinosaurus
Eske
Hello Hammond
Bryce Canyon
Sporting Chile (m)
Billis Tudor (w)
Verdict: Spinosaurus and Hello Hammond are among Irelands best when they have room to operate. Spinosaurus has improved his trapping recently and is a major player here considering his draw. Hello Hammond has exceptional pace, but his trapping can be his achilles heel. The one to beat is undoubtedly Sporting Chile. The recent track record holder is obviously in the form of his life and course knowledge will stand to him.
Selection: Sporting Chile
---
Heat 5 – 19:48
Swift Iconic
Deelish Frankie
Antigua Cuddles
Conamara (m)
Moanteen Linford (w)
Verdict: Recent Maiden Derby winner Hellofakerfuffle will be popular here but there is plenty of early pace on his inside. Swift Iconic is well drawn in one and looks a likely leader, any trouble in behind will aid his cause. Deelish Frankie could get a lovely run into the race and has some smashing recent form around Monmore and Hove.
Selection: Deelish Frankie
---
Heat 6 – 20.05
Im To Blame
Jaguar Gerry
Lautaro
Ballymore Border (m)
Amaze Me Seb (w)
Verdict: Lautaro will be all the rage here for last years winning trainer Patrick Janssens. Impressive in his recent trial, the son of Droopys Sydney is expected to come through this with flying colours. Ballymore Border was exceptional when winning the Dublin Cup at Shelbourne late last year in a brilliant 28.11 and is a dog with plenty of potential. Amaze Me Seb is another runner with plenty of pace and power and should not be too far away at the business end.
Selection: Lautaro
---
Heat 7 – 20:26
Chelms Fred
Da Bold Freddie
Dapper Rodney
Knocknaseed Gem
Droops Goodtime (m)
Little Seven (w)
Verdict: Da Bold Freddie has shown huge promise in his short career to date. A semi-finalist in the recent Kirby Memorial at Limerick Peter Cronin's charge displayed enormous potential in a recent trial around here and a repeat of that effort would make him hard to beat. Chelms Fred in one could be a major obstacle however, a dog blessed with early zip he is drawn to try make all and could be a tough one to peg back. Knocknaseed Gem is another who can go up strongly and Dapper Rodney always gives you a run for your money. Droopys Goodtime in five will be finishing fastest of all.
Selection: Chelms Fred
---
Heat 8 – 20:45
Ballymac Fairone
Bockos Leah
Havana Robusto
Skywalker Barry
Freedom Sky (m)
Antigua Bigun (w)
Verdict: The Irish have a strong hand here led by last years finalist Ballymac Fairone in one. Bockos Leah in two is a bitch with real potential and one of my best bets for outright honours. Graham Hollands charge has displayed massive gears in her brief career to date and has the potential to improve further during the competition. Skywalker Barry is one of Irelands best and can mix it with the best. However, I feel Bockos Leah could go a long way in this years Derby and I fancy her to make all here.
Selection: Bockos Leah
---
Heat 9 – 21:04
Antigua Hope
Bubbly Bollinger
Magical Duke
Savana Scrappy
Chubbys Jet (m)
Priceless Jet (w)
Verdict: Former track record holder Priceless Jet will go off favourite here. A dog who has consistently race against the best around for the last couple of years, capable of doing it off the front and from behind he should take this with a half decent exit. Antigua Hope is improving following her season break and could follow him home.
Selection: Priceless Jet
---
Heat 10 – 21:20
Sandwood Buster
Milton Pepe
Castell Cuddles
Savana Beau
Signet Goofy (m)
Ninja Kerry (w)
Verdict: Milton Pepe ran better than the placing suggests in the recent Derby trial stake around here behind Sporting Chile. He should lead up Sandwood Buster in one and try make all. Signet Goofy is another who will try catch me if you can tactics, but he has stamina doubts. Stamina will not be an issue for Savana Beau who will be finishing best of all.
Selection: Milton Pepe
---
Friday May 20th, 2022
Heat 11 – 18:20
Bobsleigh Dream
Burgess Glengar
Swift Woof
Ballymac Belvult
Havana Lover (m)
Burkos Bobby (w)
Verdict: The ladies dominate the betting here with Bobsleigh Dream and Havana Lover at the top of the market. Bobsleigh Dream has some excellent form in Ireland and can be expected to improve on her recent trial for leading Irish trainer Pat Buckley. Havana Lover has won three of her last four over the distance here and could prove hard to beat. Burgess Glengar will look to set the pace and is not out of it at a big price.
Selection: Havana Lover
---
Heat 12 – 18:35
Kilkenny Santy
Lemon Tossy
Part Blake
Singalong Sally
Warzone Tom (m)
Savana Hero (w)
Verdict: The heat from hell! Ante post favourite Part Blake takes on superstar bitch Singalong Sally, throw in Shelbourne Open 600 finalist Kilkenny Santy, recent trial stake winner Lemon Tossy, gold collar winner Warzone Tom and the exciting Savana Hero and you undoubtedly have the heat of round one. Singalong Sally holds the key, she is capable of a flying start but does tend to move inwards early and this could cause Part Blake some issues. Warzone Tom and Savana Hero could have plenty of room to operate and a tentative vote goes to Warzone Tom at around about $5.50
Selection: Warzone Tom
---
Heat 13 – 18:50
Droopys Cavalry
Master Ten Ten
Tiffield Trajan
Annual Sydney (m)
Blackrose Tadha (m)
Balterio (w)
Verdict: Balterio should go close in heat thirteen. Well drawn as the sole wide seed its not one of the stronger heats and a repeat of his recent trial may well suffice. Blackrose Tadhg is another with good trial form and usually finishes well.
Selection: Balterio
---
Heat 14 – 19.10
Lanzo
Dreamers United
Fast Fit Paddy
Coppice Fox (m)
Mickys Barrett (m)
Luminous Socks (w)
Verdict: Shelbourne Open 600 winner Fast Fit Paddy has his first outing on UK soil. A powerful performer when he gets room to operate the son of Ballymac Vic should be too strong for his rivals with a level break. Mickys Barrett is a promising young bitch who could go well in the competition, but preference is for Fast Fit Paddy in box three.
Selection: Fast Fit Paddy
---
Heat 15 – 19:30
Signet Ace
Glengar Scholar
Callmesteve
Mystical Tig (m)
Skidroes Buick (m)
Lasair Breno (w)
Verdict: Signet Ace and Glengar Scholar will top the market in this heat. Signet Ace ran well in this event last year and has since won the eclipse at Nottingham. He will need to improve on his recent trial effort but still holds major claims. Glengar Scholar is a young dog with a bright future, a semi-finalist in the recent Kirby memorial at Limerick he can be expected to come on for his recent trial effort. Callmesteve was stunning in his recent trial but will have to come from behind and will need luck.
Selection: Signet Ace
---
Heat 16 – 19:48
Skywalker Stan
Run Bolt
Emilys Jet
Old Fort Chicago (m)
Bubbly Booster (m)
Ballymac Ben (w)
Verdict: The Irish raiders head the betting once again in heat sixteen. Emilys Jet for Peter Cronin was ultra-impressive when beating Sporting Chile around here on April 17th and his recent solo trial was another step in the right direction. Ballymac Ben is perfectly housed out wide for Liam Dowling, he ran well in the Kirby at Limerick and should improve for his first look at the track. Skywalker Stan is a consistent greyhound and should be on the premises.
Selection: Emilys Jet
---
Heat 17 – 20:05
Freedom Alibi
Kantoher Jack
Druids Why So
Scarty Yank (m)
Moyvane Image (m)
Narcos Dode (w)
Verdict: Scarty Yank will be one of the shortest price favourites of the first round. Pat Buckley's tracker was impressive when beating a good field at Tralee in March and showed his wellbeing with a smart trial around here recently. Freedom Alibi was another to impress in a recent trial around here but still has a bit to find to threaten the favourite. Moyvane Image is lightly raced and very well bred. He is open to more improvement and could figure.
Selection: Scarty Yank
---
Heat 18 20.26
Kildare
Diamond Lisa
Borna Haka
Le Bonite (m)
Trumps Benefit (m)
Icemans Savana (w)
Verdict: The lightly raced Kildare will be all the rage in this. He displayed real promise when making it to the final of the Kirby at Limerick in only his fifth start, there is obviously plenty of improvement to come from him. He is perfectly drawn in red and a repeat of his recent trial run ought to be enough. Trumps Benefit usually finishes strongly over fours bends and is not without a chance while La Bonite must be respected coming from the Buckley kennels.
Selection: Kildare
---
Heat 19 – 20:45
Coolavanny Calvn
Minglers Popeye
Signet Denver
Chelms Switch (m)
Hazelhill Hare (m)
Thorn Falcon (w)
Verdict: Last years Derby champion Thorn Falcon kicks off the defence of his title in heat nineteen. He faces a tough assignment, Coolavanny Calvn is no mug, he beat a good field around Shelbourne last month and has impressed in his two trials around here in preparation for the derby. You would expect Thorn Falcon to qualify comfortably but for win purposes it may be wise to side with Coolavanny Calvn for the excellent Michael o Donovan.
Selection: Coolavanny Calvn
---
Heat 20 – 21:04
Shockwave Onyx
Cushie Concorder
Global Vision
Deadly Tornado (m)
Ballinabola Ed (m)
Getawaywithit (w)
Verdict: Ballinabola Ed is the fancy of many to go all the way in this year's derby, a finalist in this years Kirby memorial at Limerick he broke the track record at Tralee prior to that event. His running style suggests Towcester should suit him and it will be interesting to see how he fares in heat twenty. Global Vision put in a massive performance to make all around here late last month and a repeat performance would see him tough to beat.
Selection Ballinabola Ed
---
Heat 21 – 21:20
Whats Up Eva
Monraud Thunder
Cape Cloud
Milton Noah (m)
Chelms Yes (m)
Amaze Me More (w)
Verdict: Good battle for early supremacy in this heat with the four inside runners all well capable of flying starts. Amaze Me More has an ideal drawn in six and should qualify, A chance is taken on Cape Cloud to make all. He has some smart form in the book and ran better than the placing suggests last week in a hot contest. Chelms Yes is another to consider.
Selection: Cape Cloud
---
Saturday May 21st, 2022
Heat 22 – 18:20
Barefoot Shrimp
Darbys Delight
Russian Glory
Bubbly Apache (m)
Derrinasafa Boss (m)
Beach Avenue (w)
Verdict: Saturday night starts with a bang with some real star trackers lining up. Darbys Delight and Beach Avenue are two Shelbourne stalwarts who really motor from halfway. Russian Glory is no slouch and is well drawn in three with a slow starter on his left. Bubbly Apache is my idea of the winner here. He is capable of a flying start on his day and if making one of his better exits he would be extremely hard to peg back
Selection: Bubbly Apache
---
Heat 23 – 18:35
Jeopardy Dawg
Seomra Razl
Burnchurch Mick
Millridge Conor (m)
Adeles Duke (m)
Faughan Rebel (w)
Verdict: Burnchurch Mick is very capable on his day and has a good draw outside Seomra Razl. It is hard to ignore the recent trial effort of Adeles Duke and he will take this with a repeat effort. It is a wide-open heat where the break is vital. A chance is taken in Adeles Duke to come out on top. Faughan Rebel is the old man of the party but usually runs on well.
Selection: Adeles Duke
---
Heat 24 – 18:50
Jaytee Wexford
Churchill Holly
Milton Harbour
Glengar Jenny (m)
Storys Peewee (m)
Chelms Road (w)
Verdict: Jaytee Wexford was impressive in a recent victory around Shelbourne Park. He stays on strongly and loves the rails. Churchill Holly has won her last three starts and put up an outstanding performance in a trial here on May 8th. Storys Pewee is a strong finishing sort who will be there or there abouts at the business end while Chelms Road will attempt to make all. He could slip the field and at around $8 he could give you a good run for your money.
Selection: Chelms Road
---
Heat 25 – 19:10
Romeo On Tilt
Deadly Showtime
Sharky Jezabelle
Chelms Club (m)
Narcos Tata (m)
Clerihan Axle (w)
Verdict: Deadly Showtime is yet another Irish runner who showed real promise around Limerick in the Kirby and he is a dog blessed with fine early pace. He has won over 526m around Cork in the past so if dictating it is hard to see anything come from behind him. Romeo On Tilt is a solid performer with some good form around the track, he could give the selection most to do.
Selection: Deadly Showtime
---
Heat 26 – 19:30
Jumeirah Jimmy
Fatboyz Exile
Milhouse Alan
Belmullet Brandy (m)
Deanridge Skippy (m)
Coppice Brewer (w)
Verdict: The early paced Deanridge Skippy looks certain to lead in this but there are plenty of big finishers drawn in this heat and they will be looking to run him down late on. Any trouble in behind will aid Skippy's cause but you get the impression something will get loose and run him down late on. Jumeirah Jimmy has the best of the draw and could be the one to do so,
Selection: Jumeriah Jimmy
---
Heat 27 – 19:48
Into The Void
Freedom Editor
Farneys Mastro
Bockos Vieira (m)
Pocket Lola (m)
Come Asyouare (w)
Verdict: The lightly races Bockos Viera began his career with a real bang around Shelbourne and you get the impression better is to come. He has been very highly tried recently and could go well in this competition. Into The Void will look to set the pace from box one but has stamina limitations. Freedom Editor and Farneys Maestro have solid course form as to does Pocket Lola. However, there is more to come from Bockos Viera.
Selection: Bockos Viera
---
Heat 28 – 20:05
Wide Open
Zazzeras Jack
Borna Wine
Bockos Budsit (m)
Bens Lad (m)
Havana Bale Out (w)
Verdict: Another contender for heat of the round. Wide Open was superb in the recent Maiden Derby final over course and distance where luck deserted her when a hot favourite to take the final, she remains a young bitch of real potential and has an ace draw in one. She will not have it all her own way with the early paced Bockos Budsit likely to make an early bid for glory from four. Havana Bale Out is another cracking young bitch, she went well in the puppy derby around here late last year and runs the track well.
Selection: Bockos Budsit
---
Heat 29 – 20:26
Knight Tornado
Romeo Magico
Deadly Destroyer
Daring Deise (m)
Killieford Defoe (m)
Frosties Ten (w)
Verdict: Three of Irelands absolute best clash in heat twenty-nine in the shape of Knight Tornado Romeo Magico and Deadly Destroyer, they have similar running styles and are all much better when leading early. Knight Tornado was a little disappointing when leading last week so slight preference is for the in-form Romeo Magico, he ran a blinder last week when holding 2021 winner Thorn Falcon all the way in a great battle.
Selection: Romeo Magico
---
Heat 30 – 20:45
Glenvale Tony
Headford Mike
Shelbys Memory
Romeo On Fire (m)
Fernandes (m)
All About Ted (w)
Verdict: Last years Irish Derby finalist All About Ted will be favourite to win heat thirty. He has not had the best of luck in two recent outing around here, but you can be sure much better is to come. Romeo On Fire has some good Irish form and was a good winner around here last time out. If All About Ted can get back to near his best, he should be hard to beat
Selection: All About Ted
---
Heat 31 – 21:04
Lemon Bartacus
Ballymac Leon
Baggios Champ
Mystical Mario (m)
Farneys Richie (m)
Lemon Reuben (w)
Verdict: Ballymac Leon has been highly tried in his brief career to date and we certainly have not seen the best of him yet. Liam Dowling must see potential in the youngster to bring him over and that shows you there is better to come. Baggios Champ would prefer further but his trial effort was highly promising. Farneys Richie has excellent course form and should not be overlooked
Selection: Ballymac Leon
---
Heat 32 – 21:20
Stefans Rocket
Romeo De Niro
Longrange Dick
Clongeel Ozzie (m)
Loggies Monty (m)
Farneys Calipso (w)
Verdict: Ex Irish tracker Stefans Rocket is a dog blessed with huge early pace and is fancied to make all in the final of the thirty-two heats. He ran well in the early rounds of last year's Irish Derby and looks the one to be on. Longrange Dick may give him most to think about after his smart trial around here last week.
Selection: Stefans Rocket
---
Cash is King at Shelbourne Park
Gizmo Cash put in a performance many of us thought was beyond the realms of possible when he smashed the track record of Ardnasool Jet at Shelbourne Park on Saturday night clocking a sensational 18:18 for the 320m and clipping some three lengths of the previous record. Trainer Jamie McGee has long since held Gizmo Cash in high regard, speaking to the young trainer a few weeks back he mentioned to me that he expected a big run from him in the near future, he was not wrong. Cash took a flier from box four and blew away a classy field including Winter Festival Sprint winner Offthepitch and Derby sprint night winner and kennel companion Two Amigos. He will go to traps a warm favourite to land the final of the Island Bridge Sprint at Shelbourne this Friday night.
---
Mary delivers Magical Performance to take Cesarewitch
Magical Mary gave her excellent trainer Patrick Guilfoyle his fifth Cesarewitch at Mullingar on Sunday with a devastating display that seen her come home some eight lengths of nearest market rival Toolmaker Beach. Fast away from the two box the daughter of Droopys jet raced clear to the bend and in truth the race was as good as over. Striding clear to the third bend she powered home an ultra-impressive winner and must now be a lively contender for the upcoming Irish Oaks starting at Shelbourne Park this Saturday night.
Another bitch in top form at the moment is Burgess Josie. She went to traps the odds-on favourite to take the final of the Epic Boy Limerick Oaks. She assumed control at halfway and held off the late challenge of Kilbannon Pscyho in 28:66. You would expect most if not all of the runners to be entered for the upcoming oaks at Shelbourne Park.
---
This weekend's best bets
Towcester Thursday – Race 2
Towcester Friday – Race 10
Towcester Saturday – Race 5
---
2022 English Derby Ante Post