Better Call Caul: Only 12 remain in English Derby heats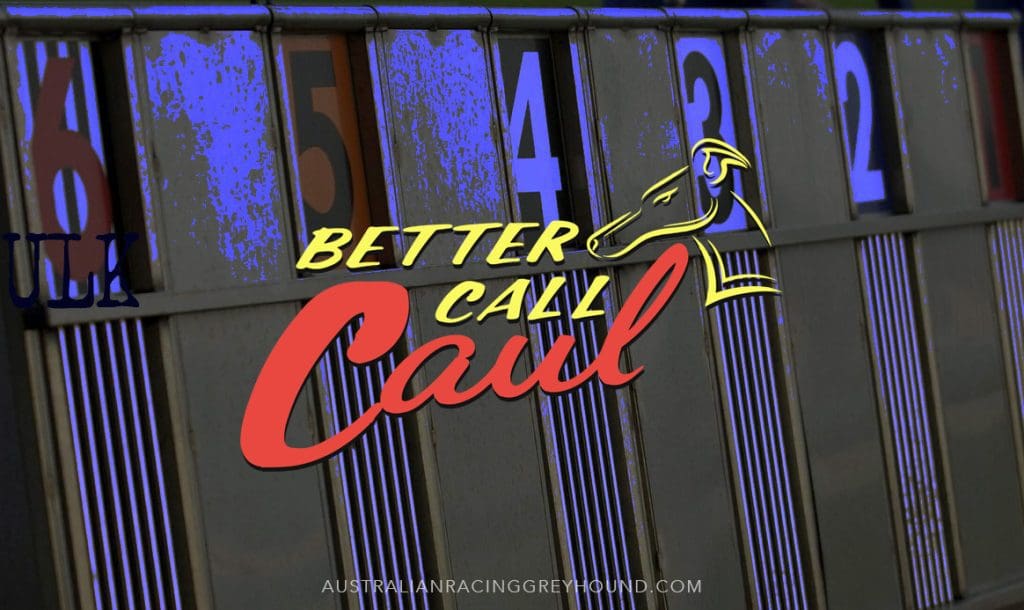 Priceless Jet was the star of the show at Towcester last Saturday as 24 became 12. The brilliant son of Droopys Jet has been one of the best performers around over four and six bends for the last two years and posted a flying 28:78 and a new track record in the process, just under a length quicker than the previous best of 28:84 held by Lautaro.
His trainer, Paul Hennessy, also took the second quarter-final with Hello Hammond in 29:22. We lost ante-post favorite Ballinabola Ed in this heat. His trainer, Pat Buckley, had no luck with his three Derby runners, with Singalong Sally and Bobsleigh Dream also making their exits (more on that in a moment).
The Irish made it three from three when Romeo Magico made all in the third quarter-final in 29:01 before Signet Goofy maintained his unbeaten record in the competition when leading from trap rise in 29:21.
Questions continue to mar the competition and it is still hard to work out what the exact problem or problems are. Ballinabola Ed looked a likely winner past halfway and failed to qualify, Singalong Sally looked booked for victory off the last bend but for some reason she checked off wide behind the front-running Signet Goofy and failed to qualify. I've watch Singalong Sally throughout her career and have only ever seen her hug the rail; this manoeuvre was out of character for her and it is hard to explain.
I was at Shelbourne Park on Saturday night and watched the quarter-finals live in the company of many top trainers and shrewd judges. Everyone seemed to have some sort of grievance with the Towcester track, from the surface to the traps, the inside-versus-outside bias, to the distance and speed of the hare as it passes the boxes. Doing some research, they all make valid points and hopefully the track can become a level, more consistent venue before it's too late.
Let's not forget there are still 12 sets of owners who won't be complaining, so let us look at both semi-finals.
---
2022 English Greyhound Derby semi-finals
Heat 1 – 19:48
Savana Beau
Romeo Magico
Deelish Frankie
Mickys Barrett (m)
Signet Goofy (m)
Faughan Rebel (w)
Romeo Magico and Signet Goofy head the market in the first semi final and the duo have an early pace edge over their rivals. Signet Goofy is the only unbeaten runner left in the competition and his early sections are the most consistent on offer. He looks a certain leader and only Romeo Magico can live with him early provided he produces a level start. Romeo should turn second at worse and if he's within two lengths of Goofy entering the back straight we should have a race on our hands. We must mention the wonderful Faughan Rebel who will be five in November, he has been running as well as ever in recent weeks and it would be a pleasure to see him make the final. The same comments apply to Mickys Barrett and his legion of fans, we wish them all the best. For me Deelish Frankie is most likely of the remainder to make the final. He finishes well and has shown decent trapping ability in the past. I'll side with Romeo Magico to beat Deelish Frankie and Signet Goofy
Selection: Romeo Magico
Heat 2 – 20:05
Hello Hammond
Kildare
Make Noise
Coppice Fox (m)
Lautaro (m)
Priceless Jet (w)
The break will be crucial in the second semi-final. Irish raiders Priceless Jet and Hello Hammond have won over much further in the past and its hard to see either of them pick up if leading. Lautaro is another who is strong off the front, but his trapping has been average at best since the second round. The lightly race Kildare has a nice touch of early pace and if he traps on terms, he could be the one to side with. He looked a real star in the earlier rounds and its far to early to give up on him yet. Make Noise can make all but will need a flying start while Coppice Fox has meet and beat Priceless Jet earlier in the competition and is very capable on his day.
Selection: Kildare
---
Ladies Night at Shelbourne Park
The Irish Oaks final takes place this Saturday night at Shelbourne Park and what a race we have in store. Very little separates semi-final winners Droopys Nextone (28:18) and Raha Mofo (28:16) on the clock. Amazingly, neither of the semi-final winners is favourite to land the classic on Saturday night; that honour goes to Scooby Duchess, who ran a massive race behind Droopys Nextone last weekend. Duchess has only won one of the four rounds to date but finds herself as short as $2.50 to take this weekend's prize. Let's look at the final.
2022 Irish Oaks final
Scooby Duchess
Ballymac Art
Raha Mofo
Ballymac Miranda
Droopys Nextone
Tullovin Vita
Scooby Duchess has undoubtedly got the best of the draw running from box one. She is a bitch blessed with huge pace to the third bend but seems to be getting that little bit stronger as the competition progresses. She missed the kick last week but showed fantastic speed and determination to lead as they turned for home, the fuel gauge was running low in the shadow of the post where she was picked up late by the big finishing Droopys Nextone. Back in third was the brilliant Ballymac Art who was running in her third consecutive oaks semi-final, and she will now line up in her second oaks final in three years for Liam Dowling. The rapidly improving Raha Mofo took the first semi-final when flashing from box three and staying on powerfully to beat Tullovin Vita and Ballymac Miranda. The draw is crucial and if Scooby Duchess can break level, you would expect her to lead. Raha Mofo is capable of flashing from traps and therein lays her chance. Big finisher Droopys Nextone will be coming home best of all, but the draw has left her requiring plenty of luck. Tullovin Vita has some fine early speed and as the perfect wide seed she could go well at double figure odds. Ballymac Miranda is not without a chance in four, she contested the Cork Super sprint earlier in the year and would have a chance if she could rediscover her trapping boots. A tentative vote goes to Scooby Duchess, But I wouldn't write off Ballymac Miranda at huge odds.
Selection: Scooby Duchess
---
Race of Champions at Tralee
Last year's Derby and Oaks champion, Susie Sapphire, takes on the Dog of the Year, Explosive Boy, in this Friday's Race of Champions at Tralee. Throw in the Sprinter of the Year, Good Cody, the excellent Skywalker Barry, Bockos Budsit and Loher Ron, and considering the English Derby is at the semi-final stage, this is undoubtedly the race of the weekend.
Just over a length separates the two semi-final winners. Susie Sapphire was quickest in 29:60, with Explosive Boy just behind in 29:68. You feel whatever leads could take the prize. It is certainly a race to look forward to, but from a punting perspective it's a bit of a mine field. A small chance is taken on Bockos Budsit to make all for in-form trainer Graham Holland.
Selection: Bockos Budsit
---
Weekend's best bets
Towcester – Saturday, June 18
Greyhound
Romeo Magic (19:48)
*Odds correct at time of publication
Greyhound
Kildare (20:05)
*Odds correct at time of publication