Free greyhound tips for Sunday 13th August 2017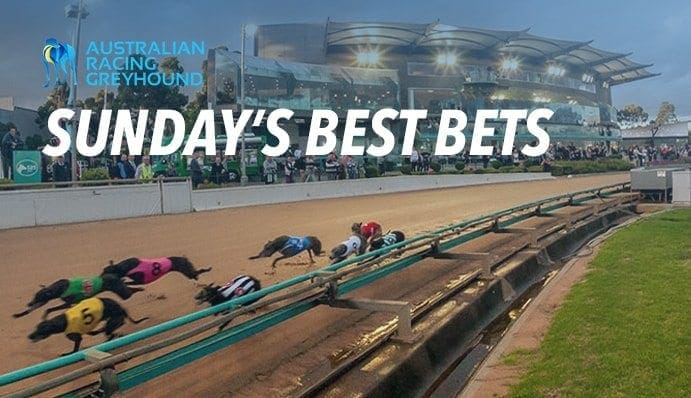 BACK to the drawing board after yesterday. A day of bets we were very confident about but just didn't pan out as expected. We were bang on with the three of the four bets kicked off by Crash Bandicoot (Collision x J's Robin Jul '15) winning extremely well at Horsham. A seriously dominant display and he will destroy that track over the longer journey. Fortunately we were able to get set at $1.80 (SP $1.40) as he was plunged in betting everywhere.
Found A Diamond (Turanza Bale x Miata Oct '14) ran well in the WA state National Sprint final but was given a greyhound racing lesson by Max Profit who reminded us all in emphatic fashion that most greyhound races are won by leaders. He blazed across from box eight and burnt the field off.
Hoo Gur Affair (Barcia Bale x Gold Affair Two Dec '15) underperformed and didn't run up to expectations late in the race. Everything was going to plan, but for some unknown reason he lost 0.1 of a second in his run home time and didn't not improve his first or second sections at all. That allowed talented Rockoon to reel him easily in the run to the line after her got an unimpeded run from box eight and through the first corner. Hoo Gur Affair may not have been good enough to hold him out off that run, but not running up to par certainly made it easier.
Knocka Nova (Don't Knocka Him x Paint Oct '15) was just horrible at Ipswich, slow early and ordinary after. Not the dog we had hoped he was and we'll be penning him in future races.
Yesterday's Greyhound Tip Results
| Turnover (Units) | Our Avg Price | Avg SP | Avg Bet | Value (Units) | Return (Units) | Strike Rate | Profit/Loss (Units) | Profit On Turnover |
| --- | --- | --- | --- | --- | --- | --- | --- | --- |
| 40 | 2.55 | 3.79 | 4.48 | +2.28 | 18 | 25% | -22 | -55% |
So after what started out looking like a bumper fill up day, we somehow found a loss from our four bets but are still keeping our noses infront with 9% POT for the month from our greyhound racing tips.
August Greyhound Tip Results
| Turnover (Units) | Our Avg Price | Avg SP | Avg Bet | Value (Units) | Return (Units) | Strike Rate | Profit/Loss (Units) | Profit On Turnover |
| --- | --- | --- | --- | --- | --- | --- | --- | --- |
| 236 | 3.04 | 4.44 | 5.32 | +2.28 | 257.75 | 32% | +21.75 | +9% |
Healesville Greyhounds
Best Bet: Race 1 Box 7 Peter Galo – Deposit $50 & bet with $150 on Topbetta's Global Tote
Don't often bet at Healesville but one greyhound stands out early in the program as a value bet based on his prior wins here and the price they seem content to send him out at. Peter Galo (Peter Rocket x Flossy Dec '15) is lining up from box seven in the Vic Breeders Maiden final this week after having won his semi final from box two running 19.25. The other heat winner He's Supreme (19.17) is boxed outside him and mad for the rail – he goes hard hard left at the start. Our bloke is not brilliant from the boxes and for once this will work to our advantage, missing the crashing greyhound who will upset the rest of the field, and leave us clear running out wide. A little risk but nice price to offset.

Peter Galo Betting Strategy
| Bet Type | Assessed Price | Bet Units | Confidence |
| --- | --- | --- | --- |
| Win | $2.75 | 8 | High |
Mt Gambier Greyhounds
Best Bet: Race 7 Box 8 Lektra Aly
Lektra Aly (Fabregas x Supreme Vision Oct '14) towelled up the opposition here at Mt Gambier over the 400m last start from box seven, and moves down in grade, up in distance and one box further out to box eight today. Can't see how a repeat performance will see anything but her leading, and she was won three of seven starts from boxes seven or eight. Comes up against the same favourite from last week Ramified, who will again start favourite this week from box one. This is put in take out for our followers, as Ramified can't lead Lektra Aly and can't run her down.

Lektra Aly Betting Strategy
| Bet Type | Assessed Price | Bet Units | Confidence |
| --- | --- | --- | --- |
| Win | $2.25 | 10 | Extreme |
Gawler Greyhounds
Best Bet: Race 6 Box 1 Stitch 'Em Up – Crownbet deposit $40 bet with $140 offer
Would be making a huge mistake if we did not follow up on Stitch 'Em Up (Bekim Bale x Niamh Premier Jun '15) today at Gawler after he was extremely unlucky and only just failed to hit the line first after a severe setback in his race last week here from box four. Uncharacteristically missed the start then and was immediately in trouble and checked, but moves inward to box one today where his is unbeaten from three starts. Still nearly got up for us last time, and will bolt this in today. Won't be flash odds, but won't lose either.

Stitch 'Em Up Betting Strategy
| Bet Type | Assessed Price | Bet Units | Confidence |
| --- | --- | --- | --- |
| Win | $1.44 | 10 | Extreme |
Sale Greyhounds
Best Bet: Race 10 Box 1 Zipping Nicole- $500 Free Bet at Ladbrokes
Zipping Nicole (Dyna Tron x Yarramundi Flash Aug '15) vs litter sister Zipping Megan in the last race at Sale tonight. The litter is flying with Zipping Megan winning a Warrnambool 390m win last start, and Zipping Jacy one of our winning best bets at Horsham last Tuesday. Zipping Nicole started her career with three wins from three starts but has since been ordinary, getting beaten at Warrnambool and Horsham. The return to box one however should see her regain that winning feeling where she is unbeaten from two starts. Nicole is a little slower away from the boxes, but does accelerate quickly, while her sister Megan will jump faster from box three and give us some cover while Nicole gets up and running.

Zipping Nicole Betting Strategy
| Bet Type | Assessed Price | Bet Units | Confidence |
| --- | --- | --- | --- |
| Win | $2.75 | 8 | High |
Today's Greyhound Tip Results
| Turnover (Units) | Our Avg Price | Avg SP | Avg Bet | Value (Units) | Return (Units) | Strike Rate | Profit/Loss (Units) | Profit On Turnover |
| --- | --- | --- | --- | --- | --- | --- | --- | --- |
| 36 | 2.30 | 2.74 | 3.03 | +0.73 | 106.08 | 100% | +70.8 | 197% |
Similar Greyhound Racing News