Greyhound racing best bets and odds for Friday November 24, 2017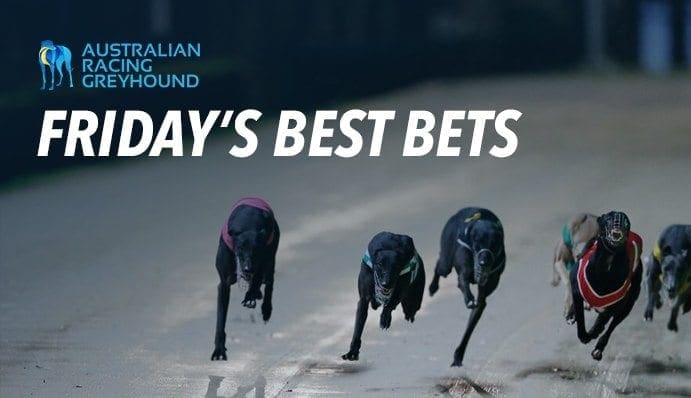 THE biggest night of Australian greyhound racing is here with a colossal card of competition at Sandown Park featuring the world's richest greyhound race, the $600,000 Group 1 Melbourne Cup.
There are also some nice dogs going around at other venues around the country, so to help you find some winners we have studied the form to bring you our best bets.

We also want to help you find the best price so have compared the odds on offer from all of our leading bookmakers.
If you find something you want to bet on, be sure to claim your free bet bonuses on offer to readers of Australian Racing Greyhound which will give you bonus cash to place on our selections.
If you are having a bet in the Melbourne Cup itself, you can snag $3 about race favourite Aston Dee Bee with TopBetta (maximum bet $25).
Greyhound racing best bets – Friday November 24, 2017
The Gardens R5 No.4 Dreaming Time: Was racing over 400 earlier in her career which didn't really suit and has found better form since stepping up in distance. Began well and found trouble two starts back and then followed up that run with a brilliant 29.82 effort at Gosford on Tuesday. Short back up is a slight concern, but she finds a winnable race and will be right in contention if she can find the lead early.


Warning: count(): Parameter must be an array or an object that implements Countable in /home/australianracinggreyhoundzzz/webapps/app-australianracinggreyhound/wpress/wp-content/plugins/Odds-Compare/vendor/guzzlehttp/guzzle/src/Handler/CurlFactory.php on line 67


Richmond R5 No.2 Winsome Mission: Probably not racing as well as he was a year ago, but he is still going ok and he drops massively in class for this event. Box two suits – he is likely to fall out of the boxes but can find the fence and run home strongly. $4-$5 is about his right price, wouldn't be taking anything shorter, but he is a class animal and must be respected.


Warning: count(): Parameter must be an array or an object that implements Countable in /home/australianracinggreyhoundzzz/webapps/app-australianracinggreyhound/wpress/wp-content/plugins/Odds-Compare/vendor/guzzlehttp/guzzle/src/Handler/CurlFactory.php on line 67


Sandown Park R3 No.1 Aston It Is: Bred to run over more ground and has been ultra impressive since switching to the middle distance, winning his past three starts in good time. Not a brilliant beginner, but should get a nice run off box one and if he can get within a couple of lengths of the leaders past the post the first time he will take some holding out.


Warning: count(): Parameter must be an array or an object that implements Countable in /home/australianracinggreyhoundzzz/webapps/app-australianracinggreyhound/wpress/wp-content/plugins/Odds-Compare/vendor/guzzlehttp/guzzle/src/Handler/CurlFactory.php on line 67


Sandown Park R4 No.1 Quick Jagger: This is a very good race so by no means declaring this boy a moral, but he has been racing well against some class greyhounds and his third behind Bewildering in a Cup heat last week was full of merit. Much better suited on the rail – if he jumps with them they will know he is in this race.


Warning: count(): Parameter must be an array or an object that implements Countable in /home/australianracinggreyhoundzzz/webapps/app-australianracinggreyhound/wpress/wp-content/plugins/Odds-Compare/vendor/guzzlehttp/guzzle/src/Handler/CurlFactory.php on line 67


Sandown Park R9 No.5 Pepper Fire: Another I have gone with for a bit of value. She is a very consistent bitch and she almost got to the front last week off box eight before Aston Dee Bee burned through to take the lead and win in 29.12. This is easier and she gets her chance to find the front today with another quick beginning – a bit risky in the closing stages but she will give a good sight.


Warning: count(): Parameter must be an array or an object that implements Countable in /home/australianracinggreyhoundzzz/webapps/app-australianracinggreyhound/wpress/wp-content/plugins/Odds-Compare/vendor/guzzlehttp/guzzle/src/Handler/CurlFactory.php on line 67


Mandurah R8 No.4 Miss Bamsy: Poorly drawn but she looks capable of leading still and she has an impeccable strike rate, having won 11 of her 14 attempts over the track and trip. Has a personal best of 22.52 and if she can repeat that out in front I doubt they will be running past her.


Warning: count(): Parameter must be an array or an object that implements Countable in /home/australianracinggreyhoundzzz/webapps/app-australianracinggreyhound/wpress/wp-content/plugins/Odds-Compare/vendor/guzzlehttp/guzzle/src/Handler/CurlFactory.php on line 67