Greyhound racing tips & best odds for Thursday October 12, 2017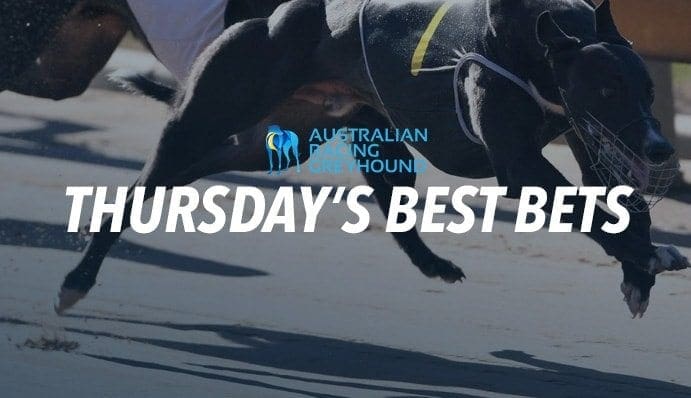 MASSIVE night of racing around the country and most of the spotlight will be shining on Albion Park for the running of the Group 3 Gold Coast Cup and the Eric Thomson Memorial.
Additionally, two Preludes of the Group 1 Melbourne Cup will be run at Sandown Park and heats of the St Leger and Laurels series will both be held at Hobart.

If you fancy having a bet tonight but don't have time to devour the form, we are here to lend a helping hand with our best bets across Australia.
Before placing a bet, be sure to check out the free bet bonuses exclusive to readers of Australian Racing Greyhound for extra cash to place on your chosen selections.
Greyhound racing best bets – Thursday October 12, 2017
Hobart R4 No.8 – It's A Wink Freakish talent and she is beautifully boxed out wide. From the pink she should get every chance to muster pace and find the front – on the bunny she is capable of running around the 25.80 mark and I doubt there is another dog in this field which can go that quick.


Warning: count(): Parameter must be an array or an object that implements Countable in /home/australianracinggreyhoundzzz/webapps/app-australianracinggreyhound/wpress/wp-content/plugins/Odds-Compare/vendor/guzzlehttp/guzzle/src/Handler/CurlFactory.php on line 67


Albion Park R5 No.1 – Pure Vengeance Was very impressive when winning his heat in a handy 30.36 and gets the gun draw for tonight's final. Needs to come out a little bit better but if he can punch through and lead I expect him to be too good.


Warning: count(): Parameter must be an array or an object that implements Countable in /home/australianracinggreyhoundzzz/webapps/app-australianracinggreyhound/wpress/wp-content/plugins/Odds-Compare/vendor/guzzlehttp/guzzle/src/Handler/CurlFactory.php on line 67


Albion Park R8 No.1 – Alota Amy Coming into this race in career best form having won her past three in a row. Last start she was particularly impressive when running down Joyce Rumble in a best of night 29.73 and from the red she should be able to put herself in contention in the early stages. She is super strong and if she gets anywhere near the lead through the first turn they will be struggling to hold her out.


Warning: count(): Parameter must be an array or an object that implements Countable in /home/australianracinggreyhoundzzz/webapps/app-australianracinggreyhound/wpress/wp-content/plugins/Odds-Compare/vendor/guzzlehttp/guzzle/src/Handler/CurlFactory.php on line 67


Sandown Park R6 No.3 – Angel Dash Probably not the fastest greyhound in the race but she is boxed well and is a brilliant beginner. If she can find the front she is capable of running around the 29.40 mark and that could be enough to pinch it out in front. Back her each-way.


Warning: count(): Parameter must be an array or an object that implements Countable in /home/australianracinggreyhoundzzz/webapps/app-australianracinggreyhound/wpress/wp-content/plugins/Odds-Compare/vendor/guzzlehttp/guzzle/src/Handler/CurlFactory.php on line 67


Sandown Park R7 No. 1 Bruce Tycoon Getting on in age but he is still racing well and he gets his favourite box at his favourite track. Seems to grow a leg from the inside draw and he is at handy odds worth backing.


Warning: count(): Parameter must be an array or an object that implements Countable in /home/australianracinggreyhoundzzz/webapps/app-australianracinggreyhound/wpress/wp-content/plugins/Odds-Compare/vendor/guzzlehttp/guzzle/src/Handler/CurlFactory.php on line 67