Ipswich greyhound racing tips & top value bets | 12/3/2022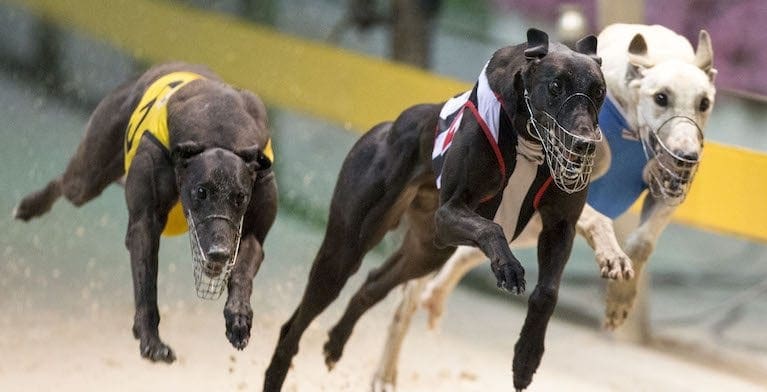 Race 1 – Tab Live Sky Racing Vision Maiden 288m
Freddie Blue started a 2.60 fav when unplaced at its first start earlier this week. That alone tells me it has ability and can bounce back tonight. The danger could be the Neil Catchpole Sunshine Banjo who has had one start at Capalaba on the 23rd of February and managed to fill a place, 6 lengths from the winner in moderate time. It would be good to see Neil have a change of luck here, after the recent floods did his property no favours. My Genie ran a good second behind My Gal Cookie at Ipswich running a respectable 17.27 on the 18th of February. Then two days later ran into the flying Cyclone Winston (brother of My Gal Cookie) at Capalaba beaten a long way. It can bounce back here. Watch betting on the first two starters from box 1 and box 2.
Selections – 3, 8, 5, 2
---
Race 2 – Sky Racing Maiden 288m
I think Calypso Ruby can finally break through here in a very weak maiden. From box 8 is should get clean air and has shown early pace in the past. It should be each way odds so I would suggest a nice 2 units the win and 6 units the place. It has been placed 50% of the time in its 21 starts to date. The danger appears to be the Matt Bourke trained Adventure Queen. Has raced 3 times over the 431m here and I suspect the 288m might suit better. Uncle Charlie from the red box, can run a big race here. Must include in the main chances. Powder Keg can also fill a minor placing but will need a little luck early from box 7.
Selections – 8, 6, 1, 7
---
Race 3 – Ipswichgreyhounds. com Maiden 431m
Trainer Stephen Neary has four of the eight runners here, so one could conclude he has a 50% chance of winning this race. Three of his runners are not that fast early but the other has speed and was a close second at Albion Park on the 6th of February. I talk about King of Cakes and who doesn't like a good cake and I suspect this one will have the cherry on top at the end of this race. The obvious dangers are Rosdue Tyson and Dandy Battler from the red box. Rosdue Tyson has run a creditable second from this box and distance, back in January. That is a good form line for this. Over the last 4 years 25.7% of winners come from Box 1 and when they are favourite, they win 45.9% of the time. That's a good stat for Dandy Battler in this.
Selections – 3, 8, 1, 2
---
Race 4 – Dover & Sons Maiden 520m
Up to the 520m here for another maiden race where the overall form is ordinary at best. Nevertheless, one dog will win this race and I lean towards Velocity Cleo. Has early speed and if it can lead, may take running down and a big chance for the dogs following, finding trouble. Has been placed here previously but is only small at 26kgs so must lead. Perfect Pins is a danger. It has been placed twice from five attempts at the track and distance. Whoosh Car back to the 520m I suspect will improve and run a bold race here. Longest Ride has the red and can figure in the minor money. Suggest a small bet on Velocity Cleo or time to make a coffee and sit back and watch.
Selections – 6, 3, 2, 1
---
Race 5 – Greyhound Gear Grade 4/5 630m
Only six runners here over the longer 630m distance. Raymond Burman has two of the six runners and I think he can win with Davey Fawner. Has won seven times and placed 18 times from 40 career starts and its recent form is strong including a recent win at Albion Park over 600m. Has the pace to lead and the vacant box outside helps. Malachi is racing well and from 8 starts at track and distance, has 2 wins and 3 placings. Poor record from box 7 shouldn't be a worry in this small field. Big Boy Benji has won 7 from 79 starts and is the kennel mate to Davey Fawner and can place here. Dundee Ember is slow early but can get to the rails and run on strong.
Selections – 5, 7, 4, 8
---
Race 6 – Ipswichgreyhounds.com 5th Grade 520m
I see value here in number 3 Louder. From 8 starts it has won twice and been placed three times. Up to 550m last start at Bundaberg when a credible second behind Keen back in February. First start at Ipswich but has the early speed to lead and the strength to win. Both Abel Johny and Waypoint Whisky have the good box draws of one and eight and fought out the finish at Albion Park back on the 24th off February. I think they will fill the placings and be a big danger to Louder. Godges has had a month of since falling at Albion Park over the 395m. It was big odds on that occasion so it's a watch and see this time around.
Selections – 3, 8, 1, 6
---
Race 7 – Just Greyhound Photos 5th Grade 520m
Tungsten Miss for Jedda Cutlack has an imposing record of 10 starts for 8 wins. Drawn in the middle with a vacant box on its outside, it should get clear air early and lead. Best bet of the night and anything over $1.60 is value for mine. Saying all that, State of Rage will offer resistance and has had 13 starts at the track and distance for two wins and nine placings, so it runs second. Bold hornet from the red and She's In clover from box three look like fighting out 3rd and 4th. Load up on 4 to win and 6 to place. (Only 2 Divs with 7 runners)
Selections – 4, 6, 1, 3
*ODDS CORRECT AT TIME OF PUBLICATION
---
Race 8 – Ipswich Auction Sprint Series Final 431m
The big race for the night is here with a $14,000 prize to the winner. Some fast dogs here and the early speed is most important. All races run over this distance are won by dogs boxed one and two, 42% of the time. They start on a corner and all dogs head for the same spot when the bunny hits the apex of the bend. Better not get on my soap box regarding corner starts so I will get back to dissecting this race.
I think the red rug holds all the aces here, best box and ten starts for four wins and has the pace to kick through first and lead. So, Where's The Ford on top for me. I think San Polo for Ned Snow is great value from box seven. I expect it to get clear air early and be a big danger at good odds. Red Buzz has the dreaded squeeze box and would have been my top selection had it drew the rails. Can still run a big race. Building Success might get the rail early behind Where's The Ford and it can blow the whistle late and get through and win. Trifecta could be value – Box 1,2,4,7
Selections – 1, 7, 4, 2
---
Race 9 – Ipswichgreyhonds.com 5th Grade 431m
I like the Glenda Dart trained Commands Respect here. I think it can begin quick enough to get a clear path early and will win if it leads. Box 5 no help of cause but the outside dog has not been that quick early of late. Lily Monelli is having its first start since Nov 21, so I would like to see this time. I am sure Jedda will have her ready to run a big race. Should be able to follow the five rug across and be second early. Black Zircon has won 6 races from 14 starts at the 431m so has to be included. Box 1 will help Senorita Maywyn and it can also fill a minor placing.
Selections – 5, 7, 4, 1
---
Race 10 – Sky Racing 5th Grade 431m
Very average bunch of grade 5 dogs here. I think the six rug in Herman Maze Key can speed across and lead here after its last run when in narrowly went down in good time. A repeat of that performance will win this race. I don't like the inside three dogs here, so the four rug, in I'm A Shy boy, can get a good run behind the six dog early and fill a place. Really good form late last year holds it in good stead here. Cake Is Bad can also get clear air early from the eight box and fill a place. Rosdue Rockette is the best of the rest.
Selections – 6, 4, 8, 7
---
Race 11 – Tab 5th Grade 431m
Love those cakes. Stephen Neary has a great little bakery at home and here is another fast cake that looks hard to beat wearing the red rug here. Three starts for two wins and its last win at Albion Park in 19.13 is very good form for this. So, Queen Of Cakes on top. The Robert Essex pair appear to be the main dangers. Maywyn Idris from box four and Victim of Crime from box 8 do appear to get clear runs early, if that is even possible on this corner start. Hard to predict for sure, but I think they will. They both have a career best of 25.47 at this distance and that is good enough to figure in the placings against this lot. The Serena Lawrance trained Gossamer Wings can drop to the fence early and be competitive late.
Selections – 1, 4, 8, 2
---
Race 12 – Ipswichgreyhounds.com M5 520m
Our senior dogs do battle in the last over 520m. This is an absolute lottery and the runners with the best strike rate have recent convictions in one way or another. Flying Jet has won 26% of its races and placed 68% of the time. A great record but hasn't raced since early November 21. Nearly four years old and is first up for 4 months so that is red flags for me. Night Shift won at Bundaberg back in November over the 520m and has been okay since. It won't find an easier race than this, so it goes on top. Major Blip won at Albion in February over the 520m, and that form is good enough here. Hammer Drill two wins from 112 starts collects the old age pension, I hope he runs well. Great to see these dogs still having fun on the track. Zipping Flick has one win from 57 starts and deserves a mention here. Will be a 5YO in August and has won nearly $11,000 in prizemoney. I would love to see it win again. Aston turbine did record a slick 19.72 at Capalaba 8 months ago and Zabdon Adesanya ran a slick 19.68 in December. Those two runs alone are good form for this.
Selections – 1, 2, 7, 8
---
Similar Greyhound Racing News