Lismore Cup heat tips & greyhound best bets October 17, 2017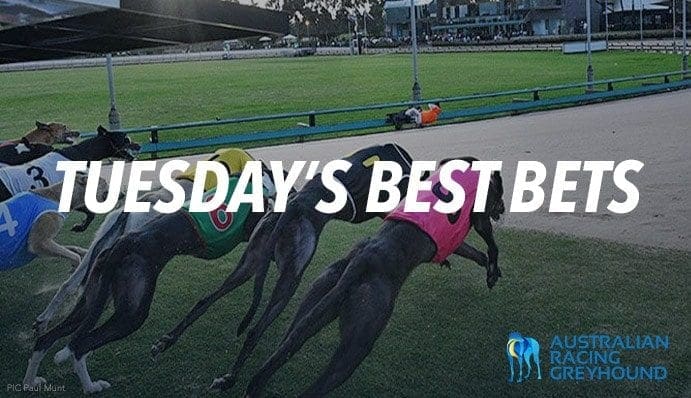 FOUR heats of the Group 2 Lismore Cup highlight greyhound racing around the country tonight, featuring some of the best sprinters from NSW and QLD.
Fast Times (Barcia Bale x Clockwise Apr '15) is the $3 favourite with Bet365 to take out the final next week, but will have to overcome a tough field and a tricky draw from box six to qualify for the $40,000 to the winner decider.
Tony Brett, who trains Fast Times, looks to have a massive chance ahead of the heats, with his other hopefuls including last start Gold Coast Cup winner Opal Nera (Dyna Tron x Black Sambuca May '15) and Group 1 National Sprint Champion Jury (Cosmic Chief x Velocity Sheba Mar '15).

Opal Nera and Jury are $5 and $8.50 respectively to claim the title.
Aside from the Lismore Cup heats there is plenty of quality racing tonight. If you fancy having a bet, we have done the hard work for you, studying the form to bring you our best bets with the top odds available from our list of recommended online bookies.
To kick things off we are heading to Lismore to preview each heat of the Cup. If you think we are on the money, be sure to claim the free bet bonuses on offer to our readers which will give you hundreds of dollars in matched cash to place on tonight's racing.
Lismore Cup heat one – race four – 7.52pm
Going to go for some value in this race. Two Jay (4) resumed last week over the 420m trip and exploded from the traps with a best of night 24.01 win over 420m. She should strip fitter for that run and if she can find the front she will be hard to run down. Prior to her break she found nothing but trouble in the Group 2 Black Top final won by Mister Twister after winning her heat in 29.84 on a slowish track. Probably not the fastest greyhound in this race, but she is very speedy and $10 is overs.

Fast Times (6) is a freakish sprinter and he resumed from a torn pin muscle last week when running fourth at Albion Park. The run was solid and he is by far the best greyhound in this race. With a good box I would have put him on top, but for me he is too short from box six as he can take a few strides to get going and this race is packed with speed.

Knight Sprite (3) is 4.5 years old but has been one of the best in the state for a long time. He comes into this race with two months off, but by all reports he has been flying in trials ahead of this race. Box three suits and he is normally a good beginner – race fitness will be the main query.

Bikini Cloud (1) is racing high on confidence having won four in a row. She can take a few strides to get going but she is beautifully boxed and I would be surprised if she doesn't finish in the top four.

Tips: 4 – 6 – 3 – 1


Warning: count(): Parameter must be an array or an object that implements Countable in /home/australianracinggreyhoundzzz/webapps/app-australianracinggreyhound/wpress/wp-content/plugins/Odds-Compare/vendor/guzzlehttp/guzzle/src/Handler/CurlFactory.php on line 67

Lismore Cup heat two – race five – 8.09pm
Jury (1) has been lightly raced since winning the Group 1 National Sprint Championship in August, having had just one start for a second at Albion Park. Hasn't raced here before but he is beautifully drawn and is armed with brilliant early speed. Clearly the one to beat.

Joyce Rumble (2) is better than her last two starts. Prior to that she won the Young Guns at Albion Park posting a fast 29.73. She produces her best when she leads, but she has the home track advantage here and she can make the most of any mistakes the favourite makes.

Marilena Franco (7) has won two of her past three and she is a very fast greyhound on her night. Well drawn in box seven to figure in the finish.

Aristotle (3) jumps massively in class for this race, but he is a handy dog having won 30 of his 89 starts. Doubt he can lead this race but if he can put himself into a prominent spot through the first turn he could take home some minor money.

Tips: 1 – 2 – 7 – 3


Warning: count(): Parameter must be an array or an object that implements Countable in /home/australianracinggreyhoundzzz/webapps/app-australianracinggreyhound/wpress/wp-content/plugins/Odds-Compare/vendor/guzzlehttp/guzzle/src/Handler/CurlFactory.php on line 67

Lismore Cup heat three – race six – 8.27pm
Terra Torra (5) is a good beginner and she is unbeaten over this track and distance with four wins from four starts. Box five does her no favours but she has a slow beginner on her inside and if she can show her customary early toe she should have no trouble finding the front.

Opal Nera (6) is also a good beginner and he should get a nice run across on the outside of Terra Torra. He is having his first look at the track tonight, but he won first up at Townsville and The Meadows so that shouldn't be too much of a concern. The main danger.

Fab Dooley (3) returned to form with a fast 30.04 win at Albion Park on Thursday night. Well drawn on the inside and whilst he probably lacks the genuine group class of some of his rivals, he has the speed to put himself into the race and feature in the multiples.

Ebby Chance (2) is perfectly drawn and she can step well from the boxes. She can be a bit moody though so would prefer to limit her to the exotics at her debut at Lismore.

Tips: 5 – 6 – 3 – 2


Warning: count(): Parameter must be an array or an object that implements Countable in /home/australianracinggreyhoundzzz/webapps/app-australianracinggreyhound/wpress/wp-content/plugins/Odds-Compare/vendor/guzzlehttp/guzzle/src/Handler/CurlFactory.php on line 67

Lismore Cup heat four – race seven – 8.50pm
Cosmic Bonus (5) is the class runner of the field and although he is drawn poorly he looks to have found the weakest heat of the night. Two starts back he recorded a brilliant 29.73 win at Albion Park and a repeat of that effort would see him winning by a long way. Can take a few strides to get going, however Rather Dapper on his outside normally runs a pretty straight line so he should get time to wind up and accelerate.

Snug (8) is an impressive youngster and she can handle herself from a wide draw. Hasn't raced here before but if she can bring her Ipswich and Albion Park form she is going to be right in the mix.

Comaneci (1) jumps in class, but is drawn perfectly in box one which brings her right into contention. If she can hold her spot on the fence early she could threaten.

Rather Dapper (6) has been racing the best greyhounds in Queensland over recent months and has been holding his own. A very good dog on his night and whilst box six isn't ideal, he is too good to leave out.

Tips: 5 – 8 – 1 – 6


Warning: count(): Parameter must be an array or an object that implements Countable in /home/australianracinggreyhoundzzz/webapps/app-australianracinggreyhound/wpress/wp-content/plugins/Odds-Compare/vendor/guzzlehttp/guzzle/src/Handler/CurlFactory.php on line 67

Greyhound racing best bets – Tuesday October 17, 2017
Warragul R3 No.6 Kyrgios – 7.25pm Awkwardly drawn but he has been ultra-impressive since resuming from a spell, winning two from two. Can take a few strides to hit top gear but there isn't a huge amount of pace in this race so with even luck he should be able to find the front and from there I expect him to be too strong.


Warning: count(): Parameter must be an array or an object that implements Countable in /home/australianracinggreyhoundzzz/webapps/app-australianracinggreyhound/wpress/wp-content/plugins/Odds-Compare/vendor/guzzlehttp/guzzle/src/Handler/CurlFactory.php on line 67


Gosford R3 No.1 Brietta – 7.41pm Not confident enough to be unloading a huge amount, but I do think she looks well placed to return to the winner's list. She has been drawing terribly lately, but returns to box one and meets a fairly steady field. Capable of breaking 30 with a clear run and that will see her go close to winning.


Warning: count(): Parameter must be an array or an object that implements Countable in /home/australianracinggreyhoundzzz/webapps/app-australianracinggreyhound/wpress/wp-content/plugins/Odds-Compare/vendor/guzzlehttp/guzzle/src/Handler/CurlFactory.php on line 67


Warragul R4 No.3 Burn One Down – 7.44pm Massive run when finishing behind Fanta Bale in the Group 3 The Racecallers last start. Freshened for this and has a vacant box on his outside which helps. Only bad luck should be beating him in this race.


Warning: count(): Parameter must be an array or an object that implements Countable in /home/australianracinggreyhoundzzz/webapps/app-australianracinggreyhound/wpress/wp-content/plugins/Odds-Compare/vendor/guzzlehttp/guzzle/src/Handler/CurlFactory.php on line 67


Gosford R7 No.1 Aston Ebert – 8.57pm Better than his recent form reads and will relish being drawn on the fence. Meets a couple of handy ones here including Boil And Bubble, but if he can balance up in the first couple around the first turn he will be hard to hold out.


Warning: count(): Parameter must be an array or an object that implements Countable in /home/australianracinggreyhoundzzz/webapps/app-australianracinggreyhound/wpress/wp-content/plugins/Odds-Compare/vendor/guzzlehttp/guzzle/src/Handler/CurlFactory.php on line 67