Meadows Speed Star Head 2 Head Greyhound Betting Tips Wednesday 16th September 2020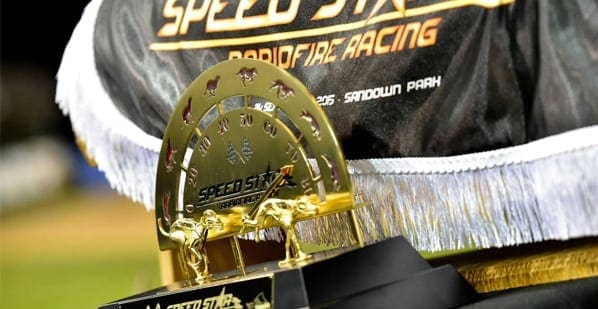 The Speed Star series moves for the first time from Sandown to The Meadows due to track surface issues at Sandown Park which have put the track out of play until maintenance works can rectify the issues.
Traditionally the Speed Star events at Sandown have always favoured the leading greyhounds. This is contrary to most people's thinking – the natural bias is to think that in a small field of just two dogs, "run on" greyhounds are advantaged. This is never the case in practice.
Doubling down on the fact leaders are advantaged, The Meadows is a track which offers very little to greyhounds in the back straight and home corner who have to go wide or get off the track to get around greyhounds. The bias is heavily toward railing greyhounds and those on speed.
Accordingly we expect most of the Speed Star Series events to be won by leaders today, with the exception of some of the staying (725m) and middle (600m) distance match races where many of the events are absolute class mis-matches.
AustralianRacingGreyhound.com provide you with every Speed Star series match race head to head winner.
Meadows Speed Star Free Greyhound Match Race Tips
Stayers Speed Star Head 2 Head Races
Speed Star H2H Race: Blazing Carter vs Here's Tears

Speed Star H2H Race: He Shall Power vs Keefe
Speed Star H2H Race: Sunset Bourbski vs Rock On Jimmy

Speed Star H2H Race: Line Seeker vs Look Fancy Nancy

Middle Distance Speed Star Head 2 Head Races
Speed Star H2H Race: Weblec Haze vs Mepunga Felix
Speed Star H2H Race: Keeper Of Keys vs Enter The Son

Speed Star H2H Race: Run Like Jess vs Houdini Boy

Speed Star H2H Race: It's My Party vs Mepunga Maggie

Sprinters Speed Star Head 2 Head Races
Speed Star H2H Race: Catch The Thief vs Christo Bale
Speed Star H2H Race: Manila Knight vs Zipping Hamish

Speed Star H2H Race: King I Am vs Aston Wizard
Speed Star H2H Race: Arizona Eyes vs Weblec Ace