Sandown greyhounds Melbourne Cup heats full form guide preview, free tips & staking plan
Australian Racing Greyhound and the "Secret Ratings" service are proud to be able to release the full 2018 Melbourne Cup heats form guide for all races from Sandown greyhounds tonight.
Included in the form guides are the bookmakers odds, the ratings set's own pricing, and suggest staking units for each and every greyhound. Plus we've gone though the guide to analyse the data and find the top greyhound tips for each race from the ratings.
Sandown Bold Trease Heat 1 Race 1
The ratings have Ebby Ripper clearly on top and why not? Her Sandown form is excepotional. NZ import Dyna Weslyn is somewhat of a blind spot for the ratings but in two runs in Australia it has only rated 89, which puts it quite a way behind Ebby Ripper.

Looking behind the winner, the placings are most likely to be filled by Van Ann, Soda Flash and Dyna Weslyn.

Sportsbet are betting $3.40 while Neds is top price right now at $3.50


Warning: count(): Parameter must be an array or an object that implements Countable in /home/australianracinggreyhoundzzz/webapps/app-australianracinggreyhound/wpress/wp-content/plugins/Odds-Compare/vendor/guzzlehttp/guzzle/src/Handler/CurlFactory.php on line 67

Sandown Bold Trease Heat 2 Race 2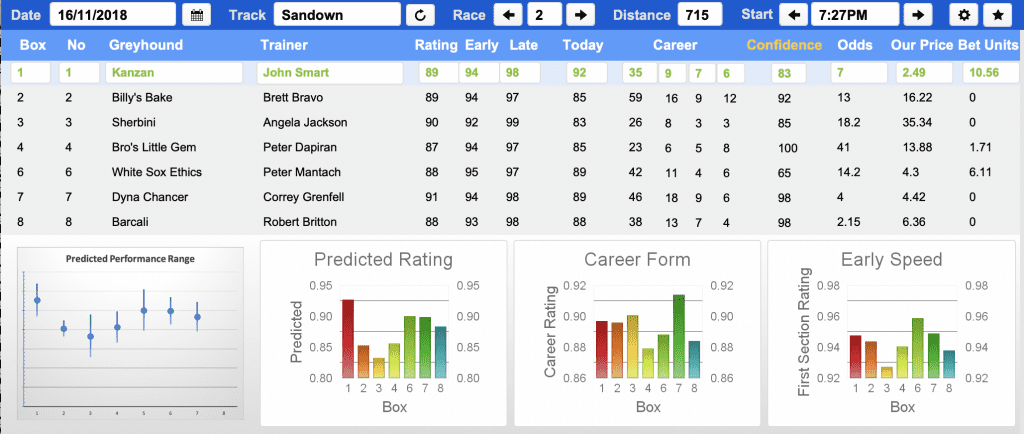 NSW greyhound Kanzan has been flying lately and is a last start Wentworth Park winner. The front running stayer is ideally drawn to control the race and bookmakers have severely underrated its chances sending it out at $7.00. One of the best each way bets you will ever see and will give you a great sight.

Look for White Sox Ethics to take up a prominent position in running and Barcali and Dyna Chancer to run on in to the placings.

Sportsbet are betting $6.00 but Neds is the place to go again offering $7.00.


Warning: count(): Parameter must be an array or an object that implements Countable in /home/australianracinggreyhoundzzz/webapps/app-australianracinggreyhound/wpress/wp-content/plugins/Odds-Compare/vendor/guzzlehttp/guzzle/src/Handler/CurlFactory.php on line 67

Sandown Melbourne Cup Heat 1 Race 3
Very even race to kick off the Melbourne Cup heats. Leading NSW trainer Jason Mackay brings Aston Duke to Sandown and does look the likely leader. The ratings suggest we are getting good value to be on the leader in heat one with Dr Mimo the unlikely saver

Hecton Bale always a chance in this kind of race but does need to sit closer in the run than recent runs. Looks like he is content to run places these days. Swift Rain is drawn to get a nice cart over if Aston Duke can lead and looks a handy each way trifecta chance at almost double figure odds.

Sportsbet are betting $9.00 which is the best you will find across all bookies.


Warning: count(): Parameter must be an array or an object that implements Countable in /home/australianracinggreyhoundzzz/webapps/app-australianracinggreyhound/wpress/wp-content/plugins/Odds-Compare/vendor/guzzlehttp/guzzle/src/Handler/CurlFactory.php on line 67

Sandown Melbourne Cup Heat 2 Race 4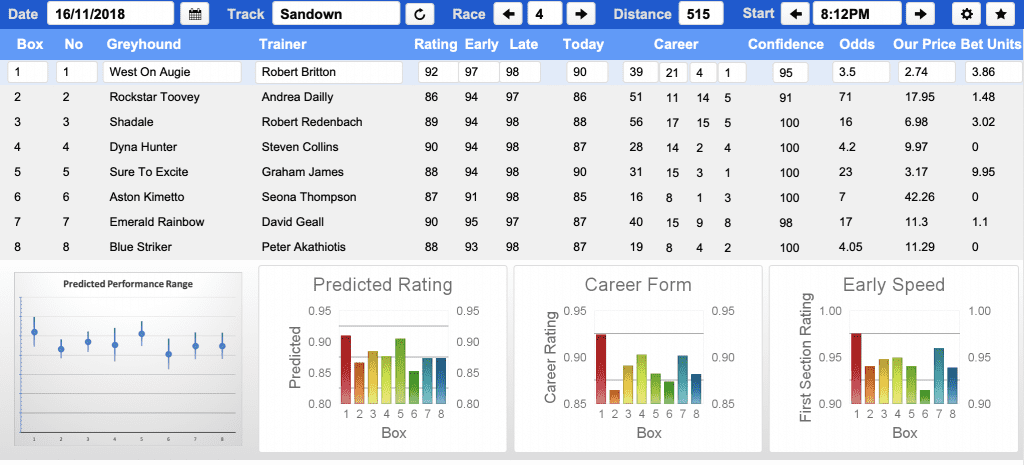 Well travelled West On Augie looks the winner of heat two of the cup. Has the early pace to lead off the ideal rails draw with slowish beginners drawn the two boxes to its outside, and has the class to hold off the opposition.

The ratings suggest Sure To Excite is being sent out well over the odds at $20.00 plus and worth an each way ticket and including in exotics despite the awkward box five draw. Of the others look for Shadale and Dyna Hunter to run on in to the placings.

Sportsbet are betting $3.30 which is top odds.


Warning: count(): Parameter must be an array or an object that implements Countable in /home/australianracinggreyhoundzzz/webapps/app-australianracinggreyhound/wpress/wp-content/plugins/Odds-Compare/vendor/guzzlehttp/guzzle/src/Handler/CurlFactory.php on line 67

Sandown Melbourne Cup Heat 3 Race 5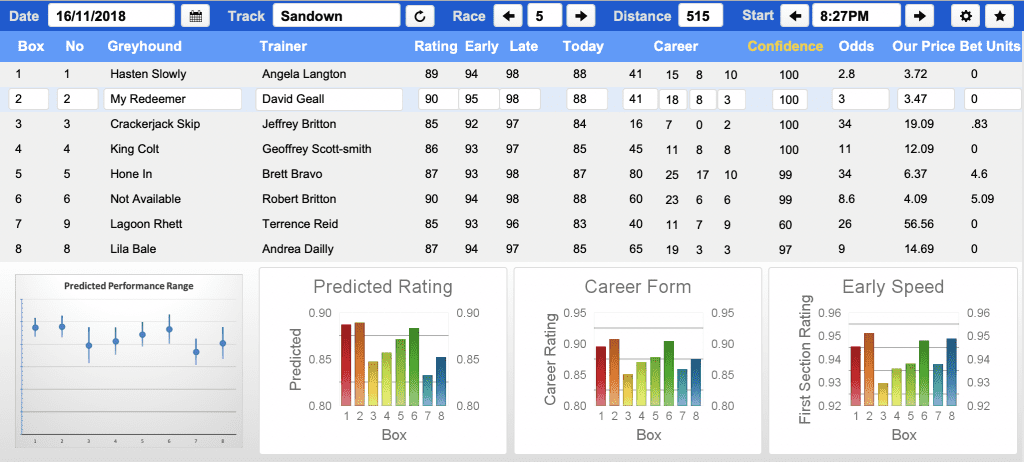 The David Geall trained My Redeemer has a sensational record from inside box draws and looks well drawn to find the lead and prove too strong in the run in heat three. Well found by bookies though the ratings are suggesting the greyhound is under the odds at $3.00.

The Rob Britton trained Not Available doesn't have the same early pace as My Redeemer but given clear running is more than capable of figuring in the finish and represents great value at $8.00 when the ratings have it priced around $4.00. Hasten Slowly and Hone In look the chances for exotics.

Sportsbet are betting $8.50 about Not Available and only $2.80 about My Redeemer.


Warning: count(): Parameter must be an array or an object that implements Countable in /home/australianracinggreyhoundzzz/webapps/app-australianracinggreyhound/wpress/wp-content/plugins/Odds-Compare/vendor/guzzlehttp/guzzle/src/Handler/CurlFactory.php on line 67

Sandown Melbourne Cup Heat 4 Race 6
Jason Mackay again looks like having a good hand in the Melbourne Cup final with True Talent ideally drawn in box two in heat four of the cup. A quick beginner who has drawn a heat with no real run on greyhounds engaged and just has to cross Dyna Harpa from box one early to control the race.

If Mystic Riot can bring its Wentworth Park form it would be right in the race and should benefit from a look at the track last week when wining in 29.39. needs to lead clearly to be any hope though and represents no value at $2.20.

Vanda Mick and All In Baz are under rated by bookmakers and more than capable of figuring in the finish, but it is the kind of race where something will ping and lead and bolt in, so make sure you bet for value.

Sportsbet are betting $5.50 about True Talent and is a great bet at that price.


Warning: count(): Parameter must be an array or an object that implements Countable in /home/australianracinggreyhoundzzz/webapps/app-australianracinggreyhound/wpress/wp-content/plugins/Odds-Compare/vendor/guzzlehttp/guzzle/src/Handler/CurlFactory.php on line 67

Sandown Melbourne Cup Heat 5 Race 7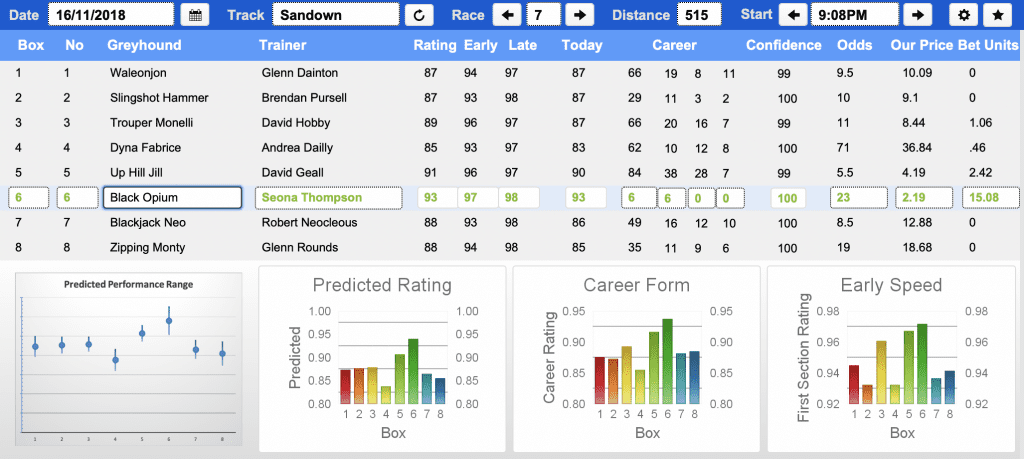 Heat seven of the Melbourne Cup see the one of the rising stars of Australian greyhound racing engaged with Black Opium starting from box six. The Seona Thompson trained greyhound is undefeated so far having won all of her six starts. Was sent out a good price last start in something of a class test racing for the first time out of restricted grade but put any doubts to rest bolting to the lead and beating Dyna Hunter in 29.34. Drawn to trail Up Hill Jill early to the first corner but should prove too strong in the run to the line.

Up Hill Jill isn't getting any younger and although not quite as quick as she once was is still very competitive and looks the likely exacta bet behind Black Opium. It's very even behind those two as to who will figure in the first four placings.

Sportsbet are betting $2.25 about Black Opium which is still good value and $5.50 about Up Hill Jill.


Warning: count(): Parameter must be an array or an object that implements Countable in /home/australianracinggreyhoundzzz/webapps/app-australianracinggreyhound/wpress/wp-content/plugins/Odds-Compare/vendor/guzzlehttp/guzzle/src/Handler/CurlFactory.php on line 67

Sandown Melbourne Cup Heat 6 Race 8
Miss Splendamiro has remembered how to begin in her races since joining the David Geall kennel. Always one of the strongest run on greyhounds in the country, she has pinged the lids at her past two start at Sandown and nothing can run her down when in front. Drawn to lead again from box one she looks the likely winner, although bookies have priced her under the odds at $2.15.

Looking for value Princess Pout and Mossimo Bale look to have fair chances and represent good each way value should Miss Splendamiro return to old form and not lead the race.

Sportsbet are betting $2.10 about Miss Splendamiro.


Warning: count(): Parameter must be an array or an object that implements Countable in /home/australianracinggreyhoundzzz/webapps/app-australianracinggreyhound/wpress/wp-content/plugins/Odds-Compare/vendor/guzzlehttp/guzzle/src/Handler/CurlFactory.php on line 67

Sandown Bold Trease Heat 3 Race 9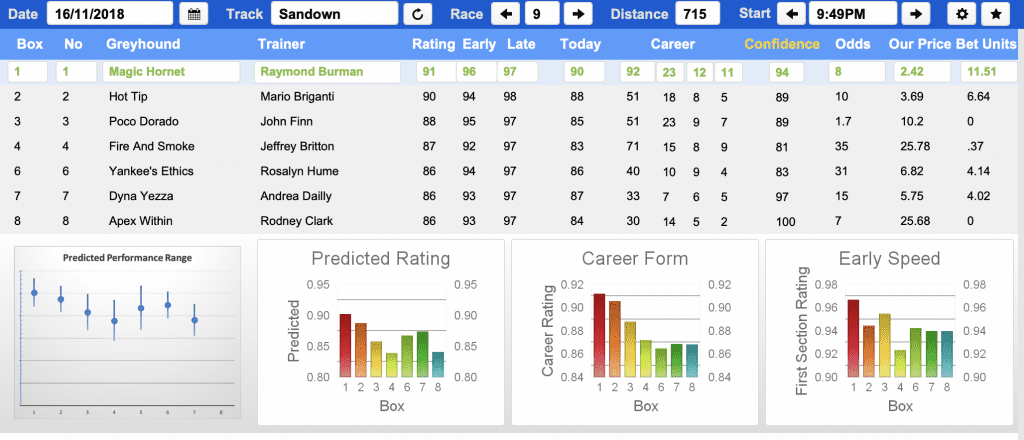 Back to the staying trip for race nine and Queenslander Magic Hornet draws the ideal box to again upset the more fancied Victorians. She started from bow two at her first run in Victoria upsetting My Redeemer over 600m at The Meadows in a heat of the Hume Cup at $7.50 then couldn't lead in the final finishing unplaced. Drawn to lead from box one and will give us a great sight again, and bookmakers are giving us value betting $8.00 about her.

Hot Tip is drawn to finish in the placings and again looks a good each way bet at the price. Poco Dorado although a good chance in the race is grossly overbet at $1.60 and not something we want to be on.

Sportsbet are betting $8.00 about Magic Hornet and $8.50 about Hot Tip.


Warning: count(): Parameter must be an array or an object that implements Countable in /home/australianracinggreyhoundzzz/webapps/app-australianracinggreyhound/wpress/wp-content/plugins/Odds-Compare/vendor/guzzlehttp/guzzle/src/Handler/CurlFactory.php on line 67

Sandown Bold Trease Heat 4 Race 10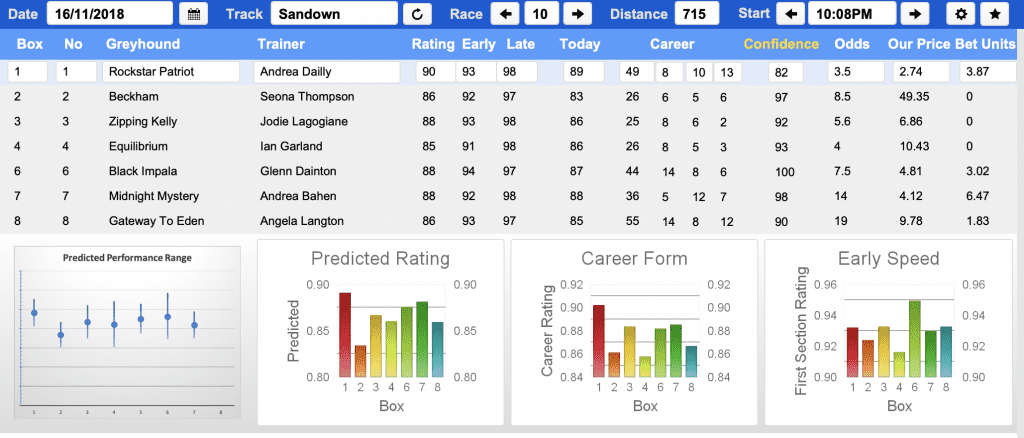 The final heat of the Bold Trease and Rockstar Patriot has hit form at precisely the right time. Won a handicap race at The Meadows off the 10m boxes from box 8 last start running 42.21 and draws box one here tonight which should see him on the pace the whole race in what is the weakest of the Bold Trease heats. Sandown record isn't exciting having won just the one race from 11 starts, but looks to be going better at the moment and is value at $3.50.

Looking outside Rockstar Patriot, both Black Impala and Midnight Mystery are capable of winning and good value at their current prices.

Sportsbet are betting $3.50 about Rockstar Patriot and that's a bet for us at the price.


Warning: count(): Parameter must be an array or an object that implements Countable in /home/australianracinggreyhoundzzz/webapps/app-australianracinggreyhound/wpress/wp-content/plugins/Odds-Compare/vendor/guzzlehttp/guzzle/src/Handler/CurlFactory.php on line 67

Sandown Melbourne Cup Heat 8 Race 12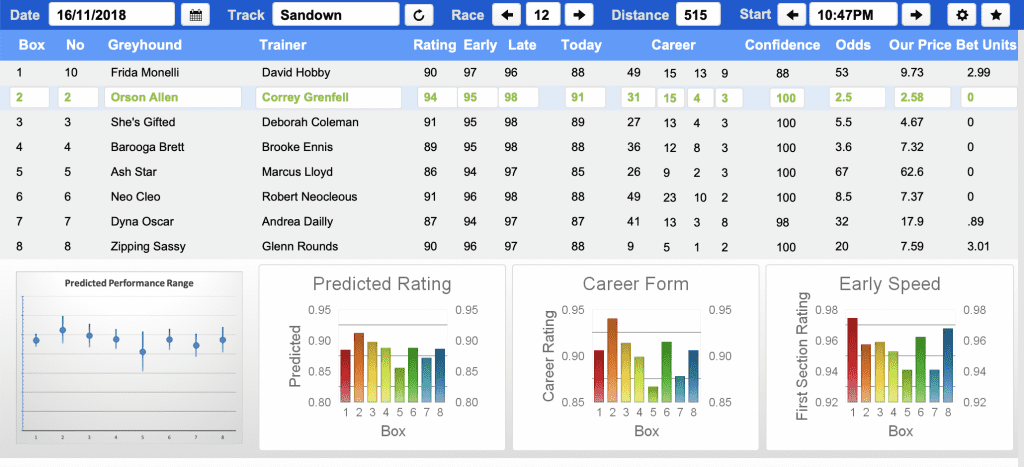 The final heat of the Melbourne Cup is wide open. Reserve runner Freida Monelli gains the start from box one and looks likely to be nuisance value kicking up early, but unlikely to be there at the finish. Orson Allen is drawn to stalk the pace and be in the finish but is no value at $2.30.

Not a race we want to be outlyaing much on, but forced to bet we'll go with the ratings and go small on Dyna Oscar and Zipping Sassy each way at over $20 both.

Sportsbet are betting $2.30 about Orson Allen which does not represent value. Zipping Sassy is being priced at $20.00 which is great value given the ratings have the Glenn Rounds trained greyhound a $7.59 chance.


Warning: count(): Parameter must be an array or an object that implements Countable in /home/australianracinggreyhoundzzz/webapps/app-australianracinggreyhound/wpress/wp-content/plugins/Odds-Compare/vendor/guzzlehttp/guzzle/src/Handler/CurlFactory.php on line 67