Saturday's free greyhound racing betting preview February 17 2018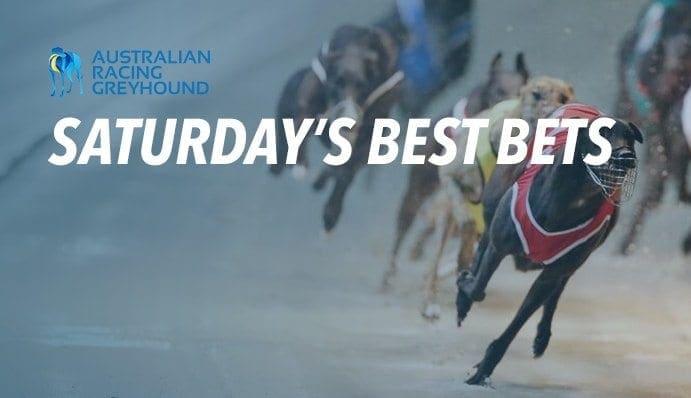 MASSIVE night of racing with three group 1s at The Meadows – The Temlee, Rookie Rebel and Zoom Top – as well as preliminary heats of the Group 1 Melbourne Cup.
We also have the final of the Launceston Cup in Tassie, semi-finals of the Vince Curry Memorial at Ipswich and heats of the Group 2 Cyril Rowe Cup at Bulli.
Some of the best greyhounds in the country will be racing at these meetings, so it is a great night to be having a flutter.
To help you back a few winners, we have studied the form to bring you our best greyhound racing bets with the top bookie odds available.
If you feel like having a wager, be sure to check out the bonus bet offers available to readers of Australian Racing Greyhound which will give you some extra bang for your betting buck.
Best greyhound racing tips and top odds – February 17, 2018
Bulli R4 No.6 Black Hole Sun

Enormous win here last week where he put away a quality field convincingly. Faces another hard assignment tonight, but is drawn on the outside of the speedy Go Lassie Go so he should get a nice run into the race if he can step well. If he gets a clear crack at the 5 I think he could prove too strong for her at the finish.


Warning: count(): Parameter must be an array or an object that implements Countable in /home/australianracinggreyhoundzzz/webapps/app-australianracinggreyhound/wpress/wp-content/plugins/Odds-Compare/vendor/guzzlehttp/guzzle/src/Handler/CurlFactory.php on line 67


Bulli R5 No. 4 Tiempo Dinero

Has really stepped up in recent weeks and he has been mixing it with some of the best in Victoria including Aston Dee Bee, Striker Light, Mepunga Blazer and Shadale. Meets another good field tonight with the main danger being Ritza Lenny which is well drawn out wide, but if this bloke steps well he is capable of causing a minor upset. He loves this track and he really seems to have matured since spending some time down in Melbourne.


Warning: count(): Parameter must be an array or an object that implements Countable in /home/australianracinggreyhoundzzz/webapps/app-australianracinggreyhound/wpress/wp-content/plugins/Odds-Compare/vendor/guzzlehttp/guzzle/src/Handler/CurlFactory.php on line 67


Bulli R8 No.4 Tristan Cannon

Flying machine which relishes racing on the big tracks. Comes into this race as the winner of four in a row including two at Bulli. Can take a few strides to really wind up, but if he gets clear room early he should be able to find the front and on the bunny there shouldn't be anything capable of running him down. Has been freshened for this race so should sprint well.


Warning: count(): Parameter must be an array or an object that implements Countable in /home/australianracinggreyhoundzzz/webapps/app-australianracinggreyhound/wpress/wp-content/plugins/Odds-Compare/vendor/guzzlehttp/guzzle/src/Handler/CurlFactory.php on line 67


Launceston R8 No.3 Two Bills

One of the most consistent greyhounds in the state which loves racing over the track and trip. Well drawn here tonight and drops slightly in class on his past couple of assignments. With a clean start he is capable of running around the 29.50 mark which should be good enough to see him win.


Warning: count(): Parameter must be an array or an object that implements Countable in /home/australianracinggreyhoundzzz/webapps/app-australianracinggreyhound/wpress/wp-content/plugins/Odds-Compare/vendor/guzzlehttp/guzzle/src/Handler/CurlFactory.php on line 67


The Meadows R1 No.4 Hit The Highway

Massive drop in class for this bloke tonight and from the front mark he gets every chance to bounce straight to the lead. He isn't the strongest greyhound in training, but he is more than capable of landing the opening race here tonight.


Warning: count(): Parameter must be an array or an object that implements Countable in /home/australianracinggreyhoundzzz/webapps/app-australianracinggreyhound/wpress/wp-content/plugins/Odds-Compare/vendor/guzzlehttp/guzzle/src/Handler/CurlFactory.php on line 67


The Meadows R3 No.1 Right On Cue

Has been a bit disappointing since making the move to Victoria after starting her career with a bang in the Sunshine State. However, she has had a couple of months off now and she is in the top kennel in the country. From the inside draw she should get every chance to put her best paws forward.


Warning: count(): Parameter must be an array or an object that implements Countable in /home/australianracinggreyhoundzzz/webapps/app-australianracinggreyhound/wpress/wp-content/plugins/Odds-Compare/vendor/guzzlehttp/guzzle/src/Handler/CurlFactory.php on line 67