Thursday tips for Australian greyhound racing 10th August 2017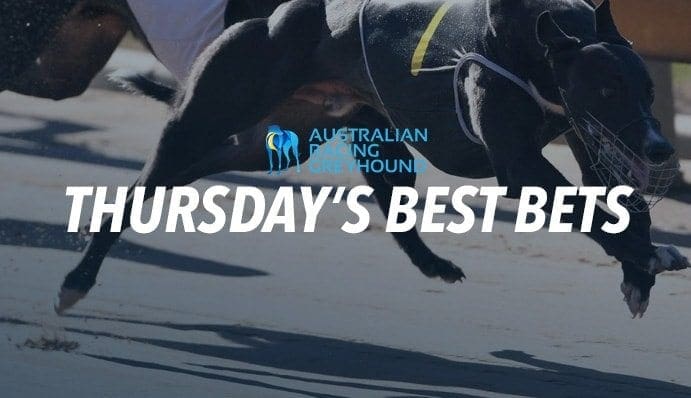 AUSTRALIAN Racing Greyhound's loyal fans of our free professional greyhound tips were dancing in the streets last night after a two of our selections won at crazy prices producing a spectacular 195% Profit On Turnover (POT) result.
Kensa (Spring Gun x Little Bit Fancy May '14) broke a run of bad luck to score at Angle Park as our best each way bet of the day, paying as much as $11 the win and $2.80 the place. Later that night at Ballarat, Metallic Zip (Barcia Bale x Gold Affair Two Dec '15) was sent out at ridiculous odds of $7 Starting Price (SP) when we had him rated a $4.75 hope in the race and he duly saluted.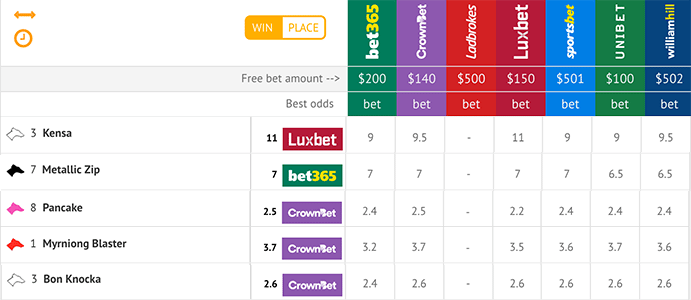 Kensa and Metallic Zip provided our readers with the "fill up" we'd been working towards since the resumption of our tips, producing a return of 106.2 units for the day. Strikingly, unlike other tipping sites that charge for their selections; average starting price on the day was $5.48 about selections we had assessed at an average price of $3.35 – betting for value.
Outside our two winning selections, Myrniong Blaster (Seek And Destroy x Eastern Culture Feb '15) was extremely disappointing; not going well at all at the moment. Pancake (Barcia Bale x Amlin Girl Dec '15) easily led her Cranbourne race and we were about the go the "early crow" when all her speed just fell away in running. The run was in stark contrast to her first run where she went to the finish line full of running. No guidance from the stewards report at all to explain the run but she is either unwell, was injured in running or she is not chasing with full commitment. We'll need to stay away from her races in the future until she demonstrates a more consistent approach to racing.
At Albion Park Bon Knocka (Don't Knocka Him x That's Emma Lee Dec '14) was underperforming in his race but was about to put himself in to the finish anyway when Morayfield Swift (Swift Fancy x Nothing Goes Feb '15) fought him off the track and took both of them out of the race. Not sure if stewards intervened at all but the offence was blatant and deliberate so in the event Morayfield Swift is allowed back to race we'll need to pen those races as betting opportunities. The dog has ability to go with his bad manners which makes it impossible to back him but equally hard to bet against him. No real "knock" on Bon Knocka but his lack of early toe will hurt him and would be suited to a drop back in grade at this stage.
Yesterday's Greyhound Tip Results
| Turnover (Units) | Our Avg Price | Avg SP | Avg Bet | Value (Units) | Return (Units) | Strike Rate | Profit/Loss (Units) | Profit On Turnover |
| --- | --- | --- | --- | --- | --- | --- | --- | --- |
| 36 | 3.35 | 5.48 | 5.90 | +2.55 | 106.2 | 40% | 70.2 | 195% |
So a sensational day out on the punt for followers of our greyhound tips and our August record is looking attractive again. We've been seeing them well and racing without a lot of luck, but even still we've turned a profit of 58.75 units at a strike rate of 33%. Underlining the fact we aren't pushing odds-on favourites at you as our tips, the average bet price we've achieved is $5.70 which is a $2.80 above the average price we had assessed our tips chances at – betting for value on greyhound racing.
August Greyhound Tip Results
| Turnover (Units) | Our Avg Price | Avg SP | Avg Bet | Value (Units) | Return (Units) | Strike Rate | Profit/Loss (Units) | Profit On Turnover |
| --- | --- | --- | --- | --- | --- | --- | --- | --- |
| 150 | 2.90 | 4.70 | 5.70 | +2.80 | 208.75 | 33% | +58.75 | +39% |
Warrnambool Greyhounds
Best Bet: Race 7 Box 2 Lektra Rival – Deposit $50 & bet with $150 on Topbetta's Global Tote
Locally bred, reared and owned Lektra Rival (Fabregas x Lektra Angie Nov '14) will have plenty of traffic to navigate early as he is not always the best beginner, but does have good track sense and runs in to the finish during races. Has a slow beginner to his inside and an enigmatic performer to his outside, so just needs to getaway cleanly enough to clear the box one dog and grab the rail. Should be good enough to rail up under the speed from there and go on to win at a good price. Uni Allen will be hardest to best from a good draw out wide, but may have trouble getting a clear shot at the lead with plenty of pace from the squeeze boxes. Lektra Rival best placed to take advantage of what could be a rough race early.

Lektra Rival Betting Strategy
| Bet Type | Assessed Price | Bet Units | Confidence |
| --- | --- | --- | --- |
| Win | $4.25 | 6 | Good |
Sandown Greyhounds
Best Bet: Race 5 Box 4 Petadale – $500 Free Bet at Ladbrokes
Backing dogs from squeeze boxes is fraught with danger but Petadale (Banjo Boy x Easy Baby May '15) does look the likely leader or lead group greyhound and is a very consistent beginner. Came through the recent Warragul St Leger series and from poor boxes was in the leading division at each start. Has two slow beginners to his inside and a quick beginner drawn in box one that is weak in the run to the line. We like Petadale to either race outside Lucky Tetris and go past in the run to the line, or lead outright and prove very hard to beat. Do not take unders as this is not a straight forward race.

Petadale Betting Strategy
| Bet Type | Assessed Price | Bet Units | Confidence |
| --- | --- | --- | --- |
| Win | $3.50 | 6 | Good |
Albion Park Greyhounds
Best Bet: Race 2 Box 4 Cyndies Magic
The queen of Albion Park Cyndie's Magic (Regal Sprite x Regal Silver Mar '13) is remarkably going to be sent out as second favourite in a field of four over they staying trip due to the presence of Outside Pass who is on debut at the distance. To add to the weakness around taking on the local topliner on her favourite track and distance, Outside Pass is attempting to go from a 520m race to a 600m race to a 710m in the space of three weeks – a big ask. Outside Pass is dominating the markets and we are getting value to jump on the local star here who will relish the small field and be able to pick up the field and close in on the leaders earlier than usual, and prove impossible to hold out.

Cyndie's Magic Betting Strategy
| Bet Type | Assessed Price | Bet Units | Confidence |
| --- | --- | --- | --- |
| Win | $2.10 | 8 | High |
Angle Park Greyhounds
Best Bet: Race 9 Box 1 Allen Terminator – Crownbet deposit $40 bet with $140 offer
Allen Terminator (Taylors Sky x Zambola Bale Oct '13) is not getting any younger but was one of the quickest beginners in training earlier in his career. Looks to have recaptured those flying starts at his past three wins at Gawler over 400m, but will struggle to run the trip out here. Small field presents some interesting dynamics as favourite Jacqui Blax can get wide on the first corner and from box two, could cause enough trouble to let Allen Terminator steal enough of a break to get home. Will need to get a good price about this one to make the bet profitable, so do not take unders if he gets overbet due to the draw.

Allen Terminator Betting Strategy
| Bet Type | Assessed Price | Bet Units | Confidence |
| --- | --- | --- | --- |
| Win | $5.50 | 6 | Good |
Today's Greyhound Tip Results
| Turnover (Units) | Our Avg Price | Avg SP | Avg Bet | Value (Units) | Return (Units) | Strike Rate | Profit/Loss (Units) | Profit On Turnover |
| --- | --- | --- | --- | --- | --- | --- | --- | --- |
| 26 | 3.71 | 3.70 | 4.30 | +0.59 | 0 | 0% | -26 | -100% |
Similar Greyhound Racing News