Wentworth Park greyhound betting tips – Saturday, February 26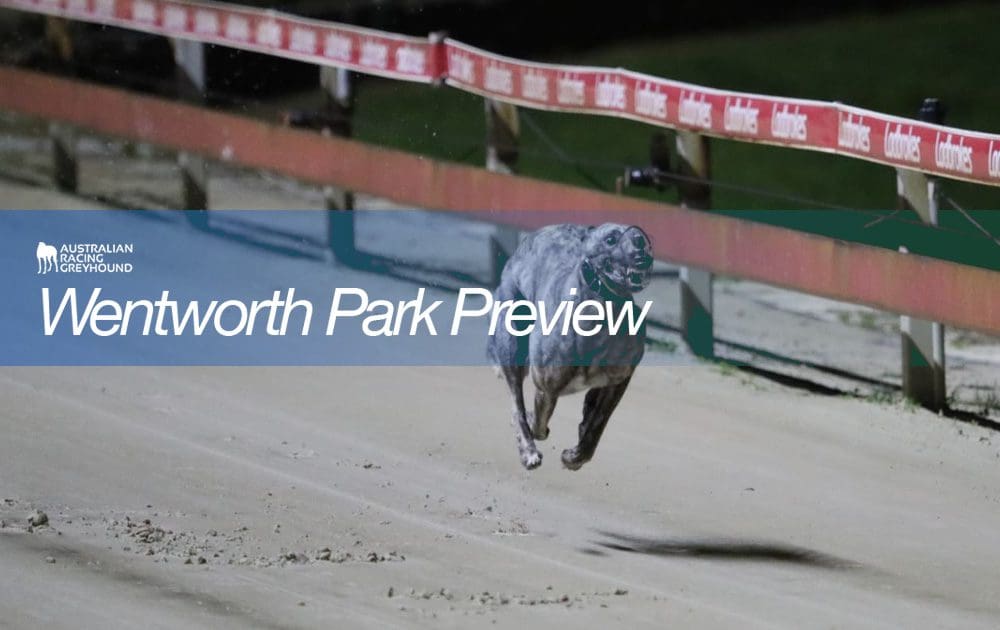 There are several open and interesting races on the card at Wentworth Park this Saturday night, including two more preludes of the Golden Easter Egg – not to mention some of the state's best greyhounds contesting the final of the 720m series and a wonderful FFA. Good luck with all your investments.
---
Race 1: NSW GBOTA Welcome 5th Grade (520m)
Fantastic Luna is probably the most interesting runner for the night. For the very strong Fletcher kennel she was a good winner of her maiden in good time back in December, now whether she has had a seasonal spell or an injury or both she hasn't raced since. Being in the astute hands of Jason Fletcher I expect her to be right and fit for this and will be very hard to beat. Roaring Rosa is another we haven't seen for a while and has very good pace but she is not a strong 500m dog so is a minor chance but may be the leader. Cobar Rooster is another sprinter stepping up to 500m and would need to improve. Redeem A Prize is doing well filling the minors around here and that looks to be her role again tonight.
Selections: 7-8-3-4
---
Race 2: Ladbroke It! 5th Grade (520m)
Dave Irwin brings Blue Carat back to town and the only other time she was here was in a heat of the Peter Mosman Opal series. She then had 4 months off the scene and returned in brilliant fashion at the Gardens last week narrowly missing the track record by only 0.04secs. If she begins she wins…Below Zero was good off box 8 last week and will appreciate being closer to the fence and is a chance. Fascinate Mel had good form before coming here and failing, went home to the gardens and showed her true form. If she begins like she can finally here at H.Q is a massive chance of winning this. Wicked Spartan is not well drawn out in 8 but is very strong and if he gets across to a stalking position and has luck through the first turn has the ability to win this. Psycho Sonic will appreciate box 1 and is strong but will need to be closer than she was last week early.
Selections: 4-2-8-1
---
Race 3: Friday Night Racing March 11 5th Grade (520m)
Fergie Pepper used box 1 perfectly to score a good win in good time last start. Goes into an awkward box and a harder race but if she pings and goes again might be tough to catch. Amarillo didn't get much luck last week and deserves a change of luck. She is honest but is only 1/22 here. Hyperventilate began well but didn't handle the first turn well before getting level on the home turn and just running out of gas at his first look at the track if he improves and handles the first turn is another one with a winnable chance. Kiwi Fantasy had nothing go his way last week dropping back in grade and getting 4 checks before the first turn and if he shows some of his Bathurst Cup form would go close here and will be value from the 5 box. Rocking Jewel will appreciate the fact there is no Analysing in this and isn't the roughest.
Selections: 1-5-4-7
| | | |
| --- | --- | --- |
| BEST VALUE | BET TYPE | SPORTSBET ODDS* |
| Kiwi Fantasy | Each way | $7.50 / $2.50 |
*ODDS CORRECT AT TIME OF PUBLICATION
---
Race 4: @wentworthparkgreyhounds 5th Grade (520m)
A very open affair here. You could probably make a case for 5 or 6 of them. Opal Model just couldn't quite get across the flying Ties That Bind last start from box 8 and was kept off the fence the whole way round .She had used all her petrol by the home turn and I think with a moderate beginner under her she will lead here and will be mighty hard to run down. All Nose has been superb for us recently and I'm not getting off him but this is harder and he has drawn wide again yet if they are stopping in front or he gets some luck you know he will be storming over them. Crocodile Vella has been racing the best dogs around recently and will appreciate this easier race and has the ability to track Opal Model through the first bend and run over her at the end. Murrays Way has pace but she tends to be hit and miss at box rise. Can't be miss tonight in this race and Moon Line has a couple of tremendous wins at Dapto in her last 2 and is in very good hands. Respect.
Selections: 2-8-7-3
---
Race 5: wentworthpark.com.au 4th/5th Grade (520m)
Aston Barak is the class dog of the race. He has a flying 29.6 P.B and drops from FFA class to a 4/5th grade but he has been missing the starts recently and been paying the price for it. If he mends his ways he will win but if he dwells he may well get caught up in trouble again. Fingers crossed if you back him. Spring Patriot is the obvious danger and might be a touch of value. Has been doing everything right and stopping the clock well in his last couple and is 3/3 from box 4 and there is no reason he can't make it a hat trick here tonight. Zipping Stewie showed what he is capable of last week chasing the flying Analysing all the way, he likes box 1 and deserves to be a good chance in this. Four Five will need luck, is strong and will be a decent each way chance. Zipping Pearson has been racing well in FFA company over the sprints but this is tougher.
Selections: 4-3-1-6
---
Race 6: Ladbrokes Same Race Multi Final 5th Grade (720m)
The final for the stayers in next up in proceedings and the runners all qualified in two heats back on the 16th. Buzz Along could not have been more impressive winning his first start in NSW in 42.40 and if he begins and takes off in front then this one might be over at the post the first time. Zipping Pearson did nothing wrong in her heat leading all the way and breaking 43secs but will need to begin from the red and hold off Buzz Along early. Lucky Dice is the one who could run the leaders down but is finding an awful lot of traffic in his races recently but is definitely good enough to win this. Impatient Devil is strong but might be giving some of these too much start. Manipulate is honest but not as strong as some of these.
Selections: 4-3-1-2
---
Race 7: Ladbrokes Bet Ticker Free For All (520m)
Some Quality dogs lining up for tonight's free for all. I think we will be seeing plenty of these hounds in the coming months. WOW is the word that leaps to mind when you think of this boy. He is an outstanding animal and was only just beaten in the Bulli Gold Cup Final… Loves this place and has won 9 races here and has an outstanding P.B of 29.38. Looks very hard to beat, Ties That Bind will try to upset Wow though, Has been in sparkling form for Frank Hurst and has taken all before her. This is a step up in class but is usually a reliable beginner and if Wow does anything wrong at box rise this girl may pounce. Coast Model is another that usually shows exceptional early pace and it is not unreasonable to see her carve across from out wide. Has a 29.58 P.B which is quick. Ritza Donna appreciated the rails and the drop in grade last time out and showed what she can do but this is tougher and Fantastic Raven is another that has been flying ran .2 outside the record last start at the Gardens and got beat. Must respect.
Selections: 2-8-1-6
---
Race 8: Ladbrokes Golden Easter Egg Prelude 5 4th/5th Grade (520m)
The winners of these preludes get an automatic start in the heats of the Egg so lots to play for tonight. Romantic Storm had a chequered passage when chasing the flying Fantastic Raven here in January and has been freshened up. The small field suits and he might be hugging the rail through the first turn and stalking down the back. Gulgong Flyer was gallant chasing Spring Patriot last start and may well lead but there is pace in the race. Soul To Squeeze has been very good here recently. Can show pace in his races and will need to in this. Vamos Penny in the wily Drynan kennel will appreciate the room to move, the small field and the drop in class and is a definite threat from out wide.
Selections: 8-4-2-5
---
Race 9: Ladbrokes Easy Form Non Graded (720m)
Good to see a second staying race on the program and an open one in that. Jazz Party came to the strong Donna Campbell kennel and may well take massive improvement from her first look here and extra time in the kennel. Her Townsville form was good but she will need to show it. Jenny Hawke is having her first go at 720 and has shown pace over the shorter trips and may just find herself in front in this. Paris and Rome and Trunkey Bill have moderate 720m form but this is a very open race and if you like one, then good luck to you.
Selections: 7-2-1-8
---
Race 10: Ladbrokes Golden Easter Egg Prelude 6 4th/5th Grade (520m)
The second prelude for the night sees another small but talented group going around. Vince Spiteri has his little bitch Sally's Reward flying at present. She goes quick when the boxes rise and I think will get some room early and swoosh down the middle of the track and straight to the front and will be hard to run down. Redeem Our Cash might have something to say about that and has been beginning well. The vacant box and slow beginner under her may help but will need to do everything right. Suzie's Face is another with pace but is awkwardly drawn with pace on both sides. Ziggy's Star had no luck last time out here and then made the final of the Bulli Gold Cup and must be respected. Jabeni is the interesting runner. He is a moderate beginner who will not be in the speed mix early which is always a worry here at Wenty but he has been ultra-strong in his last couple of wins in slick time and if he gets a nice fence run through the first turn may well be within knock range and the definite danger
Selections: 8-2-4-7
---
Similar Greyhound Racing News