Wentworth Park greyhound racing tips & value bets – 23/2/2022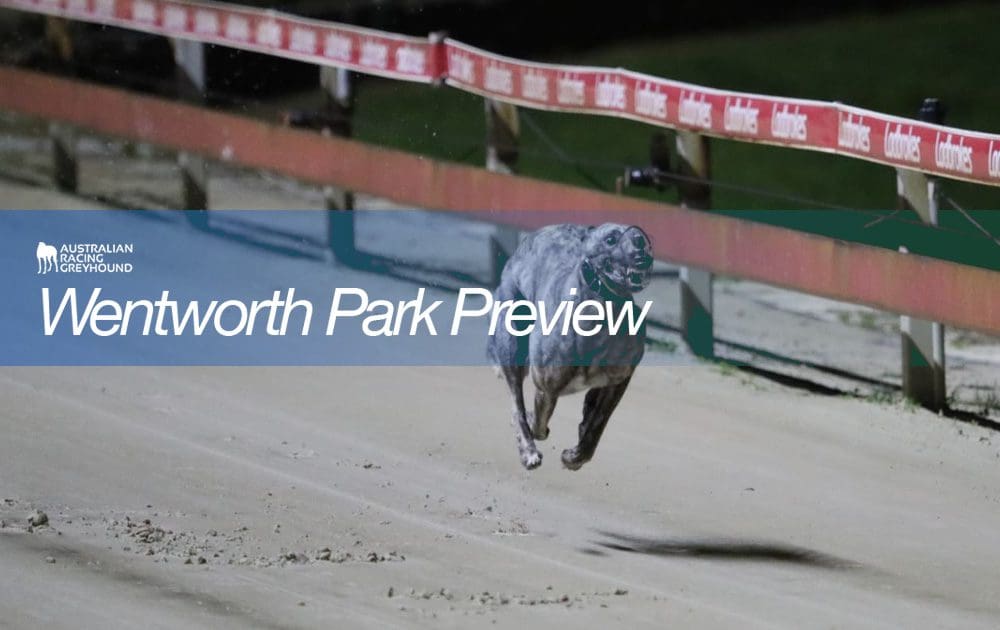 It's a big 11-race card at Wentworth Park tonight, and we hope the wet weather stays away as NSW greyhound racing heads into the biggest autumn in some time with the EGG and the Million Dollar Chase both in the offing. Good luck with your investments tonight.
---
Race 1: NSW GBOTA Welcome Maiden (520m)
An interesting maiden to start proceedings, with 2 debutants to watch out for. Zipping Princess has been good in her 3 outings without smashing the clock. She did want to head to the fence last week and drawn in box 1 will suit her. She will be very hard to beat. Papps has been honest and always tries hard although he will need to improve. Michael Ivers has been having a good run lately and his debutant Cunnamulla should be watched with interest. Of the others Rockstar Aloha is in good hands and I would expect improvement on its first outing and Tarawi Sophie might improve of a freshen.
Selections: 1-7-4-6
---
Race 2: Ladbroke It! 1-2 Wins 5th Grade (520m)
Darryl Thomas brings one of his autumn hopefuls to town. Mr Determine has been low flying around Maitland his last couple. The tight track and tight draw is a concern but with Bell Toller under him heading to the fence might get enough early room to give the clock a working over. Good Odds Emma was very good last week even though it might not look so on paper. She was forced wide and checked when trying to lead got knocked back to 2nd last before coming hard at the end to nab second. She might just lead these and if she does will be mighty hard to catch. Bell Toller is as honest as they come and wants the fence and just might get it with 2 moderate beginners under him. Tarawi Sunshine comes to town with some good form but this is harder and I think is only a minor chance.
Selections: 4-6-3-8
---
Race 3: Friday Night Racing @ Wp 1-2 Win 5th Grade (520m)
Agland Luai did everything right from this same box last week to break his maiden in 30secs flat and if he can repeat the dose looks like he will be very hard to beat. But as we have found out it is very different kettle of fish winning a 5th grade the week after snaring your maiden. Toongabbie Mae has pace and is better drawn down near the fence. She was squeezed out of the race Saturday here. Bugatti Fierce is stepping up in distance and has shown pace in his sprints, maybe able to use that pace to lead this race. Romantic Power ran a nice 30.73 to win his maiden at Richmond but went off the boil. He has been given a bit of a break and will definitely be worth watching at odds.
Selections: 7-4-3-2
---
Race 4: Happy Birthday Geoff Redden 1-2 Wins 5th Grade (520m)
Nut Wing is the interesting runner he is 2 from 2 at the gardens and looks to be an improving type should get some room to move early as Jenny Hawke is moderate and Hosoi likes to look for the fence and might be able to lead this field. The big question though is can he hang on if he does lead. Cawbourne Bora finds an easier 5th grade than last time against kennel mate Doonan draws as close to the fence as she ever has but needs to show a little more dash early for mine. Ferocious Pedro is only a moderate beginner but look out when he finally does begin. He is very strong and might get a nice cart into the race here. Hosoi has pace but prefers it inside and Jenny Hawke is strong but also wants the fence
Selections: 8-3-4-7
---
Race 5: Ladbrokes Easy Form 5th Grade (520m)
Tiger Jack was a certainty beaten last start when finding more checks than a 1970's banker. Can't see him having that much bad luck 2 starts in a row, but he didn't begin well last start which is a concern. However if he rectifies that he wins this comfortably. She's Savage will start over the odds because of Tiger Jack but she has the pace to ping and lead and if Jack does make some mistakes she might be the one. Ritza Skylar is classy but is a moderate beginner who will need luck from that box. Zipping Quokka is well drawn and used the inside to score a strong win at Dapto recently. He might get some breaks but would need to improve on the clock and Rockstar Newbold is badly drawn out wide but a minor chance.
Selections: 2-3-6-1
| | | |
| --- | --- | --- |
| GREYHOUND | BET TYPE | SPORTSBET ODDS* |
| Tiger Jack | Win | $1.55 |
*ODDS CORRECT AT TIME OF PUBLICATION
---
Race 6: Lgee Preludes Saturday 5th Grade (520m)
A good race here sees Cowgirl Ethics for David Smith as my top pick. I am always wary of box 1 at Wenty but I think this girl is good enough to overcome it ping the lids and lead and win. Spring Meteor has been ultra-consistent and deserves to win one of these for Josh Board but not sure if he can cross the red early. Springview Hawk does his best when he is" on bunny "not sure if he can lead this but will get a nice track down the centre of the course. Ditto that for March Legend who scored for us last week but I would rather him drawn closer to the inside fence and Magic Flame is another the deserves a change of luck and is as honest as they come but am not sure if she gets it tonight..
Selections: 1-2-6-7
---
Race 7: @wentworthparkgreyhounds 5th Grade (520m)
My Apologies has shown good pace at both his W.P starts and gets his chance to add to his record in this chased hard all the way last week looking for an inside run that never really presented itself and then flew around in 29.78 the start before. He is racing well enough to win this. Spring Venom is the obvious danger. This well bred youngster is 6 from 13 and 2 form 2 from box 7 (never had box 8) and the fact that he broke 30 secs at only his second look at the track may see him improve even further. Killer Boots is another well drawn wide in the 7 and also is another that has been brought through the distances and grades progressively by an astute mentor. Baci Baci has pace but 500m is as far as she wants. Boab is honest but will want the fence and some luck.
Selection: 6-8-7-6
---
Race 8: Ladbrokes Switch 4th/5th Grade (520m)
Old Mate Koby was given plenty of room early and used it to full advantage to win here Friday. Has a moderate beginner either side and might get a few more breaks tonight. How Good had no luck early and charged home late when he finally got some galloping room Saturday night might find himself 3rd on the fence going through the first turn and would be seriously hard to beat from there. Fernando's Glory will appreciate the drop back in grade and has a quick P.B around here and is good hands so don't dismiss. Good Job Bob blew the whistle and got a dream split in a FFA over 400m at the gardens in B.O.N was strong enough to suggest that 520m would suit but has a poor record here and disregard a Syd Swain runner at your own peril but Hundred Degrees needs to begin a little better to put himself into these races. He was 20lengths from the leader and last at the 720m boxes and flew home but way too late last start.
Selections: 7-3-2-1
---
Race 9: #getyourgreyhoundon 5th Grade (520m)
Late Night Meet shows great dash in his races but struggles to run the 500m out won over the shorts here last start and will probably lead and create a few problems in this race for the chasers. Grim Madara was well backed and fluffed the start in his first go here. With the very strong Lord's and I expect him to have learnt from that and expect him to be very hard to beat. Redhead Rider shows good pace and may well rush down the middle to contest early and is having his first go here, an each way hope. Black Fox is another that was having her first go here and was a good second trying hard the whole way. If she takes improvement in that would be a definite hope. Vera is the only dog with a win on the track so that might be a guide.
Selections: 3-2-6-1
---
Race 10: wentworthpark.com.au Free For All (520m)
Tonight's Free For All looks a race in two and sees She's A Pearl who has been flying for her new kennel. She has run B.O.N in her last 4 out of 5 wins here and with a little room to her outside early I think she can win this again in B.O.N. time. Chase Me Honey showed just what she can do when she gets the start right and will give She's A Pearl a run for her money. I am looking to these two going at it. Of the rest Uno Herrera pinged and took off to lead all the way but this is much tougher now and Empress Tears is strong but can't mow down a 29.5 leader.
Selections: 5-1-7-8
---
Race 11: Ladbrokes Bet Ticker Masters M2/M3 (520m)
The masters will close out tonight's programme and it was impossible to miss Prim And Proper's first effort as a master. Pinged the lids and held them off in 30.16. That was a good effort and her first run for a few weeks so expect her to go on with the job tonight. Boomin Ethics would have lost no admirers in his second to Prim and Proper and I expect them to match motors again tonight .Bobby the Brute is sure to be improved and is in a smart kennel if he can stay close early can definitely run over the top of them late. Kipling is another interesting runner having his first go as a master. He has a sneaky good 29.86 best here and has seen more of the country than most that will be backing him.
Selections: 5-6-7-8
---