Win a share of $500 in Topbetta Nationals tournament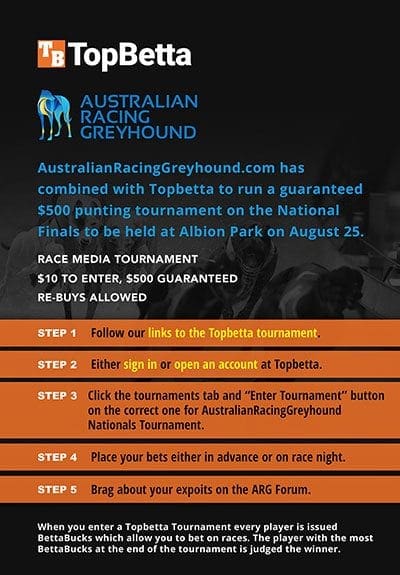 NATIONALS night just got even more exciting with the news that Topbetta is running a special promotion exclusive to readers of Australian Racing Greyhound.
The tournament will see successful punters win a share in a guaranteed prize money pool of $500 for an outlay of just $10 – with the more people who enter pushing the winnings up even higher.
Entering the tournament is as easy as 1, 2, 3. The first step is by following our link to the Topbetta tournament right here.
Next, simply sign-in to your existing account or sign-up for free. As an added perk, all new customers will receive $150 in bonus bets upon making their initial deposit of $50.
You will only be able to find the tournament by following our links, you then click the 'enter tournament' button and hit confirm. This will automatically give you $5,000 'BettaBucks' which you can use just like real money to bet on each of the races on Nationals night.
The winner is judged as the player with the most BettaBucks in their account at the end of the tournament. You can view the prize money break down on the tournament page.
The fields are up now, so you can either place your bets immediately, or place them on the night. For tournament beginners, basically if you pick a swag of winners on the night you are a good chance of taking home some cash.
The Nationals, Albion Park, Friday, August 25
Australian Racing Greyhound has done the leg work for you when it comes to the greyhound Nationals at Albion Park.
Check out some of the inside information from trainers to help you decide which greyhounds you are going to bet on for the big races.
Australian Racing Greyhound has spoken to all of the leading chances heading into each final, with both races wide open, meaning there is plenty of value to be found.
The National Distance Championship – run over 710m – is one for the ages. The likely favourite is star stayer Burn One Down (Buck Fever x Fancy Jaffa Jan '14) which will represent Victoria when he exits box seven.
The Seona Thompson-trained greyhound has won eight of his 10 starts since resuming from injury including the Group 3 The Racecallers (595m), the Listed Super Stayers (710m) and the Victorian Distance Championship (725m) – whilst he has also set two track records at Geelong and Sale.
His biggest threat will be five-time group 1 winner Fanta Bale (David Bale x Ucme Typhoon Aug '14) which qualified as the highest AGRA ranked stayer.
Both Fanta Bale and Burn One Down will be aiming to take the title home to Victoria for the fourth consecutive year.
Ebby Ripper (Sh Avatar x Ebby Miss Feb '15) and Outside Pass (Head Bound x Tina's Show Aug '13) will represent NSW and QLD respectively – the latter aiming to be the first banana bender to win the Distance title since Kobble Creek way back in 1999.
Meanwhile, Group 1 Galaxy champ Bogie Bekim (Bekim Bale x Bogie Skye Apr '14) is also given a chance following a slick trial at Albion Park on Monday, with the Ben Rawlings trained greyhound appearing to be the dark horse of the final.
The National Sprint Championship – run over 520m – will also be keenly contested. Victorians Aston Dee Bee (Barcia Bale x Aston Elle Apr '15) and Bewildering (Black Magic Opal x Outlandish Feb '15) once again look the dogs to beat, however there is also plenty of hype surrounding WA contender On Fire (Bekim Bale x Alana Blues Dec '14).