Britton family dominate 2023 Group 1 Sandown Cup heats to start half the final field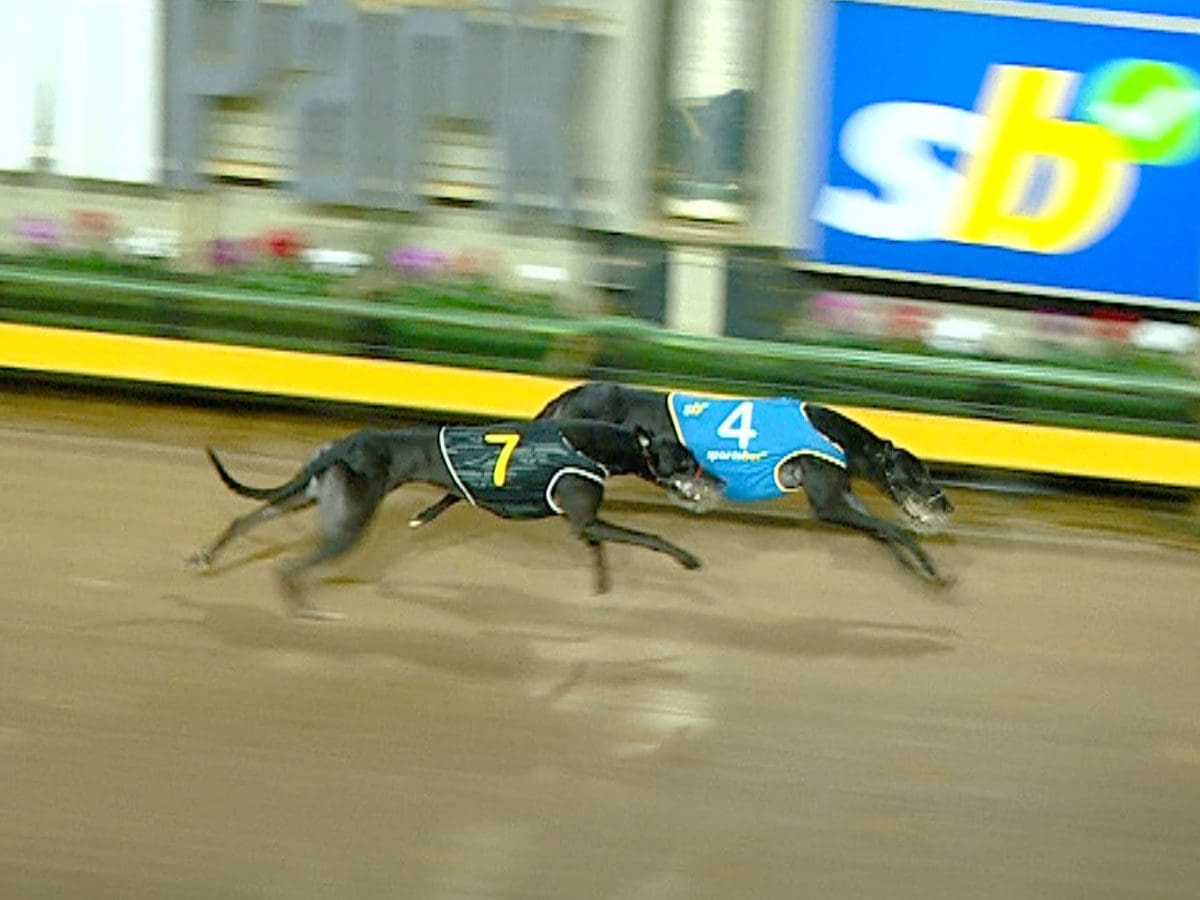 The extended Britton family will dominate the 2023 running of the Group 1 Sandown Cup with half the final race field after Rob Britton, Tim Britton, Jeff Britton and Angela Langton all qualified greyhounds for the $175,000 to-the-winner cup final.
Renowned greyhound trainer Rob Britton will have his sights set on a third Sandown Cup victory next week after First Picked ran the quickest of the four Group 1 Sandown Cup heats last night
First Picked (Benali x Erelda Bale) finished the 715m race in a swift 41.74 seconds in the second of the four Sandown Cup heats after being third in the run for the majority of the race, but notably managed to make up five lengths late to run past defending 2022 Sandown Cup winner Untapped, who was trying to lead all the way.
Rob Britton has tasted victory twice before in the Sandown Cup, in 2017 with Fanta Bale and in 2018 with Tornado Tears.
The 2018 race was a memorable one for the Britton kennel, as he managed to secure all three placings with Tornado Tears' brother Rippin' Sam finishing second, and Quick Jagger back in third place.
First Picked will be looking to add the $175,000 to-the-winner Sandown Cup to her breakthrough Group 1 victory in the 2023 Galaxy at Cannington, she also won the 2022 Group 3 Top Cat Video Cup at The Meadows over 730m in 2022 when trained by Rob's son Tim Britton.
2023 Group 1 Sandown Cup Heat 2 – First Picked (41.74) T: Rob Britton
---
First Picked's impressive career includes 13 wins out of 42 starts, with another 11 placings including a placing in the 2023 Group 3 The Miata at Cannington with caretaker trainer Chris Halse.
Notably, she has shown her prowess over the 'half mile' at Sandown Park, winning four of her seven starts over course and distance.
Untapped, trained at Warrnambool by Dustin Drew, will get the chance to replicate the feats of previous back-to-back Sandown Cup winners such as Paul's Thunder, Lizrene, Irma Bale, and Sweet It Is; after making the final finishing second in heat two.
The Sandown Cup title is synonymous with the most remarkable record holder in respect of continuous group race wins with the legendary 'Warrnambool Warrior' Bold Trease, who claimed four consecutive Sandown Cups for Norm McCullagh between 1986 and 1989.
The Warrnambool connection will not be lost on the local greyhound fan base in 'The Bool' with Untapped sure to have plenty of support to win the final, especially with Untapped's ability to get to the front early in these staying races.
Rob Britton's son Tim Britton will add a second Sandown Cup finalist for the family after Dirt Farmer took out the first of the Sandown Cup heats on 42.08.
Dirt Farmer by Fernando Bale out of Tears Siam is a the younger full brother to staying legend Tornado Tears, and the white and brindle dog will be contesting his first group race final next week.
2023 Group 1 Sandown Cup Heat 1 – Dirt Farmer (42.08) T: Tim Britton
---
Dirt Farmer has won 12 of his 34 starts with a further seven placings, and has won two of his three starts at Sandown of the 715m trip.
Keeping it in the family, Tim Britton's aunty and Rob Britton's sister-in-law, Angela Langton secured another Sandown Cup finalist for the family training Osprey Athena in to second behind Dirt Farmer.
Osprey Athena has won 8 of 27 starts with a further 12 placings and was making her staying debut in last night's heats, so will only get better with more racing over the longer journeys.
She will be making her group racing final debut in next week's final.
Angela Langton's husband and Rob Britton's brother Jeff Britton completed the family dominance of the 2023 version of the Sandown Cup winning the final cup heat in 41.75 with Korda.
Korda is a son of Mepunga Blaze and Mepunga Molly and has been twice group placed, finishing second in the 2023 Group 3 Gold Cup at Albion Park over 710m, and finishing third behind Stagger Out Lee in the Group 1 2022 Bold Trease final at Sandown.
Korda stalked early leader Zipping Orlando the whole journey before taking control late to run away by 3.74 lengths, only 0.01 outside First Picked's best of night time.
2023 Group 1 Sandown Cup Heat 4 – Korda (41.75) T: Jeff Britton
---
Korda has had 51 starts for 12 wins and 23 placings, earning connections $153,490 in prizemoney.
Jeff Britton is yet to add the Sandown Cup to his many group race wins but has been a prolific finalist in the Group 1 race finishing seventh with Mepunga Ruby in 2022, third in 2021 with Tyler Durden, second in 2020 with True Detective, third in 2014 with Mepunga Tiara and third in 2009 Lady Moscato.
New South Wales stayer and 2023 Group 1 Association Cup winner at Wentworth Park over 720m, Zipping Orlando, will only be improved for the run after trying to lead all the way at his first look at Sandown over 715m.
Trained by arguably NSW's master training combination of John and Minnie Finn, Zipping Orlando will be looking to secure the first NSW win for 18 years in the feature Victorian staying race after wins by Best Quoted in 2005, Smart Attitude in 1999 and Red Mystique in 1998.
NSW's best stayer Cawbourne Magic will give the interstate raiders from North of the border two hopes in the Sandown Cup final after winning the third heat of the cup in 41.81.
The Group 3 2022 Christmas Cheer Invitational winner at Wentworth Park over 720m came from second last early to run down the field and win by 1.77 lengths over Moraine Suzie.
2023 Group 1 Sandown Cup Heat 3 – Cawbourne Magic (41.81) T: Andy Lord
---
Next week Cawbourne Magic will be starting in his eighth group race final from what will be his 56th race start that so far has netted 22 wins and 24 placings for $292,920 in earnings.
Importantly, the Andy Lord-trained black and white dog has now had three starts at Sandown over 715m for two wins and a second, with his sole defeat coming the in final of the 2022 Bold Trease behind Stagger Out Lee.
Bred and owned by Stuart Dickinson, the son of Fernando Bale and Cawbourne Ruby will be improved by his first look at Sandown under race conditions since 2022 and looked to have quite a bit in reserve in the run.
Moraine Suzie will be only one of two non-Britton trained Victorian greyhounds in the Sandown Cup final after finishing second behind Cawbourne Magic coming from dead last in the run and catching all but the winner.
The Brendan Pursell-trained daughter of My Redeemer and Miss Bo Wicked won the 2022 Group 1 Topgun Stayers, and has placed second in 2023 Group 1 Zoom Top at The Meadows, and third in the 2022 Group 1 National Distance Championship final at Wentworth Park.
She has had 40 starts for 12 wins and 13 placings which has won $188,845 for connections.
The box draw for Sandown's feature staying race has already been done and has delivered defending champion and likely leader Untapped every opportunity to go back-to-back after drawing box one.
2023 Group 1 Sandown Cup Final
2023 Sandown Cup Box Draw & Field

Sandown Park715mGroup 1$175,000 to-the-winnerFriday May 26 2023Race 8

1

Untapped

T: Dustin DrewF: 1252Career: 61: 15-10-14Prizemoney: $327,928

2

Cawbourne Magic

T: Andy LordF: 3231Career: 55: 22-12-12Prizemoney: $292,920

3

Moraine Suzie

T: Brendan PursellF: 5512Career: 40: 12-6-7Prizemoney: $188,845

4

Korda

T: Jeff BrittonF: 5311Career: 51: 12-15-8Prizemoney: $153,490

5

First Picked

T: Rob BrittonF: 34F1Career: 42: 13-5-9Prizemoney: $237,200

6

Osprey Athena

T: Angela LangtonF: 3112Career: 27: 8-8-4Prizemoney: $58,755

7

Dirt Farmer

T: Tim BrittonF: 4141Career: 34: 12-5-3Prizemoney: $81,640

8

Zipping Orlando

T: John FinnF: 1112Career: 28: 15-3-4Prizemoney: $695,475

Reserves

9

Alfie Moon

T: Jess HopkinsF: 2313Career: 48: 9-16-8Prizemoney: $84,450

10

Palawa King

T: Ray SmithF: 1133Career: 32: 12-6-5Prizemoney: $112,140
---
Similar Greyhound Racing News