Britton's trio of Super Stayers ready to rule at The Meadows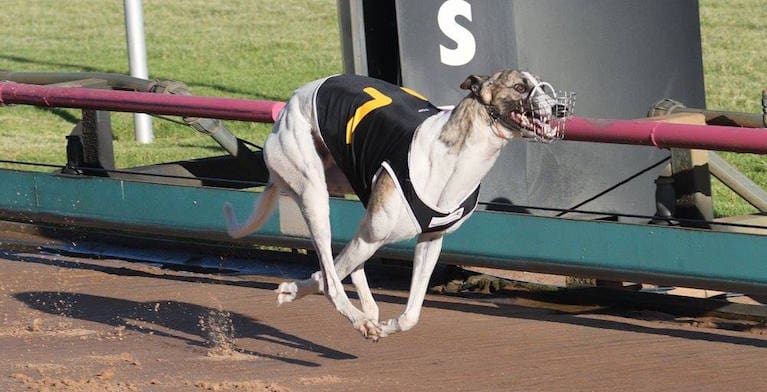 ROB Britton's domination of staying races looks set to continue this Saturday night at The Meadows, with the leading conditioner training three runners in the Group 1 Australian Super Stayers (725m).
Headlining his trio is superstar Fanta Bale (David Bale x Ucme Typhoon Aug '14) which will be gunning for her ninth group 1 win in the $100,000 to the winner feature.
The black bitch, which is owned by Paul Wheeler, was dominant in her heat over the weekend, winning by six and one quarter lengths over Queenslander Magic Hornet in 42.42.
It was the 41st win of her career and it took her prize money to $1,265,175 – less than $28,000 off the all-time prize money record held by Fernando Bale.
"You take her to the track and she does her thing – she is faultless and she has been for a long time," Britton told Australian Racing Greyhound.
"I think she is getting stronger too. You used to be worried down the back if she was going to struggle in the run home, but she is running it out nicely now.
"She probably isn't as brilliant early as she used to be – she is becoming a more rounded stayer."
REPLAY: FANTA BALE (B6) claimed HEAT 1 of the 2018 Australian Stayers for trainer Robert Britton @themeadowsdogs. #AusCupCarnival #GreyhoundRacing pic.twitter.com/yUWHePFNQ4

— Greyhound Racing Vic (@GRV_News) February 24, 2018
Britton also has boom youngster Rippin' Sam (Fernando Bale x Tears Siam Feb '16) in the final. The white and brindle dog settled just off the pace in his heat before taking the lead at the half way point, stretching out to defeat kennel mate Bolt Like Bekim by just under eight lengths in 42.42.
He has been a model of consistency since stepping up in trip, having now six of his eight starts over the longer journey with two seconds – one of his runner-up finishes being in the Group 1 Zoom Top behind Fanta Bale.

Britton said he is pleased with how the young gun is developing and rates him a genuine chance in the final.
"He is improving his box manners and he is driving through the field early," he explained.
"If you go back even three weeks ago he probably would have been last early and threading his way through, but he is starting to learn as a racing greyhound.
"He is a genuine threat to Fanta Bale and I think he is going to be a genuine threat in all the big races over the next few months."
What a ripper! Rippin' Sam powers to victory in the second heat of the Superstayers in a fast 42.42. He faces kennelmate Fanta Bale in next week's big final. @GRV_News pic.twitter.com/8KvlYEPfbF

— The Meadows (MGRA) (@TheMeadowsDogs) February 24, 2018
Rounding out Britton's triple threat is Bolt Like Bekim (Bekim Bale x Kim Keeping May '15) which flashed home in his heat to run second, although Britton said he won't be able to give his rivals another big start heading into the final.
"I was really pleased with his run – he gave them a massive start.
"He was last into the home straight and ran second – it was huge. He has got amazing high speed and he could stay all day – his downfall is he is giving some very good dogs eight to 10 lengths start which you can't afford to do.
"I'd love to get his confidence up and get him pushing up there a bit earlier because I have no doubt he has a massive motor."
REPLAY: RIPPIN' SAM (B6) claimed HEAT 2 of the 2018 Australian Super Stayers for trainer Robert Britton @themeadowsdogs. #AusCupCarnival #GreyhoundRacing pic.twitter.com/nCdELArSjF

— Greyhound Racing Vic (@GRV_News) February 24, 2018
When asked to chose between his three, Britton said he can't pick as they prepare to come up against a stellar field including Sale Cup winner Quick Jagger (Dyna Nalin x Saving Bundles Jul '15) and rising talent Azkaban (Bella Infrared x Outlandish Jan '16).
"If you could imagine Fanta Bale in front and Rippin' Sam second or third, it's certainly going to be an exciting race," Britton said.
"But I try to worry about the opposition and not the competition between my own dogs!"
As for plans to retire his champion, Britton said there is no immediate intention to hang up Fanta Bale's collar and lead just yet.
"I would love to see her defend her Sandown Cup title – but the main thing is to keep her sound and healthy.
"She's already done more than we could have ever expected or hoped – I've been saying for a long time everything she is doing is a bonus."
2018 Group 1 Super Stayers Box Draw
1 – Fanta Bale
2 – Bolt Like Bekim
3 – Magic Hornet
4 – Rippin' Sam
5 – Quick Jagger
6 – Sharp Diamond
7 – Azkaban
8 – Mick's Angel
Reserves
9 – Packey Keeping
10 – Ebby Ripper
More Greyhounds News