Butcher aiming for back to back National Sprint Championship wins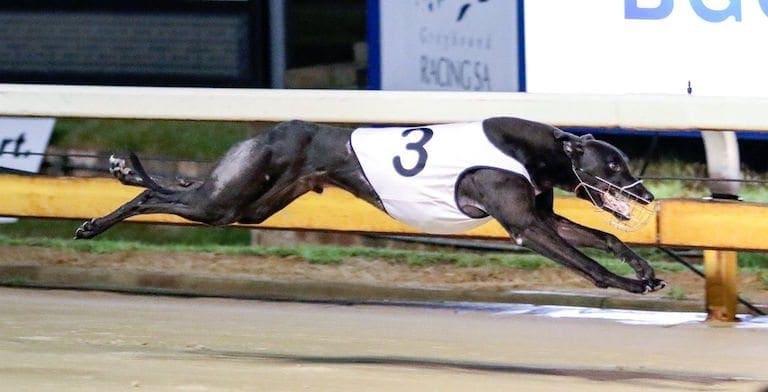 CAMERON Butcher will be striving for back to back wins in the 2017 National Sprint Championship when his ultra-consistent sprinter On Fire (Bekim Bale x Alana Blues Dec '14) makes the trek from SA to QLD to contest the group 1 final at Albion Park on August 25.
Butcher won the 2016 feature with Worm Burner (Oaks Road x Little Looper Dec '13) when the final was run in South Australia, giving the Meningie conditioner his first win at the highest level.
On Fire was a brilliant winner of the SA Sprint final on Thursday, booking his spot in the National final when coming from behind to defeat Cairnlea Kenny (Premier Fantasy x Cairnlea Ellie Apr '15) in 29.73 on a windy night.
Starting at $1,40, it was his 15th win from his past 16 starts – with Butcher commending his greyhound's will to win despite often finding himself well back in the pack.
On Fire will be @TheDogsSA representative in the #UBETNationals Sprint Final at Albion Park on 25 August. pic.twitter.com/qfsfNyr10M

— Puntersland (@Puntersland) August 11, 2017
"He has been in great form so I knew he was a big chance, but he is the type of dog you can never be too confident with because he isn't a brilliant beginner and he tends to find trouble," Butcher told Australian Racing Greyhound.
"But he has a lot of ability and he seems to find a way to win – some of his runs have been fantastic – he has been out the back and just when you think he is no chance he somehow gets there in the end."
On Fire will head to Albion Park as the winner of 29 of his 46 starts with $114,000 in career earnings, but with 42 of his starts being at Angle Park, Butcher concedes it will be a tough as to produce his best against the country's top sprinters on a new track.
However, the black powerhouse will be given every chance to succeed and will have a look at the track prior to taking his place in the $75,000 to the winner final.

"Last year when I won the final was at Angle Park and I think it is always a bit harder to win these races away from home – especially for dogs from SA as apart from a couple of starts On Fire has raced on the one track at Angle Park for the majority of his career," Butcher said.
"But he will have a trial before the final. Ben Rawlings who won the SA Distance final is going to take him up for me when he goes up with Bogie Bekim – he'll fly up next Sunday and have a trial on the Monday."
Despite debuting at Albion Park, Butcher says his charge is good enough to match it with his rivals, although says he will need luck given his come from behind racing style.
"I'm sure he is fast enough to be competitive, but he will need some luck because of his racing style – he is a phenomenal dog but I don't think he can give these dogs a start and a beating," Butcher said.
"I don't think it matters what box he comes from because I expect him to be back in the early stages – he lacks that drive in the early stages and if he gets crowded he tends to pull back.
"If I had to choose I suppose you'd want the outside – he might not get into as much trouble and might get some room to move."
Can Cameron Butcher & SA do it again this year? On Fire off to represent Australia in the sprint final. Good luck guys. Give them a shake. pic.twitter.com/CJm06s0N8R

— Greyhound Racing SA (@TheDogsSA) August 10, 2017
The Victorian and Tasmanian finalist have already been decided, with Aston Dee Bee (Barcia Bale x Aston Elle Apr '15) set to fly the flag for the Big V, whilst Gold Lenny (Spring Gun x Marananga Moss Jan '15) will represent the Apple Isle.
Also set to take his place in the feature is Bewildering (Black Magic Opal x Outlandish Feb '15) which ran second in the Victorian final last Thursday at Sandown, but gains a start as the highest ranked AGRA sprinter to have contested its state final.
The WA and NSW representatives will be decided on Saturday night, with Queensland's two finalists to be determined next Thursday at Albion Park.