Campbell's spirit lives on with Adios Amigos winning at Maitland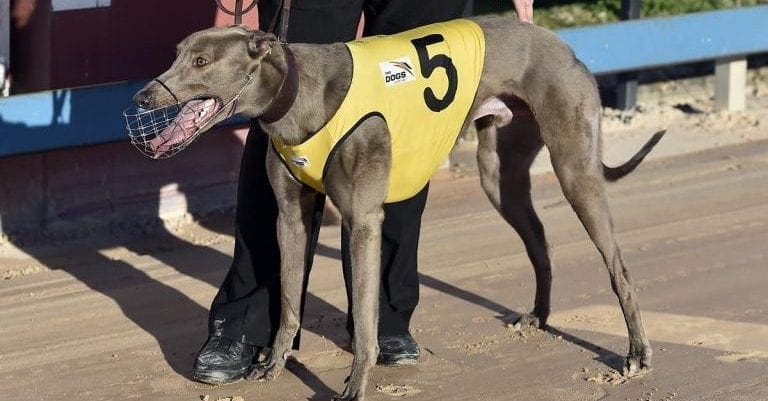 ADIOS Amigos (El Grand Senor x Hail Queenie Jun '15) scored an emotional victory at Maitland last Thursday night for his owner-trainer Marian Anderson.
It wasn't just an ordinary win for Anderson, whose father Charlie Campbell bought the blue dog as a pup before he passed away in August 2016.
Lining up for his second start, Adios Amigos got clear galloping room in the early stages and was too smart for his rivals when breaking his maiden in 22.81.
Despite being sent to the boxes as a $12 chance, Anderson said she was hopeful her greyhound could improve off his fifth placing over the track and trip the week prior.
"I thought he would go well last week. I know in his performance trials he didn't go fantastic, but at his first start he got a few bumps and didn't run a bad race so I thought he could improve off that," Anderson told Australian Racing Greyhound.
"I think he is going to keep improving. He has shown ability on and off, but last year I was busy looking after dad when he was ill so he probably didn't get as much time put into him as we could have done.
"Since dad's passing I have spent plenty of time getting him ready to start racing so it is nice to see him now putting it all together."

There were a few tears shed after the victory with Campbell once a regular at the Maitland track each and every week. The adoring greyhound racing enthusiast, who raced greyhounds himself when Marian was a child, would accompany his daughter to every race meeting, the duo sharing a strong passion.
"He used to come everywhere with me trialling and racing the dogs," Anderson recalled.
"When he was sick he was living here and although he couldn't do much with the dogs he could see them all from the lounge room which he loved.
"Even when he was sick I still used to take him to the track as much as I could – it was his one enjoyment in life at the end."
Fittingly named, Adios Amigos, which is Spanish for 'Farewell Friend', the dog is out of former speed machine Hail Queenie and is the fourth pup Anderson has purchased from the line.
The Black Hill conditioner purchased Gracas King (Lochinvar Marlow x Hail Queenie Feb '13) with her father, the talented youngster winning 12 of his 17 starts, the majority of which were in Victoria under the care of Jason Thompson, before injury ended his career.
While he may never reach the glittering heights of his older half-brother, Anderson is still hopeful Adios Amigos can have a bright future and insists no matter what the 35 kilogram chaser will always hold a special place in her heart.
"He is certainly a special boy given he is dad's last dog. I was very emotional last week when he won – I remember thinking 'god I wish dad was here' – but it was nice in a way to have that connection.
"Dad would have been thrilled to see him win, hopefully there are a few more yet to come."
Similar Greyhound Racing News