Cincinnati Lass to race for Cherish WCF in Townsville Cup heats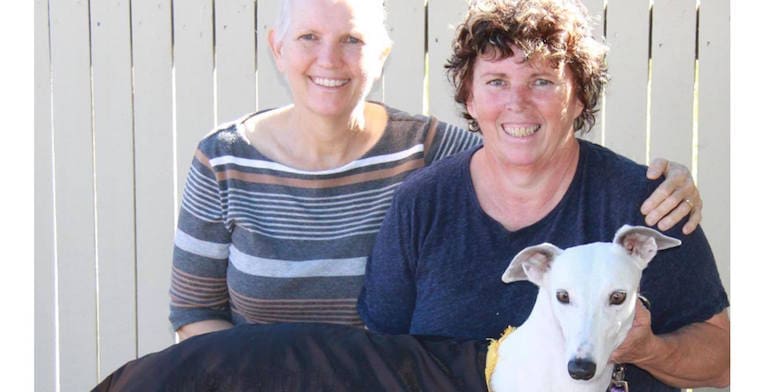 CINCINNATI Lass (Knocka Norris x Little Egyptian Nov '13) is an outsider to win her heat of Tuesday night's Group 3 Townsville Cup (498m), but just to qualify for the final would be a dream come true for her owner/trainer Robynne Black.
Black purchased the regally-bred chaser, a younger full-sister to former star greyhound Punch One Out, as a 11-start maiden, and has since turned her into a winner, with the white and fawn greyhound breaking through for her first career win at Townsville back in June.
"A friend of mine Narelle Tapp was training her and they were trying to sell her because they couldn't get her to win any races down in Victoria," Black told Australian Racing Greyhound.
"Because I do a bit of breeding I sent Narelle a message and said that I'd take her if no one wanted to buy her and about three weeks later I got a message to say she was mine.
"I brought her up to breed with, but I decided to see how she goes racing and I think she is actually going to be a handy little bitch – I love her."
Cincinnati Lass has only had three starts since joining Black's kennel last December, running fourth and sixth before breaking through in 22.18 over the 380m trip at her last start back in June.
Black said the two-month break won't hinder her greyhound's chances, with the Jensen-based trainer deciding to work her up over the Cup distance slowly and away from race conditions.
"She had a little bit of an injury, but I have been trialling her and I decided not to start her until the Cup so I could take it slowly with her," Black said.
"A lot of people said she wouldn't be able to run the distance, but she runs it out very strong, so I thought I'd have a crack with her.
"She has been trialling really well and I wouldn't put her in it if I didn't think she was capable of racing well."

The 30-kilogram bitch will jump from box seven in her heat this Tuesday, with her main rival appearing to be Group 3 Vince Curry Memorial winner Fire To Rain (Fabregas x Spirited Flame Feb '15).
Black said she is happy with the box draw and is hoping for a trouble free run.
"She is slow out of the boxes which is her only down fall, but I am happy with box seven and she is smart in a field so I am hoping she gets a bit of clear running and can put herself in the race.
"Box one is always good but when you are slow out they do crowd you – at least from box seven she gets the room to accelerate and she can go around them if she needs to."
Cincinnati Lass will have to finish in the top two to qualify for the $25,000 to the winner final on September 5, with Black explaining there will be plenty of tears flowing if she is able to do so.
"She was my sister Joanne's favourite dog and sadly she passed away last month after a five-year battle with ovarian cancer.
"The last photo I have of her and I is with this dog – so she is very special to me and it would mean the world if she were able to make the final."
As a way of honouring her sister, Cincinnati Lass now races on behalf of the Cherish Women's Cancer Foundation, with part of her prize money going towards fighting the insidious disease.
Win, lose or draw this Tuesday, Black says as long as Cincinnati Lass makes it around in one piece she will go home happy.
"Whatever happens, happens. We are just happy to have a runner there having a crack at and as long as she makes it around safely – that's the main thing."
Four heats of the Group 3 Townsville Cup will be run on Tuesday night, the first of which is race five which will jump at 8.38pm.
Similar Greyhound Racing News