Cobra Clutch out to cause upset in WA Bred Championship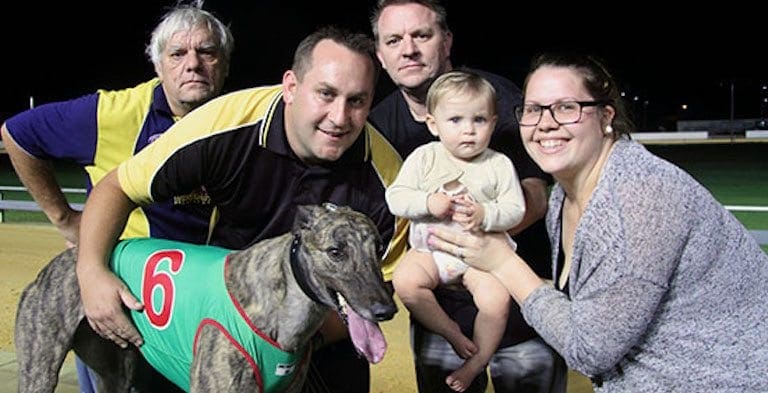 VETERAN greyhound Cobra Clutch (Turanza Bale x Mini Emily May '13) will be out to cause an upset on Saturday night when he contests the $30,000 WA Bred Championship (520m) at Cannington.
Trained by Jamie Marsh and owned by several members of his family, Cobra Clutch scraped into the final when finishing fourth in his heat on the weekend, finishing four and one quarter lengths behind in-form chaser West On Hawkeye (Barcia Bale x Zelemar Fever Mar '15).
Marsh explained that despite not winning the race, he was still extremely proud of his gallant chaser's efforts.
"He is getting a bit old now – his best is a bit beyond him now – but I still thought it was a great run on Saturday night," Marsh told Australian Racing Greyhound.
"He has spent most of his time at Mandurah the last few months because he is top grade at Cannington and the racing is a bit easier [at Mandurah].
"But this series was coming up so we decided to have a crack at it – to come back to town and mix it with some of the best greyhounds in the state was a big effort."
Cobra Clutch has been a terrific greyhound for the Marsh family, winning 25 of his 79 starts with 21 placings and more than $150,000 in earnings.
His biggest career win was in the 2017 Lew Dorsa Memorial at Cannington, whilst he has also been a finalist in the 2016 Group 2 All Star Sprint and the 2016 Group 3 Mandurah Cup.
"He has been a great dog to train – we bred the mother which makes it extra special," Marsh said.
"He is a really good chaser and he's made me look like a good trainer. He has run some super times and he is probably unlucky not to have contested some bigger races.
"He has beaten dogs like Unlawful Entry throughout his career, but everything seemed to go wrong whenever we planned to go east, but I can't complain because we have had a lot of fun."

Cobra Clutch will jump from box two in the final, a draw from which he has won seven of his 11 starts with three placings.
Marsh isn't going into the race exuding confidence, but says his star greyhound will be giving it his all against some top WA sprinters including Pepper Fire (Spiral Nikita x West On Bluebird Jul '14), Sassy Ginger (Kinloch Brae x Sassy Guess Nov '14), Astrozone (Cosmic Rumble x Starlight Delly Nov '14), Neil Monelli (Barcia Bale x Dyna Sandy May '15) and West On Hawkeye.
"Astrozone and West On Hawkeye are flying at the moment so he will have to get lucky to beat them, but I am just so proud of what he has done and how he races.
"Pepper Fire is in the one which makes it tough but he loves box two so who knows what could happen? A couple of months ago he jumped to the front and won the Lew Dorsa in 29.79 – so he definitely can run a cheeky race if he can lob on the arm.
"He is still capable of running good sectionals on his night – he has probably just lost a little bit in his run home.
"Although he past his best you never know – he might pinch a break."
Marsh, who only has six dogs in work, said if Cobra Clutch is able to cause an upset on Saturday night he would most likely be retired to the life of luxury as a pet.
"I am rapt with him – he has brought us so many good times and he has just been a tremendous dog for us.
"There are probably a few more races he could win down at Mandurah, but he is getting towards the end of his career.
"Obviously he is up against it and probably 25/1, but if he did manage to win I think we'd retire him – I couldn't think of a better way for him to go out."
The $30,000 WA Bred Championship will be run at Cannington on Saturday night.
WA Bred Championship – box draw
1 – Pepper Fire
2 – Cobra Clutch
3 – Neil Monelli
4 – West On Hawkeye
5 – Who's Got Class
6 – Astrozone
7 – Honcho Monelli
8 – Sassy Ginger
Reserves
9 – West On Maisie
10 – Gold Reserve
Similar Greyhound Racing News