Couch Surfer tipped to continue momentum in Galaxy heat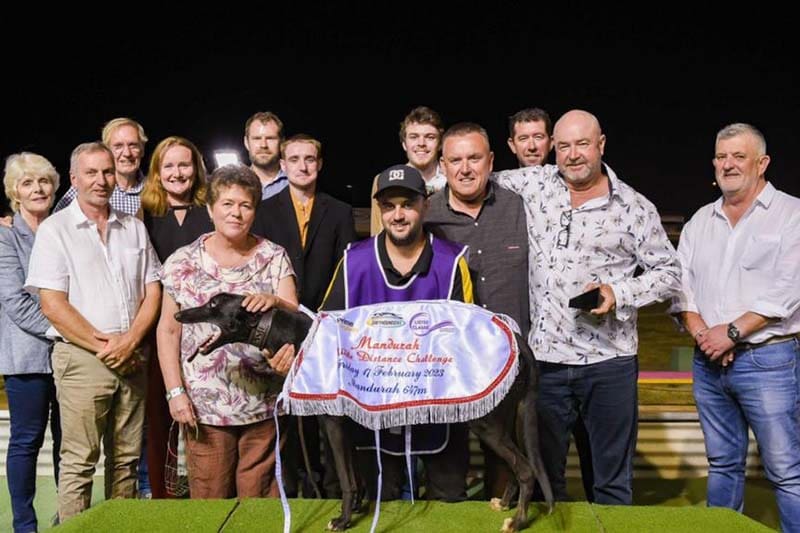 We will discover if Couch Surfer can keep his momentum rolling forward as a developing stayer from an ideal lane in a Galaxy heat at Cannington on Saturday night.
They were the thoughts of trainer Chris Halse after he watched on with satisfaction when his two-year-old won by a comfortable 7 ½ lengths in the Galaxy Prelude last week.
What was particularly pleasing for the Nambeelup-based conditioner was the fact his young gun got to the lead early on the back straight and easily widened his advantage from there.
Couch Surfer has a golden opportunity to again do that from box one as the $1.35 favourite across betting sites in the second Galaxy heat this weekend.
The indications are he will do just that, after recording an impressive 41.82 seconds last start.
"He seems like quite a nice dog. We'll probably know more after this week because last week was the first time he led and got close to the bunny over the 700," Halse told Australian Racing Greyhound.
"He won well, but this week we'll find out if he's a genuine stayer or not.
"It all points to him getting a clear run again off the red. Hopefully he gets the job done again for us."
It will be just the third start over 715m for Couch Surfer on Saturday night, but both previous efforts over this distance have been excellent.
He also crossed the line in 41.83 seconds in a fifth-grade event on February 25, passing his first staying test in fine fashion.
On that occasion he missed the start and was well back in third-last at the first time across the finishing post.
But he remained focused and worked his way through the field, got to second at the turn for home and passed Speed Freak on the inside early on the home straight.
With this kind of versatility, Halse said Couch Surfer has displayed all the traits of a quality long-distance chaser in the making.
"He looks the part. He's bred to have a bit of staying power in him. Now I'm just hoping for a bit of luck," he said.
"He's a young dog and still learning. They don't normally go over this distance at two.
"He's a nice dog and he's got no bad habits – he's only got good habits and he can run.
"From behind he doesn't have to lead. His first run over 700 he still broke 42 seconds from a while back.
"As long as he gets clear running, and he doesn't have slower dogs in front of him and do the wrong thing by him.
"But he can find his way through a field as well. As long as he's got momentum, he seems to pick the right option."
Halse's two-year-old bitch First Picked will line up from box eight in the third Galaxy heat as a $6 winning chance.
She was fourth in the Galaxy Prelude in a time of 42.44 seconds.
It was her first start for Halse in Perth since going west from Robert and Tim Britton's Lara-based kennels in Victoria.
"She's handling it a lot better this week," Halse said.
Similar Greyhound Racing News