Coulta Bandit – the only dual Canberra Cup winner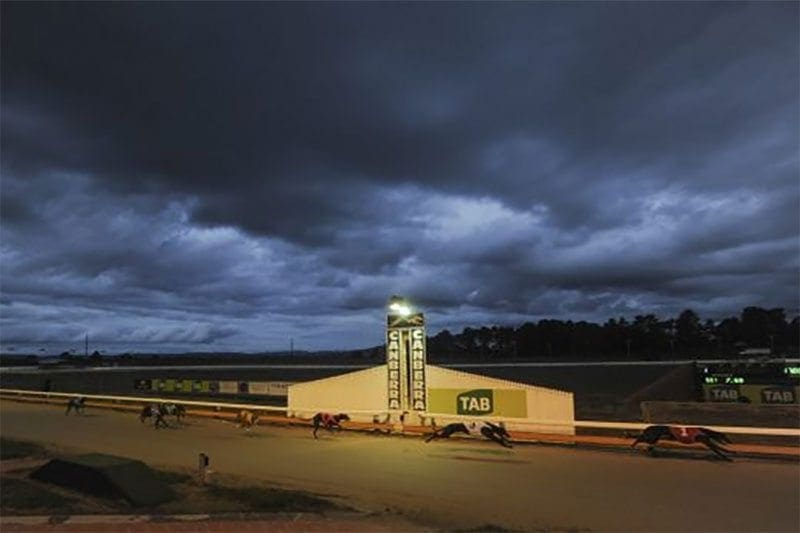 WHEN South Australian raider Coulta Bandit ventured to the ACT in October 2000 and annexed the 530-metre Canberra Cup and then repeated the dose in October 2001, she became the only greyhound before, or since (to 2017), which has managed to snare this prestigious event twice. In a glittering career, Coulta Bandit's dual Canberra Cup victories are arguably her standout achievements.
Coulta Bandit was a white and fawn bitch by November Forest out of Coulta Diamond, whelped in February 1998 and was trained for much of her career by Robert Britton.
After finishing last at her first start, over 515 metres at Angle Park on November 29, 1999, Coulta Bandit quickly made amends, winning her maiden over 530 metres at Gawler just two days later.
After a second placing at Gawler, Coulta Bandit then rattled off five straight victories at both Gawler and Angle Park, the last of them being a heat of the inaugural John Gray Memorial. In the final, Coulta Bandit went under by just three-quarters of a length to Plato Bale.
Three more wins followed, at Gawler and Angle Park, culminating in Coulta Bandit qualifying for the final of the Group 3 South Australian Breeder's Plate (now The Howard Ashton). She again had to settle for second place, beaten three and a half lengths by the smart Mary Jo McLaren on March 30, 2000.
After winning at Angle Park on April 6, Coulta Bandit then campaigned outside South Australia for the next four months, running third at Ballarat behind the smart Puff Daddy over 550 metres (that would be the longest distance she ever attempted) and then winning over 525 metres at Broken Hill nearly a month later, on May 13.
After a third placing over 530 metres at Cannington, Coulta Bandit found herself back on the other side of the country five weeks later, running fifth and then third in two starts over 518 metres at the Meadows in early July.

Her next assignment was the Group 3 Sale Cup, over 511 metres. Coulta Bandit won her heat by two and a half lengths from Vino Veritas in 29.49, the best of the night but despite the advantage of box one in the final, she was beaten into third place behind Vino Veritas and Bach's Maestro on July 23.
Back at Angle Park, Coulta Bandit won her heat of the South Australian National Sprint Championship and then took the August 24 final in brilliant style, defeating Big Brother by three and a half lengths to record her first major victory.
Representing South Australia in Launceston for the 522-metres National Sprint Championship final on September 9, Coulta Bandit acquitted herself well from box eight, finishing third behind the high-flying NSW contender Placard and Tasmanian qualifier Kialdu D'Or.
After a fourth in her first look at Sandown, Coulta Bandit was given a four-week break, resuming in a heat of the Canberra Cup on October 17. Drawn in box four, the white and fawn bitch bounced out in front and went on to score by almost three lengths in 30.71.
In the Canberra Cup final, Coulta Bandit drew box seven while Stately Bird, the Wentworth Park champion, drew box eight and was sent out favourite. Coulta Bandit again began well and once more went on to win by almost three lengths from Karalinga and Solo Title with Stately Bird fourth.
Back at Angle Park, Coulta Bandit made the final of the South Australian Sprint Championship, winning her heat from box one in 29.57, the fastest of the night, but she could only run sixth in the final behind Webster Bale.
Invited to contest the Silver Bullet at the Meadows, Coulta Bandit finished a fair fifth behind Jennev on November 6 but then scored two brilliant victories at Sandown to propel her into the Melbourne Cup final.
The South Australian star ran well to take fifth place in the Melbourne Cup behind NSW champion Go Wild Teddy and local sprinters Classic Capri, Dutchy's Angel and Big Smig.
Just six days after her Melbourne Cup run, Coulta Bandit won a heat of the Gawler Gold Cup before finishing fourth in the final behind the smart Pristine Raider.
Unplaced runs followed at Sandown, the Meadows and Angle Park (in the Group 3 Interstate Challenge Cup, behind the sensational Brett Lee) before Coulta Bandit was spelled for almost three months.
She resumed on April 4, 2001 with a win at Gawler before finishing only seventh in a heat of the Anniversary Cup at Angle Park.
Another break, this time of six weeks ensued, and when Coulta Bandit returned she found herself campaigning in Victoria. She won first-up over 457 metres at Geelong and 440 metres at Shepparton as well as winning at the Meadows and Sandown in top grade.
At the start of October, Coulta Bandit contested her first race at Wentworth Park, winning a heat of the Paws of Thunder by an impressive six lengths in 30.26 before being knocked out of the series when only sixth in her semi-final.
Back in Victoria, she finished fifth in the Bill Collins Memorial (best 8) at Sandown and, after a second at Shepparton, Coulta Bandit returned to Canberra for her second tilt at the Canberra Cup.
In her heat, on November 11, she led all the way from box two to win in 30.86 while she drew box seven for the final, the same alley she had exited in her victory in 2000.
In a repeat of her 2000 performance, Coulta Bandit made it back-to-back Canberra Cup wins, leading all the way to win by three-quarters of a length from Golden Tattoo in 30.46.
Back at Sandown, Coulta Bandit won her heat of the Melbourne Cup, thereby making the richest final in the country for the second successive time. In the November 29 final she found Classic Capri (the 2000 runner-up) too good, finishing second, beaten five lengths.
Taken to Albion Park, Coulta Bandit finished a well-beaten second in her heat of the 520-metre Brisbane Cup, and was only a reserve for the final.
Coulta Bandit won three of her next four starts, two at Sandown and then, on January 17, 2002, a heat of the Adelaide Cup. It would be her last race victory.
In the Adelaide Cup final, Coulta Bandit finished sixth behind Brookside Bear.
After a fifth behind Trewking at the Meadows, she was given a 10-week break and set for the Perth Cup series.
Unfortunately, Coulta Bandit could run only fifth in a heat of the Perth Cup on April 13 and her last start came on April 20 when she could only finish last on Perth Cup final night.
Coulta Bandit finished with 37 wins, 11 seconds and seven thirds from her 78-start career. She competed in 14 major races, registering three wins, three seconds and two thirds.
Similar Greyhound Racing News