Kristie Collyer & Voodoo Oak's Waterloo Cup Win

Twenty two year old greyhound trainer Kristie Collyer of East Coburg claimed one of racing's most prestigious events yesterday when her greyhound Voodoo Oak won the 2009 Waterloo Cup at Longwood.
Kristie has been involved in greyhound racing all her life and was overcome with joy as she claimed a first prize of $10,000.
"This is the best feeling in the world and means everything to me and dad [Murray]. We are a team and this is reward for many years of hard work", Kristie said. "It's a thrill and a half and I can't describe how happy I am. It's the ultimate and like winning a Grand Final in football."

While some greyhound races such as the Melbourne Cup boast prize money of up to $175,000 to the winner and are conducted on circular racetracks, the Waterloo Cup is held on a straight track and is considered the pinnacle event on the Victorian coursing calendar.
Coursing events are 'knockout' competitions requiring a combination of speed, endurance and recovery as 64 greyhounds are required to race up to six times over a weekend, oneon- one over 320 metres until only two greyhounds remain.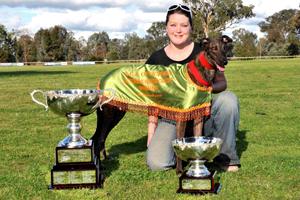 "Voodoo Oak won all of her six courses by three or four lengths and was up against Black Hummer in the final, who was the favourite to win the Waterloo Cup", said Kristie's dad Murray Collyer.
"Kristie is a third generation greyhound trainer. My dad was heavily involved in coursing greyhounds as well, and so have I for more than 20 years, but Voodoo Oak is our first Waterloo Cup entrant because we've never had a greyhound good enough to win it", he added.
With four wins and 11 placings from 38 starts in circle racing, Voodoo Oak is no world beater. But when it comes to coursing, she is a class act having claimed the John Schmolling Memorial at Healesville a few weeks ago and now having her name etched into the history books after a dominant display in the 2009 Waterloo Cup.