Dagostino full of praise for Momentum after Winter Cup win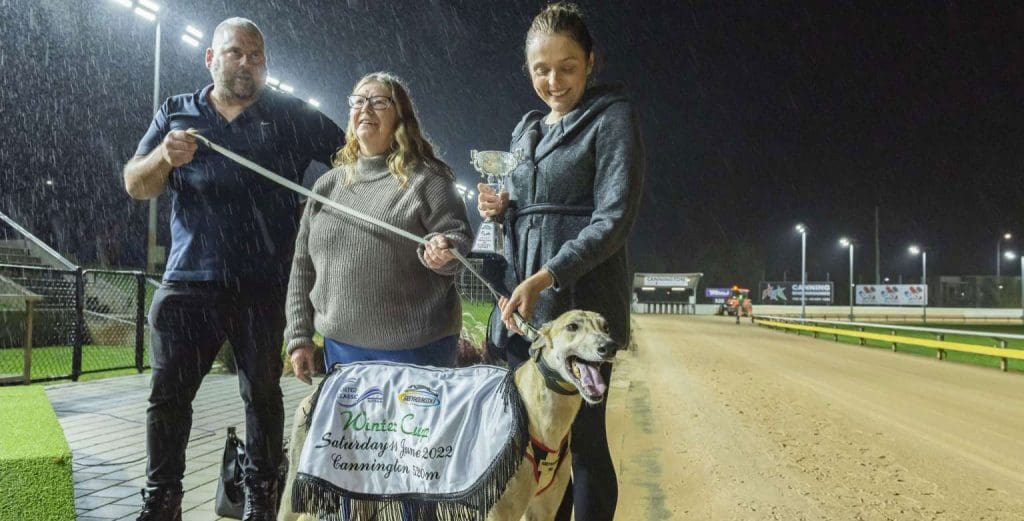 You wouldn't have thought so at the time, but Cosi Dagostino said a fourth-placed finish by Momentum as the $1.70 favourite at Cannington on May 28 stamped his quality as chaser.
The fast developing two-year-old built off that performance – after being checked early – to go on and salute in the $28,500 Greyhounds WA Winter Cup at Cannington on Saturday night.
The way he came back from second-last at Cannington laid a solid foundation for Momentum to be one of the favourites when he steps up to 600m for the first time.
That will be in the $10,545 Group 3 Paradise Street Trophy at Cannington on Saturday night.
"He really wants to win. A couple of weeks ago when he ran fourth I reckon he made up 15 lengths," Dagostino told AustralianRacingGreyhound.com.
"It was an unbelievable effort. He couldn't see the lure from where he was, but he really made up a lot of ground."
Momentum lived up to his name and showed the same fighting qualities to win the Greyhounds WA Winter Cup by almost two lengths last weekend, crossing the line in 29.78 seconds.
"I've had dogs before who I thought would be OK, and they get to 400 and 450 and that sees them out," Dagostino said.
"But the further he goes he grows a leg, and he did that from the 450 to 500m mark.
"We expect the 520 to 600m to be the same. He's got a ferocious chasing mentality."
Dagostino is delighted with Momentum's chasing nous at such a young age, which has already seen him salute on 20 occasions from 40 starts.
"It was a good chase (in the Winter Cup). He had a bit to do and he chased well. We were very happy," he said.
"He's starting to go inside and outside, and seeing where the best opportunity is.
"He's getting smarter and smarter. I wish I could say I'm a great trainer and 'yeah, we've been working on it'.
"But the good dogs make good trainers. He's just a good dog and has learnt things himself.
"We look after him and do a lot of box work at home with him, but his field sense – he's learned that himself."
Dagostino believes Momentum's time has come to now be competitive over 600m.
"We're stepping him up to 600m. His last sectional is what we look at, and it says he'll definitely run 600," he said.
"He's got a lot of early pace as well, and hopefully he draws OK. I think 520 to 600 – the next 80m will be even better.
"Because you could see on Saturday night he was charging away at the line.
"If he does well we're thinking of going to the Brisbane Cup with him (over 520m on July 7)."
Joining Momentum, there could be a fresh batch of winners around the corner for Dagostino, who also breeds greyhounds on his five-acre property at Banjup.
"We just had a litter of pups out of a bitch who won nearly $100,000 – Jett's Cracker," he said.
"Eight puppies and I've got about 18 in work, with some up-and-comers there.
"But he (Momentum) is the best dog in work by far."
Similar Greyhound Racing News