Daley's rookies ready for QGOLD acid test at Albion Park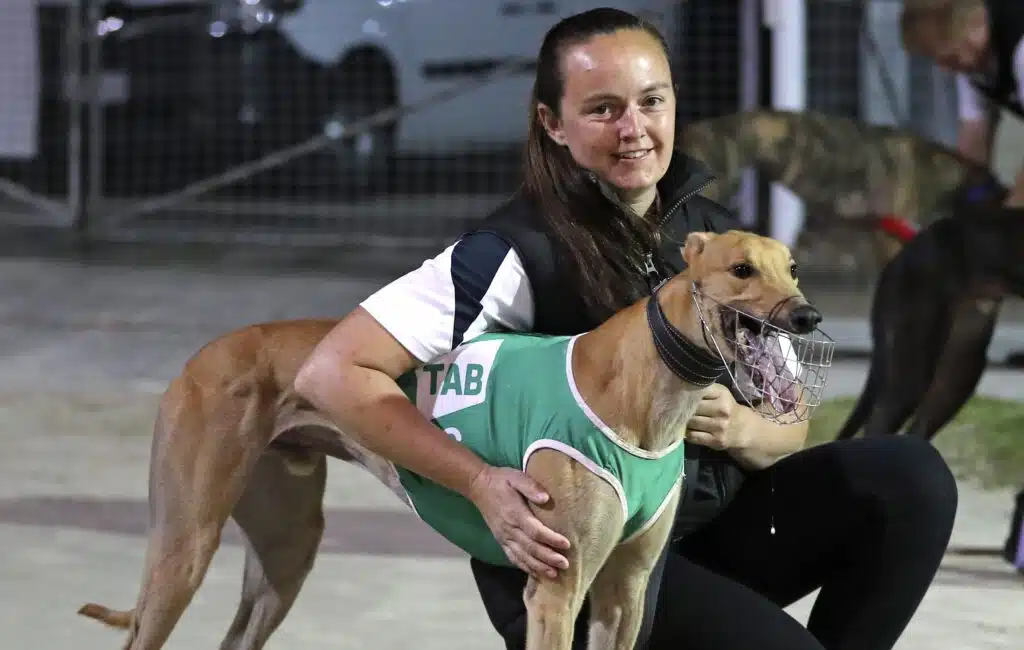 When Digital Sea and Hara's Cookie jump in the QGold Rookies Final at Albion Park on Thursday night, trainer Jemma Daley will be watching as closely as ever.
"This is obviously the real acid test for the Winter Carnival for them," Daley said.
"They've got to perform Thursday night to show us that they're up to it."
Hara's Cookie is a young up-and-comer for the kennel, unbeaten in all three starts including the 520m heat from box three.
On debut, the Fernando Bale x Hara's Skylah progeny won by a whopping 15 lengths before backing it up with a further two wins, each time beating the pack home by a margin of more than seven lengths.
His record over the track and distance is 30.24, recorded in the heat last week, and his trainer is confident he can strip that time as he progresses.
"He's a very, very nice young dog coming through," she said.
"He's had a couple of hiccups and he was sort of set for the Vince Curry but he got a virus.
"So, you never want to see your dog get crook but it could have been a blessing in disguise for him because we had to put him away and he seems to have come back a little bit better again.
"He's still a young dog learning what to do — but, look, it is exciting when they're winning like he is.
"We think he can go a bit quicker but he's got the work to do.
"We'll see what he does but so far so good."
---
2023 QGOLD Rookies Heat 3 replay
Winner: Hara's Cookie (30.24)

---
Kennel mate Digital Sea is a Barcia Bale x Ricolina Girl bitch who ran second in the Group 3 Auction Series Final at Ipswich last month behind Magistrate.
She ran second behind Willows Gift in the heat off the back of two victories over the Albion Park 520m, beating home Ready To Sting on both occasions.
"Her and Hara's Cookie have so much early speed so they put themselves in it," Daley said.
"They need the luck on the corner but they have the speed early to help them come across."
The pair have drawn boxes seven (Digital Sea) and eight (Hara's Cookie) – a result that does not impress Daley.
"I've been bent over with box draws and far from happy with that result," she said.
"That bitch there (Digital Sea) is a prime example that the box draw system is flawed. Absolutely flawed.
"But what do you do? It's not fair on young dogs when they continuously draw the outside.
"We just hope that they've got enough speed to cart them across and that Digital Sea can help Cookie if she can get out and get the cart across.
"Take nothing away from her though because she's racing as good as ever."
Kennelmate Hara's River will run the 600m trip in the QGold Winter Chase Final after winning her heat in 34.88.
The Fernando Bale x Hara's Honey bitch has a best time at the distance of 34.63, and trainer Daley is confident her chaser can cut this back even further.
"She's going to strip a lot fitter for last week," Daley said.
"She's probably a little under done going into it but she should strip a lot fitter.
"I don't think the outside draw is going to phase her too much.
"I think she'd probably rather be there than the one.
"Anything can happen, she's just going to need a lot of luck on that first corner."
The field consists of some top hopes including the Ray Burman-trained Blue Hornet and Tony Zammit-trained Adulate.
"Adulate is a good dog. But she has been up against him before," Daley said with confidence of Hara's River.
"There is obviously the Zammit factor but you know she's a good bitch and I don't think you can take any of them lightly."
---
2023 QGOLD Winter Chase Heat 1 replay
Winner: Hara's River (34.88)

---
Similar Greyhound Racing News