Dr Derek Major: NSW greyhounds not in crisis after Mackay ban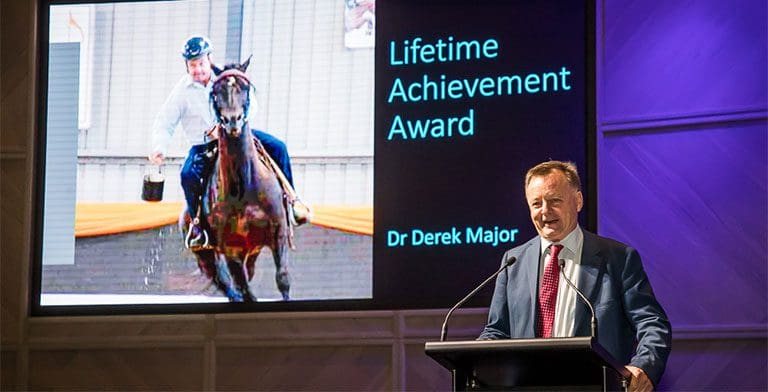 Prominent Sydney veterinarian Dr Derek Major is confident greyhound racing is not in crisis after top trainer Jason Mackay received a two-year suspension for banned substance gonadorelin found in two of his dogs.
Greyhound racing has overcome many hurdles since the infamous live-baiting saga in 2015, but it was dealt a big blow last weekend when Mackay – the 2016 Melbourne Cup winner with Ando's Mac – received his suspension.
Since this news broke, there has been no shortage of people in the industry who have voiced their disappointment on Australian Racing Greyhound's Facebook page.
Many believe Mackay's suspension will only add fuel to the fire of those who want to see the sport shut down.
The positive swabs for gonadorelin – a gonadotrophic-releasing hormone which stimulates the pituitary gland to stimulate sex hormone production – were found in Mackay's runners Fantastic Raven and Zipping Maserati.
Fellow trainer Daniel Flanagan came forward and told Australian Racing Greyhound that his great mate plans to appeal his suspension.
But for an industry hurting after its latest body blow, Major made on observation that may ease the pain a little, while stressing that he is not acquainted with the Mackay case.
He believes doping of greyhounds is not as widespread as some would believe.
Analytical laboratories have some excellent tools at their disposal nowadays, and not much can get under their radar.
"It's pretty hard to keep that stuff (gonadorelin) quiet because you've got to get the stuff either on the dark web or with a vet," Major told Australian Racing Greyhound.
"If a new substance is being used, usually somebody leaks it. You've got to be sophisticated to know what you're doing and how to do it.
"You can't just pick it up at Aldi."
Mackay's two greyhounds tested positive after out-of-competition swabs were taken on June 22.
Out-of-competition testing done by the Greyhound Welfare and Integrity Commission (GWIC) is designed to catch doping activity before the illegal substances are cleared from the dogs' systems on race nights.
From comments on Australian Racing Greyhound's Facebook page, the majority of conditioners in the greyhound industry are happy to abide by these processes implemented by GWIC.
This is so they can be hopeful of having their dogs participate in a clean sport, while getting rid of those who do the wrong thing.
Major also agrees with out-of-competition testing.
But he has called on the sport's governing bodies across Australia to be absolutely clear on who is doing the wrong thing, and for their drug-testing technologies to be up to date, with well-validated tests.
That is so no innocent trainers are wrongfully suspended.
"I can understand why they want to test things like gonadotrophins and EPO (blood doping to help endurance) out of competition," Major said.
"But I would want to be happy that they were very, very confident that they were not hanging an innocent man.
"I support the direction they're going in – I just hope they're using their new technology judiciously and that they're not catching innocent people in the net."
Major would also like governing bodies across Australia to exercise the utmost caution when it comes to testing greyhounds retrospectively for banned substances.
"Two things I have always thought needed to be treated with extreme caution were out-of-competition testing and retrospective testing," he said.
"In other words, getting out old samples for a new test.
"I just think, A – it's fraught with danger, and B – you've got to say is it really helping the industry?
"I think that's the problem.
"The problem with that in horses – and I'm sure it's the same in dogs – is it might be years later and you've got a Group 1 winner.
"And all of a sudden he's disqualified from the race. It just makes the industry look worse, not better."
A number of Australian greyhounds have returned positive swabs for the banned substance cobalt, further damaging the sport's reputation.
But Major told this publication in August that it was time for governing bodies across the country to reconsider their strict stances on cobalt found in dogs.
A prominent recent case involved Rockhampton trainer Andrew Suli, who said in July he had been losing sleep over the 12-month suspension – currently on a stay of proceedings – given to him by the Queensland Racing and Integrity Commission.
READ: Suli 'dumbfounded' by cobalt testing rules for greyhounds
Cobalt was found in two of his dogs – Lines and Rockstar Lincoln – in October last year.
Suli maintains that both dogs presented with cobalt in their systems because it was in the packaged food he gave them, named Winning Edge.
There is no suggestion of bad practices from Winning Edge, nor is there any suggestion of improper practice from any regulatory body in the way it conducts its cobalt testing on participants.
There is a current limit of 100 nanograms per millilitre of cobalt allowed in greyhounds, but many trainers have argued this limit is too small.
That is because cobalt can be found in water, food and dirt.
And Major backs the collective stance of these conditioners.
"I think cobalt's overrated, and I think there are bigger problems that cobalt," Major said.
"Let's not talk anymore about cobalt, because people in the greyhound racing industry are looking around and saying 'what the hell?'
"And also, I think they (governing bodies) need to be careful … If they don't watch out, they can look worse, not better.
"They've got a number of issues they're addressing as well, like the future of greyhound racing and the number of animals which are bred and how to deal with them after their racing careers.
"They're issues they've got to address in the right way, and they are.
"But drug testing is an easy target, and they've got to make sure they're doing it for the right reasons."
Similar Greyhound Racing News