El Galo Defiant At The Top Of June AGRA Rankings

El Galo remains defiant atop the AGRA Group Greyhound Racing Rankings to the end of June 2009, despite not winning a group final in June..
Having claimed the top spot right from the outset in January courtesy of a Group 1 Adelaide Cup win, El Galo has managed to add enough points every month to persist in premier rank. In June El Galo only raced three times and onlw twice in group company, that being a heat and final of the Wangaratta Cup.
Those starts resulted in a Group 2 heat win and a narrow second to Remo Rubik in the Group 2 final. The 25 points was just enough to see El Galo stay ahead of Fedex, who depsite some indifferent form, has managed to hold second place ever since the first rankings for 2009 were released.

Fedex added another 25 points to his total as well during June to maintain the the same 15 point gap from El Galo. Those points came courtesy of just the 2 starts in June, both at Group 2 level for a second in the Group 2 Queensland Derby heat and a second in the Group 2 Final behind High Earner.
High Earner was one of the biggest movers for June 2009, rocketing up from 17th in the rankings to be sitting 120 points adrift of El Galo in 7th. High Earner to added just 40 points to his May 2009 tally of 65 points to climb to 105 points and those came courtesy of his two start at Group 2 level in the Queensland Derby, winning both his heat and final.
Mantra Lad was another significant mover for June, solidifying his top 5 ranking with a three starts in June, all at group level; running second in the Group 1 BGRC Gold Cup, running third in his Group 2 Lizrene Heat and winning the Lizrene Final. Those runs saw him add just 55 points to his tally to take him to 154 points and a clear outright third ahead of Veloctette and Lilley Criminal.
The now retired Gunnadoo Magic slips out of the top 5 for the first time this year, falling to 6th in the AGRA Rankings.
Listed below are the rankings as they stand at the end of June 2009. According to the AGRA the ranked positions are determined by a points system applied to group races on a sliding scale of points first to eighth.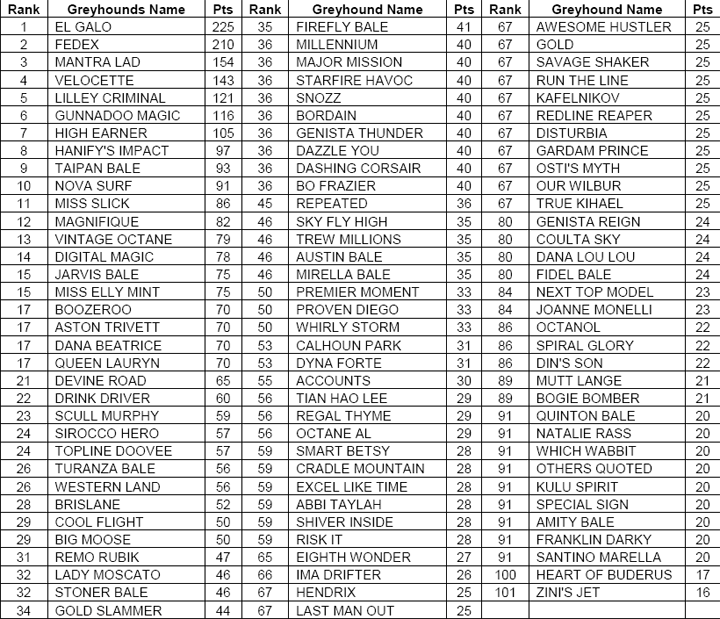 More Greyhounds News