El Galo Still Heads Up March 2009 AGRA Rankings

Despite the fact Velocette knocked off the 2009 Group 2 Horsham Cup and the Group 3 Perth Cup Consolation during March, and improved his point score from just 70 AGRA rankings points to 135, he still could not overhaul El Galo and Fedex who remain unchallenged, and unimproved on 175 points at the top of the AGRA Greyhound Rankings for March 2009.
And with races the calibre of the Group 1 Perth Cup, Group 1 Galaxy, Group 2 Queensland Futurity, Group 3 Summer Puppy Classic, Group 3 Stayers Challenge, Group 3 Sprint Challenge, Group 3 Perth Cup Consolation, all finalised during March, as well as the heats of the Group 1 Easter Egg and Group 3 Magic Maiden; you'd expect there would be quite a few changes in the rankings.
However you'd be wrong. Velcocette did as much as you could've expected during the month other than winning the Group 1 Perth Cup and improved just 65 point to be on outright third with 135 points, still 40 points adrift of El Galo and Fedex.

Lilley Criminal could not improve during the month of March and gave ground to Gunnadoo Magic who secured 20 more points, for her Group 3 Stayers Challenge win and a third in the Group 1 Galaxy Heats.
Miss Slick who wasn't even on the February 2009 leaderboard, secured sixth ahead of Digital Magic, by virtue of her Group 1 Perth Cup Heat and Final wins, as well as her Group 3 Sprinters Challenge second, all at Cannington. Given those 3 runs only netted Miss Slick 86 AGRA Greyhound ranking points, and included a Group 1 Heat and Final win, we have given up trying to work out how Fedex and El Galo scored 175 points in just 3 runs in February.
For the record, El Galo added his 175 points from just 3 runs in February, a Group 1 Temlee win at the The Meadows, followed by a Group 1 Australian Cup Semi Final win and his second to Velocette in the Final, both again at The Meadows. There was only one Group 1 win there, and it was in an invitational race, which gives the dog a bit of a head start.
Fedex too scored all his points from just three runs in February, starting with his Group 1 National Derby win at The Gardens, followed by a second to El Galo in the Group 1 Temlee and a 4th in Group 1 Australian Cup Semi Final. Again just the one win and it was in a restricted age race.
It's impossible to suggest that those two efforts over 3 races are any more impressive than Miss Slick's two wins, both at Group 1 level and a Group 3 second. The AGRA have said they readjusted the rankings system prior to this year, but clearly they have more work to do.
Listed below are the rankings as they stood at the end of March 2009. According to the AGRA the ranked positions are determined by a points system applied to group races on a sliding scale of points first to eighth.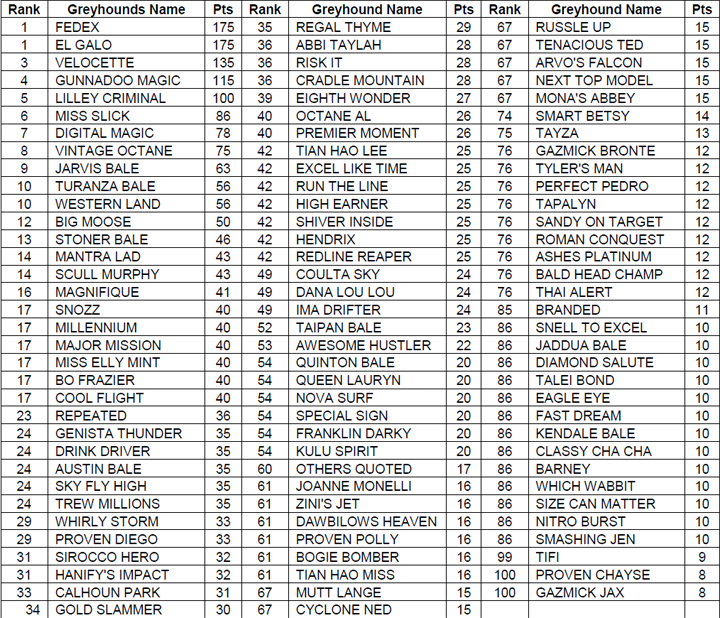 Similar Greyhound Racing News