Englund's duo ready to burn in Puppy Championship at Devonport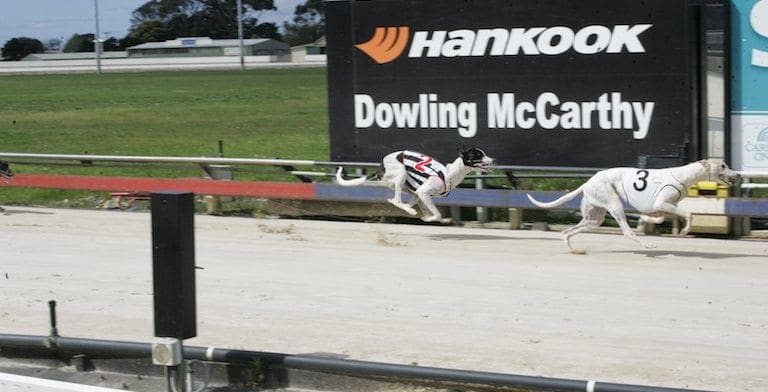 BOOM littermates Wynburn Cutie (Destini Fireball x Miss Hetti Dec '15) and Wynburn Boxer look the duo to beat in Tuesday's George and Eileen Johnston Puppy Championship (452m) at Devonport after recording sensational victories in their heats of the feature earlier this week.
Trained at Burnie by Ben Englund, Wynburn Cutie is arguably the best young greyhound in the state, winning eight of her 10 starts, including some scintillating performances at Devonport (25.66), Hobart (25.99) and Launceston (29.63).
Stepping from box three in her qualifier on Tuesday, the white and fawn bitch was poorly into stride and had to do it the hard way, charging down the outside in the home straight to defeat another brother, Hetti's Produce, by one and a half lengths in a fast 25.86.
Englund, who bred the litter with his father Tom, said it is encouraging to see his youngster racing with such tenacity.
"You see most pups when they get back to seventh or eighth that's where they stay, but the thing about her is that she just keeps going," Englund told Australian Racing Greyhound.
"She was pretty lucky to get away with it on Tuesday– she got a bit further back than I'd like to see but she is very strong and she has a great will to win."

Englund says he is excited to see what the future holds for his bonny bitch, with the belief her best racing will be over the longer journey.
"I don't really think the 452m is her ideal distance – she likes it a bit longer – but she has stacks of ability and we still haven't seen the best of her as she isn't two until December.
"She is by Destini Fireball and her mother was a stayer too. We knew breeding a stayer to a stayer we weren't going to get pups with explosive early speed, but we were looking for a bit of strength and we seem to have got that.
"I really think she will excel once she gets over more ground and there is no doubt in my mind that she'll be a very good bitch over the middle distance.
"It is very exciting for a pup to be running the sort of times that she is and its hard not to look into the future and think about how good she could be, but you've got to take it one day at a time and just pray that she holds together."
Englund got the running double on Tuesday when litter brother Wynburn Boxer took out the following heat of the Puppy Championship.
The 36-kilogram powerhouse began fairly from the three, sharing the lead on the outside of Egomaniacal (Nitro Burst x Oh So Sweet Jan '16) for the majority of the race before drawing clear in the straight to win by two lengths in 25.82.
It was his first win at start four, having also run three placings for Englund throughout his short career.

"He has thrown under the radar a bit because he had been a bit tardy away at his other starts, but he has got a lot of ability as well," Englund explained.
"He lacks experience but with time I think he will be the best box dog in the litter – it was nice to see him begin a lot better in his heat the other day."
The exciting sister and brother will jump from boxes four and five in the $3,945 to the winner final, with Englund finding it hard to split his duo.
It will be a cracking feature, with Hetti's Produce and Egomaniacal drawing boxes one and two respectively, whilst Launceston Breeders Classic winner Winklee Dutchy (Kc And All x Winklee Whisper Oct '15) will start from box six and remaining heat winner Fernando Bolt (Fernando Bale x She's All Class Dec '15) will exit the eight.
"Wynburn Cutie is a lot stronger [than Wynburn Boxer], but I don't think there is much between them over 450 and I was very impressed with Boxer's win on Tuesday," Englund said.
"If he can jump and get to the front he will be hard to beat – but then again if Cutie gets a clear crack at them she will take a lot of stopping.
"If Cutie happened to find the front I don't think there would be too many greyhounds in Tasmania which could run her down – hopefully she doesn't give them too much of a start in the final."
2017 Steve King Ladies Bracelet winner Wynburn Toozie.
T: Ben Englund O: Tom Englund @TasracingAus @GreyhoundRacing @NWGRC pic.twitter.com/fiNuiNBMxn

— Launceston GRC (@launceston_grc) September 27, 2017
Tuesday's double completed a successful 24 hours for Englund who also won the Ladies Bracelet final at Launceston on Monday night with Wynburn Toozie (Where's Pedro x Miss Hetti Jun '14).
The black bitch, who Englund rates the best he has trained, has now won 17 of her 43 starts with 12 placings and more than $42,000 in earnings.
"She has had her fair share of injury troubles, but she is back on track now and it was great to see her get that win the other day," he said.
"She is probably the best dog I've had – she even had a stint in Victoria but she didn't have much luck – and although she is three and a half now I think she is getting back to her best which is a testament to her as an athlete."
The George and Eileen Puppy Championship is race five at Devonport on Tuesday and will jump at 1.49pm.
Similar Greyhound Racing News