Ex-trainer Mullany paints bleak picture of WA greyhound racing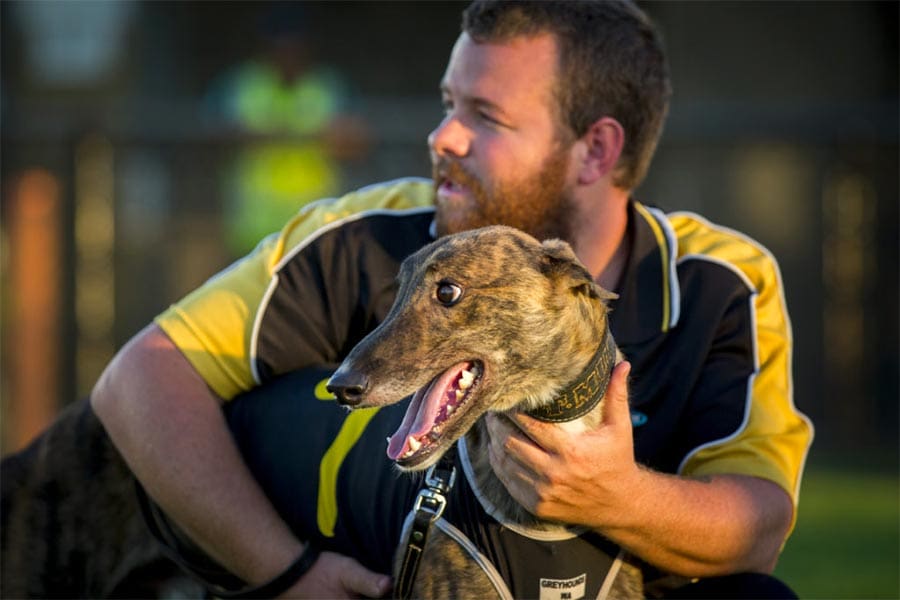 Former greyhound trainer Tim Mullany has grave concerns about the sport's future in Western Australia because he feels his peers aren't being properly compensated.
So much so, he has seen a drop in trainers and handlers who hang around for a social drink on event nights, saying they now prefer to head straight home after their races.
He fears these are the kinds of unsung but disillusioned people who could soon be lost to the sport.
And it all started over Mullany asking for what he believed was a reasonable starter's fee increase from $50 to $100 for each trainer.
But he feels his request to Racing and Wagering Western Australia was not addressed properly.
It led to Mullany – the former president of the Western Australian Greyhound Breeders Owners and Trainers Association (WAGBOTA) – having enough and leaving a sport he was once passionate about.
"I will not be a part of something when we are not getting a fair slice of the pie," Mullany told AustralianRacingGreyhound.com.
"I tried to get their (RWWA's) attention for four weeks through emails and phone calls.
"I got one response saying 'I will call you tomorrow' and it never came.
"I put up a post on Facebook and four days later RWWA officials were at my doorstep."
That Facebook post led to a $4,000 fine (with $2,000 suspended for a year) because, according to RWWA, it was disrespectful and brought the sport into disrepute.
Mullany maintains – and says he has email proof of not being responded to – that the governing body never gave him a chance to properly raise his concerns.
He said this led to his inappropriate social-media post.
Greyhound trainers in WA received an increase of $640,000 in total prizemoney over the last financial year, despite RWWA finishing with $136 million in working capital.
"And that was after RWWA took $700,000 back because of the effects of COVID," Mullany said.
Mullany lobbied RWWA for what he said was a modest starter's fee increase, believing this would have been affordable for the governing body while doubling the slice of the pie available to trainers.
Trainers have done it tough in recent times due to the COVID pandemic, as well as rising fuel and food costs, and there was a widespread feeling that this was a reasonable request.
But Mullany believes these concerns – for a total of $1.3 million to be handed out to trainers over the last financial year – were not adequately addressed by RWWA.
And he's adamant he is not the only trainer who has lost faith in greyhound racing in WA.
"We weren't asking for millions of dollars to help with extra costs after they made $136 million," Mullany said.
"Now every other state is flying, especially New South Wales, and we're going backwards.
"New South Wales gave its trainers back $8.5 million, Victoria $5.3 million and Queensland $4.6 million. And NSW and Queensland had no financial restrictions during COVID.
"Now no-one even stays at the track anymore. We drop dogs off and don't want to be around the track because everyone is doing it tough.
"It's not a good culture created by RWWA because they're not creating a level playing field.
"They'll just start losing people."
Mullany said striking was an action commonly discussed among WA trainers.
But the financial repercussions of that would have been too severe.
"By striking, the only people losing is the industry, and we can't afford to walk out because then our income goes," he said.
"A lot of trainers are feeding 40 dogs or more, so we need income.
"What if a dog needs box one, and the week you strike it could get box one?
"We're hobbled because we need income and we were willing to strike.
"But they (RWWA) don't care about us. They are happy to say greyhounds are producing record turnover, but not returning that sentiment to their industry."
Mullany is predicting generous amounts of money to soon be handed back to greyhound trainers from RWWA in the coming months.
But he is frustrated at the length of time this has taken.
"By the time of their distribution period in June-July, I wouldn't be surprised if they did something," he said.
"That's because they look silly at the moment. But why does it get to that?
"This is our frustration. We told them what we needed and it wasn't a lot of money.
"It was a drop in the ocean to keep everyone's head above water."
RWWA has confirmed it will soon announce funding increases for its greyhound trainers.
"Better-than-expected financial results for FY (financial year) 2021 encouraged RWWA to increase base stakes by 10 per cent across all greyhound race meeting types," it said in a statement to AustralianRacingGreyhound.com.
"As a recurring, long-term funding commitment, this provides greater financial returns than a one-off payment.
"The board has committed to further stakes increases, to be announced shortly."
RWWA acknowledged concerns from its greyhound trainers that they were doing it tough financially because of the ongoing pandemic.
"RWWA is fully aware that the strong current financial situation is unprecedented," the organisation said.
"As we face ongoing uncertainty in the wake of the global pandemic, it is vital to balance careful business management with delivering benefits to participants as we strive to ensure the ongoing sustainability of racing in WA."
Mullany believes communication between WA greyhound trainers and RWWA is not as strong as it used to be.
This is because he once held a prominent position as part of a working group, which included WAGBOTA, and that collective group had direct access to RWWA, in order to have its concerns heard.
RWWA believes WA greyhound trainers still have a direct avenue to voice their concerns.
"Consultation between Racing and Wagering Western Australia and the greyhound racing community is regular and open," RWWA said in its statement.
"Formal consultation is held with WA Greyhound Breeders, Owners and Trainers Association and Greyhounds WA through the Greyhound Racing Consultative Group."
But Mullany said this working group, with RWWA's CEO Ian Edwards and chief racing officer Charlotte Mills at the top, had its power weakened last year.
"RWWA has a consultation group that has the CEO and racing officer there, but the consultation group does not get to vote on what goes ahead and what doesn't," Mullany said.
"The working group that got weakened had a (RWWA) board member on it, so it had direct contact with the industry on why it was asking about certain things.
"Now we have to rely on what the CEO and racing officer are expressing to the (RWWA) board, and the importance of each topic that they're passing on.
"We don't know what goes on, whereas before we had direct contact."
RWWA is satisfied with the consultation process it currently has in place with its greyhound trainers and handlers.
"All matters relating to greyhounds are discussed, including funding arrangements and any issues raised by participants through those channels," RWWA said.
"Importantly, the operation of the consultative group does not prevent any other person or organisation linked to greyhound racing from contacting RWWA, nor does it prevent RWWA from requesting discussion outside the nominated group.
"Greyhound racing participants can and do contact the RWWA team directly.
"RWWA held an open industry outreach session on 19 December 2021, to offer an update on important topics such as funding and give participants the chance to ask questions and speak directly to members of the executive and board."
Mullany said the final cause for him to walk away from the greyhound industry in WA was because he was told not to organise a strike as there would be more funding coming for trainers across the state.
He said those funds did not arrive.
"The RWWA executive told us not to strike and said 'yes' to the extra funding," he said.
"Then six weeks later it got knocked back by the RWWA board. We have no link to the board, and the RWWA executive is just a voice-piece to the board.
"It does not vote or make decisions.
"So participants have no access to communicate to the people who make the decisions.
"Instead, the people who are paid by RWWA plead our cause, so there are never good results.
"That was why the former consultative group worked, because in our meetings the board was present."
Similar Greyhound Racing News