From anti-racing to proud pro racer for WA mum of two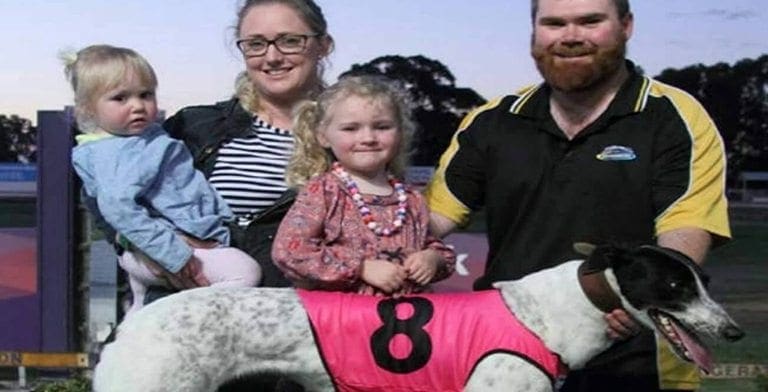 JUST a couple of years ago, Perth local Karis Turner was as against greyhound racing as a person could be.
The 30-year-old had heard all the horror stories related to the greyhound racing industry and was a staunch opponent – until one day her husband Morgan, 33, came home with plans of buying his own greyhound pup.
Turner said she was firmly against the idea of buying into a greyhound – telling her husband she wanted 'nothing to do with it'.
"We were into show dogs and we bought and built a kennel property with the intention of doing dog boarding, which we still do," Turner explained.
"My husband worked with a trainer named Murray Ion who had a litter of pups and one day he came home and told me he wanted to get into greyhounds.
"I was 100 per cent against greyhound racing so when Morgan decided he was going to buy a greyhound I told him I didn't want anything to do with it because I didn't believe in it."
Despite her husband owning a race dog, Turner said she still remained firm on having no involvement in the sport because of what she had heard about the racing industry.
"I had heard all the horror stories about greyhound racing in regards to cruelty, live baiting and doping – so I wanted nothing to do with it," she said.
"There is a lot of propaganda out there – stories like people shooting dogs which don't perform well – it can be quite overwhelming when you hear things like that."
However, pretty soon it became obvious that her husband's hobby was not going away – so Turner made the decision to find out more about the industry.
"There was a GAP open day at Linda Britton's property so I thought the least I could do was to see for myself how the dogs were treated.
"There were so many dogs on the property, but every single dog was in immaculate condition – they were happy, healthy dogs with wagging tails.
"It was then I realised how different reality is from what the anti-racing groups portray in the media.
"That's where it all started – I knew from then all the lies weren't true."
Although there were still some reservations, Turner soon found herself thrown into the deep end.
"After a while Morgan decided he wanted to have a go at training himself – so he got his licence and the dog came home to live with us.
"He was working FIFO so I basically ended up looking after the dog half of the time and it didn't take me long to fall in love with him.
"That greyhound's name was Double Joint – he is now retired and sleeps on our bed – and when Morgan was working I would take him to the track – straight away I could see how excited he would get when we pulled up on race night – it was so obvious that he wanted to be there.
"Every greyhound we have had since is exactly the same – they just want to race."
Turner says she now regrets her past feelings about the industry and urges all those unsure of their thoughts regarding greyhound racing to meet a trainer and see for yourself.
"You can understand why people believe the bad things in the media – they have these images of sad looking dogs and, while I know it is all lies now, it's not until you get into the industry and have a look behind the scenes you [learn the truth because until then you] don't really have a lot to go off.
"I am not saying there are no bad people in the industry – there obviously are just like any other industry – but don't tar everyone with the same brush as them because that's not the way it is.
"We have formed some really good friendships within the greyhound industry and everyone I have met is in the same position as us – they love their dogs and they treat them the best way a dog could possibly be treated."
There will be no slowing down in the future either, with three greyhounds in work and some young pups on the ground.
"We have nine month old puppies on the ground, a litter due in three weeks and a brood bitch in pup who we plan on breeding with later in the year," Turner said.
"It is very hectic, but we love the greyhound industry now and I think we will be involved for a long while."