George Schofield Inducted To Hall Of Fame

Greyhound Racing Victoria (GRV) tonight launched its Victorian Greyhound Racing Hall of Fame at Sandown Greyhound Racing Club.
George Schofield has tonight been announced as one of the inaugural 36 inductees in to the Victorian Greyhound Racing Hall Of Fame.
Hall Of Fame Inductee : George Schofield (Administrator)
George Schofield is the only surviving 'Pioneer' to be inducted into Victorian greyhound racing's Hall of Fame and, quite remarkably, the 91 year old continues to contribute to the sport today through his work as a canine chiropractor.

Working from a shed on his property located 30 minutes north of Melbourne in Yuroke, Schofield's talents aren't limited to the greyhound industry. People drive for miles to have George run his healing hands over their injured domestic pets.
"I love to see [injured] dogs get better, especially little paralysed ones. When I see a dog that can't move, and then watch it get up and walk away it is better than all the money in the world", George said recently.
Schofield has been applying his chiropractic skills for over 50 years. He works six days a week from 10am – 4.40pm, having Tuesdays off to "tidy things up around the place", and even these days it is not uncommon to have to queue in line for up to an hour for his services.
"I've checked all different types of animals. It's something that comes naturally to me. At first I didn't charge people. Then I went from charging nothing to charging a silver coin, then from a silver coin to one dollar and then from one dollar to 10 dollars", he said.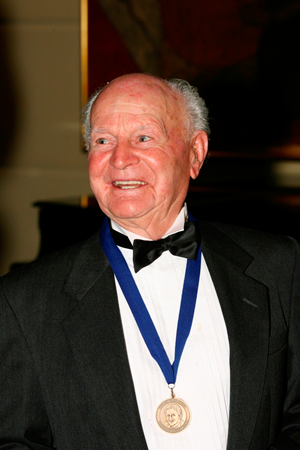 This is certainly cheaper than your average veterinary visit, and Schofield's many years of experience in greyhound racing means his knowledge of the mechanics of race dogs and the injuries they can sustain is expansive.
"Some wild men had greyhounds when I first got into the sport. I always wanted to get into the administration side of things for the betterment of greyhound racing", said Schofield, who also spent time in administration with the Greyhound Racing Control Board [GRCB], the Melbourne Greyhound Racing Association [MGRA] and the Ballarat Greyhound Racing Club.
Schofield fought long and hard for the benefit of Victorian owners, trainers and breeders in an era in which the industry of today would struggle to comprehend.
Schofield's son-in-law Dr. John Stephens, the CEO of Greyhound Racing Victoria, explained that administering greyhound racing was particularly tough in George's era.
"The administrators of yesteryear paved the way for the standards of today. In the old days there was something like 1500 members of the GOTBA and George was on the Executive. The GOTBA was like the union for greyhound racing", Dr. Stephens said.
"Increases in prize money was not a given, nor were things like racing vests and kennel blocks that were of a today's standard. George fought hard for a lot of those sorts of things as well as open box draws which for years were conducted by the race clubs. The administrators worked extremely hard to put systems in place that could guarantee the integrity of the sport", Dr. Stephens added.
Schofield's time as a committeeman at the Ballarat Greyhound Racing Club was also critical as he worked with the GOTBA to save the club from extinction, while another interesting chapter in his life came with his involvement with a greyhound called Shan's View. George purchased Shan's View just prior to the 1960 Australian Cup for the then unheard of price of 2,000 pounds [this was a time when 800 pounds bought you a house].
Shan's View was an odds on favourite in the Australian Cup final, but tragically broke down, ending his career. With a four kids aged six and under, it is fair to say that the injury left George's wife Marie relatively unimpressed with her husband's investment.
However, Schofield then put Shan's View to stud, and he later became a champion sire of his day.
An indication of Shan's View's great success as a stud dog in the 1960's is that he produced the most city winners [200] in any one year. That figure would make any modern day sire proud, yet he achieved this from half the number of litters that present day sires produce. Some of his progeny included 'The Stripper', 'Fawn Scout' and 'Bid's View', who all went on to become great sires in their own right.
Another to have an impact on both the racetrack and the breeding scene was Tebessa, who was trained by Schofield. Tebessa broke the track record at Sandown over the staying distance and produced a long line of great greyhounds.
During his lifetime George has been an owner, trainer, breeder, rearer, stud master, chiropractor and administrator. He was even a bookmaker at the Sandown, Ballarat and North Melbourne [MGRA] clubs when he returned from four years of war service in 1945.
Incidentally, Schofield was born in Lavington NSW in 1918. He left school at age 14 and worked milking cows for 5 shillings a week and walked greyhounds for Bert Stewart.
"I went to school in Albury. Mr. Stewart trained greyhounds and his son Wally was a good friend of mine. We walked Mr. Stewart's dogs together", George recalled.
Being a person that was "always prepared to listen and ask questions", Schofield was destined to have a long career in greyhound racing.
He came to Melbourne in 1936 and worked in a confectionery shop in Nicholson St Fitzroy but continued his involvement with the sport, handling 'Iky' and 'Coburg Laddie' for Charlie Haysom, who both won at Napier Park. Then, prize money was 5 quid for owners – and handling greyhounds was for love not money.
George then moved to Newmarket and worked baking bread and training whippets, which raced in between greyhound events at White City, with Two Pounds and 10 Shillings being the winner's prize. He worked night shifts in Footscray and Brunswick but trained dogs for the boss when he "knocked off".
To think that someone who has had such an impact on the canine world and on greyhound racing in particular is still actively contributing to the sport today is as fitting as it is staggering. His entry into the Victorian Hall of Fame comes along with the 2006 Ken Carr Medal, an award that is considered as greyhound racing's equivalent to the Brownlow Medal, and the Order of Australian Medal he received in 2009.
George Schofield – welcome to the Hall of Fame.
Notable Acheivements
Greyhound Racing Control Board [GRCB] Member for 16 years [1966-82]
Melbourne Greyhound Racing Association [MGRA] Director for eight [1982-90]
Ballarat Greyhound Racing Club Committeeman for 10 years
Life Member with the GOTBA, MGRA and the Ballarat GRC
Canine chiropractor for over 50 years
Leading stud master during the 1960s
Sandown Greyhound Racing Club Member since 1957p
Ken Carr Medallist in 2006
Order of Australia Medallist [OAM] in 2009
The 36 Victorian Greyhound Racing Hall of Fame inductees are in three broad categories:
The Pioneers (8) – recognised by the selection committee as having shaped Greyhound Racing's early days.
The People (15) – includes trainers, breeders, owners, administrators and other prominent personalities.
The Greyhounds (13) – includes achievements on the racetrack and at stud.
The 36 inductees are as follows:
PIONEERS [8]
Noel Banks – Administrator
Byamee – Coursing Greyhound
Silvester Doyle – Administrator
Chris Flint – Administrator
Ray Herbert – Trainer
Roy Maidment – Administrator
John 'Jack' McKenna – Administrator
George Schofield – Administrator

GREYHOUNDS [13]

Bold Trease – Racing Greyhound
Brett Lee – Racing Greyhound
Chariot Supreme – Breeding Greyhound
Cheltenham Lass – Racing Greyhound
China Trip – Racing Greyhound
Head Honcho – Breeding Greyhound
Highly Blessed – Racing Greyhound
Kantarn Bale – Racing Greyhound
Lizrene – Racing Greyhound
Odearo – Racing Greyhound
Rookie Rebel – Racing Greyhound
Temlee – Breeding Greyhound
Wee Sal – Breeding Greyhound

PEOPLE [15]

Graeme Bate – Trainer
Fred Booth – Studmaster
Ned Bryant – Trainer
Ken Carr – Administrator
William 'Bill' Conroy – Administrator
Rod Deakin – Breeder
Jim Gannon – Veterinarian
Henry Harrison – Administrator
Dave Hodgson – Canine Chiropractor
Paul Hogan – Breeder/Trainer
Stan Lake – Administrator
Harold Matthews – Administrator
Ron Nestor – Administrator
Bill Pearson – Media
Margaret Thomas – Administrator
All future Victorian Hall of Fame inductees will be announced at the annual Victorian Greyhound Industry Awards, with a maximum of four inductees in any given year.
Similar Greyhound Racing News