Gold Bullion win the stuff of dreams for Travis Elson & Hello Mike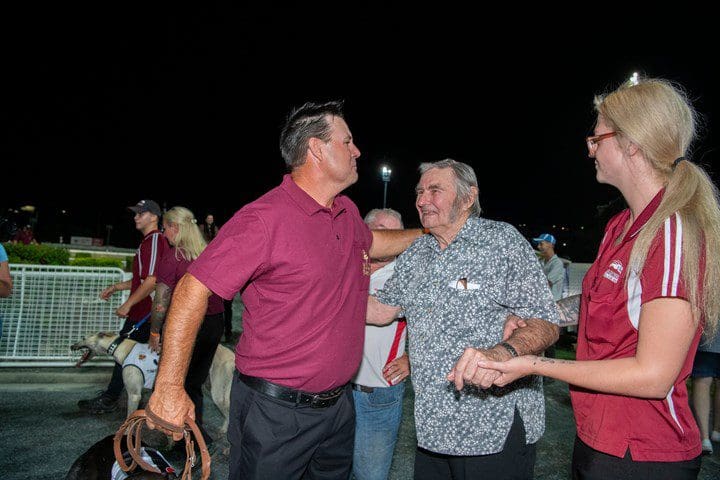 Travis Elson said he could not have arranged a better box draw for Hello Mike heading into the Gold Bullion Final at Albion Park, and he could not have dreamt for a better evening.
Of course, that would not have been without a few heart flutters after his two-year-old triumphed from his inside No.2 box in 29.90 seconds in the Group 1 race worth $359,375 at Albion Park.
Still with two lengths to make up on leader Times Three after rounding the first turn in the 520m dash, the two-year-old showed the same determination of Elson's father Bill – beset with dementia – to keep pushing forward.
And after rounding the turn for home, a clever Hello Mike slid up on the inside to beat eventual runner-up Jay Is Jay to the line by 1 ¼ lengths.
Before the race, Elson told this publication he could not have wished for a better box draw, mentioning the No.2 lane was his pet starting position.
And with his inspirational father trackside, the Yandina Creek conditioner could also not have wished for anything more when his chaser saluted.
"Jay Is Jay started bumping with Times Three, I got the gap up the fence and he just finished brilliantly," Elson told Racing Queensland after the race.
"Every dog in that race was deserving to be in that final. I was just so lucky with the draw – it really helped him."
Elson sought out his father as soon as he could after the completion of the feature event.
Travis and his wife Cyndie brought Cyndie's Magic to Albion Park for shots at Group 1 glory, only to place four times at the elite level.
But it was Bill who told his son he would bring up his family's greatest moment in racing – not long after he was diagnosed with dementia.
"Dad gave me the dog when he got diagnosed and they had a lot on their plate with doctors," an emotional Elson said.
"He gave me four dogs and said 'I'm going to give you a Group dog, son … you're going to win a good race with this dog', and he was spot on."
It was no wonder Elson had tears in his eyes after achieving something he worked so hard on for so long.
And he had his family there to celebrate with him.
Both Elson's parents, his wife and children were in attendance to witness the incredible come-from-behind victory.
"I said 'what did you think Dad?' and he said 'I knew he was going to win'," Elson said.
"It was really overwhelming, and I know for my family and for Mum it has really hit home as a great win, and I just hope it has for Dad as well.
"I don't think he's at his best tonight, we probably won't see him at the track much more.
"And, Mum doesn't get to the track very often at all so it's very special to have her here.
"It's a big family affair. My daughter Summer has been with me for this whole ride with the dog over the holidays, taking him to the track and helping at home."
When the Greg Deering-trained Times Three crossed Hello Mike early, for a brief moment it looked like the $2.70 favourite's task to run him down might have been too steep.
Particularly when Elson wanted Hello Mike to use his inside lane to his advantage and establish an early lead.
But the experience Sunshine Coast conditioner had every bit of faith his young star would finish in the fashion he did, in what was a thrilling Group 1 race.
"He jumped well and he got a couple of buffers going down the straight," Elson said.
"He kicked up, but the three got around him and I thought he could sit in second and run him down."
Now with a maiden Group 1 to his name against a quality Queensland and New South field of chasers, Elson is also now dreaming of what could be possible with Hello Mike in Sydney.
"I've always dreamed of going down and racing at Wentworth Park – I've never raced there," he said.
"To go down and trial the dog and give him a go at an Easter Egg, I've got to have a go.
"That will probably be the plan, to go down and trial and see whether he handles the track."
2023 Albion Park – Gold Bullion (520m) Race Replay 02/02/23
1st: Hello Mike (2) – 29.90 seconds

Similar Greyhound Racing News