Greyhound racing in time: Butcher's record On Fire, "Kilty" Maturity's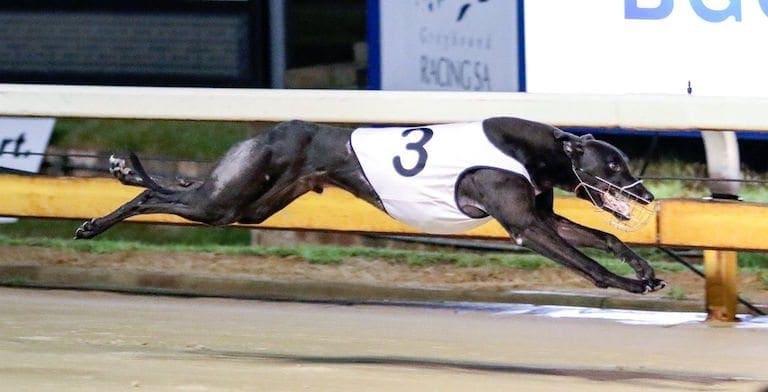 2017
On Fire puts Cameron Butcher in to the records books with a 13th consecutive win at Angle Park.
Duncan Stearn takes a look at the career of 1986 Maturity Classic winner Pharaoh's Mask.
Victorian trainer outed over caffeine swab.
2016
If there was a single turning point in the NSW greyhound ban it was the Fair Go Rally. It was on this day two years ago that the call went out for the Hyde Park greyhound racing supporters rally.
Warrnambool trainer Ray Drew was getting excited about the prospects of his dog Kilty Express in the Group 1 Maturity Classic. The Drew families faith in their charge was rewarded when Kilty Express provided them their biggest win.
GRV claim stewards and racing analytical labs will now be able to differentiate between naturally occurring testosterone levels, and testosterone found to have been administered to greyhounds to enhance performance.
GRV establish a greyhound investigations hotline which is available 24 hours a day year around.
2015
Bruce Teague applauds the GRV announcement to starts trials of the finish on lure at Geelong.
2014
Mepunga Tiara exceeded all expectations of trainer Jeff Britton by taking out the Victorian National Distance Championship final at The Meadows. Britton had earlier reported he was hopeful the bitch might be able to run a place.
Molly Haines reports on the 50/1 bolter You For Real who took out the WestChase final for trainer Ben Abercrombie.
2013
Trainer Troy Iwanyk thinks his dog Crump has what it takes to upset favourite Schroder Bale in the Group 1 Maturity Classic final.
2011
Bruce Teague tackles one of his most controversial topics, how often should greyhounds race and what length of time between runs is optimal for performance and greyhound health?
Kilty Lad will join the exclusive ranks of some of the sports elite greyhounds if he can successfully complete the Silver Chief – Maturity Classic double.
2010
Graeme Bate's annual pilgrimage to Darwin for the Group 3 Darwin Cup heats is set to reap rewards as the leading Victorian trainer holds all the cards in the $20,000 to the winner final.
Then NSW greyhound trainer Anthony Azzopardi makes a late bid to have his greyhound Seek And Destroy cleared to race in the Dapto Megastar final.
2009
Victorian greyhound trainer Del Vigor is handed a one month disqualification over a positive swab to an NSAID.
Nine years ago Queensland greyhound racing was still pumping up the tyres on the yet to be built new greyhound track for Logan. In 2018 we are all still waiting.
Then NSW greyhound trainer Anthony Azzopardi makes a late bid to have his greyhound Seek And Destroy cleared to race in the Dapto Megastar final.
Master trainer John Westerlo took out the feature event at the Charlton Coursing Club meeting held at Healesville with Storm Fury with the greyhound owned by his wife Carol
Some talented greyhounds heated the atmosphere on a cold wet night of greyhound racing in the nation's capital.
Australia's peak greyhound body Greyhounds Australasia makes a commitment to eradicate the use of Fertagyl, EPO and Hyrdocortisone from greyhound racing in the country.