Highly Blessed Inducted To Hall Of Fame

Greyhound Racing Victoria (GRV) tonight launched its Victorian Greyhound Racing Hall of Fame at Sandown Greyhound Racing Club.
Highly Blessed has tonight been announced as one of the inaugural 36 inductees in to the Victorian Greyhound Racing Hall Of Fame.
Hall Of Fame Inductee : Highly Blessed (Racing Greyhound)
Highly Blessed had a God-given talent. Perhaps the divinity was a result of her dam (I'm Blessed) being blessed by a Catholic priest in Queensland.

Doug and Lorraine Ferremi had offered I'm Blessed to a nephew who had been blinded in an accident on the proviso she be returned to Victoria for breeding purposes.
Subsequently bred and raced by the Ferremis of Kialla, Highly Blessed was the golden girl of greyhound racing in the early 1990s.
Dubbed the "Shepparton Flash" by industry scribes, Highly Blessed commenced her career on October 1, 1989. She contested 55 races for 38 wins and retired on May 28, 1992 with a then Australian record $294,565 in stakes.
But as a pup, Highly Blessed was somewhat of a loner.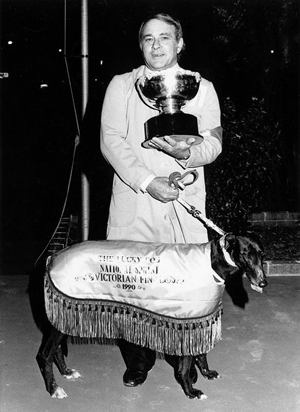 "She didn't really mix with her littermates… She'd stand by herself at the gate, waiting to be fed," Doug Ferremi said.
"But when the pups were free galloping she'd jump over the top of them to get to the front… She had her own idiosyncrasies and was different from the other pups."
The Ferremis realised at breaking-in stage that Highly Blessed was "something special".
"She was well above average while undergoing her pre-race education," Ferremi said. "We knew she was going to be top class right from the start."
And they were to prove prophetic words…
Between November 1990 and March 1991, Highly Blessed put the seal on her greatness winning four major finals – 1990 Melbourne Cup, 1990 XXXX Trophy, 1991 Adelaide Cup and 1991 Golden Easter Egg.
"Those wins were huge thrills… But none was better than the other," Ferremi said.
"She invariably drew bad boxes in big races… At times I couldn't believe it, but it didn't worry her as she was brilliant out of the boxes."
Highly Blessed also won the inaugural 1990 Gold Collar and 1990 Shepparton Cup, and finished third in the 1990 National Sprint Championship grand final.
On the night the curtain fell on her illustrious career, the Sandown Greyhound Racing Club – on behalf of the World Greyhound Racing Federation – presented the Ferremis with an award for Highly Blessed's selection in the 1991 All World Greyhound Field.
Highly Blessed had been voted by the WGRF as one of the world's best eight greyhounds.
She and dual national sprint champion Sandi's Me Mum at the time were the only two greyhounds outside North America to be selected.
She also won the 1990/91 Racing Animal of the Year, which was presented by the Variety Club.
Highly Blessed was one of Australian greyhound racing's most marketable products during her heyday – a canine PR machine for the sport.
She was even the subject of a human interest story on Channel Nine's A Current Affair, which was fantastic exposure on national television.
Highly Blessed provided the Ferremis with some magical moments they will cherish for life.
But the biggest disappointment they experienced was that Highly Blessed could not be considered for the 1990 Victorian Greyhound of the Year (GOTY) award.
Highly Blessed was deemed ineligible for the GOTY as she failed to satisfy a 15 metropolitan races stipulation, having only contested 14 city races during 1990.
Highly Blessed was suffering from deteriorating health and cancer when she died on February 10, 1999 – aged 11 years and three days.
Notable Acheivements
Winner 1990 Group 1 Melbourne Cup
Winner 1990 XXXX Trophy
Winner 1991 Group 1 Adelaide Cup
Winner 1991 Group 1 Golden Easter Egg
Winner 1990 Group 2 Shepparton Cup
The 36 Victorian Greyhound Racing Hall of Fame inductees are in three broad categories:
The Pioneers (8) – recognised by the selection committee as having shaped Greyhound Racing's early days.
The People (15) – includes trainers, breeders, owners, administrators and other prominent personalities.
The Greyhounds (13) – includes achievements on the racetrack and at stud.
The 36 inductees are as follows:
PIONEERS [8]
Noel Banks – Administrator
Byamee – Coursing Greyhound
Silvester Doyle – Administrator
Chris Flint – Administrator
Ray Herbert – Trainer
Roy Maidment – Administrator
John 'Jack' McKenna – Administrator
George Schofield – Administrator

GREYHOUNDS [13]

Bold Trease – Racing Greyhound
Brett Lee – Racing Greyhound
Chariot Supreme – Breeding Greyhound
Cheltenham Lass – Racing Greyhound
China Trip – Racing Greyhound
Head Honcho – Breeding Greyhound
Highly Blessed – Racing Greyhound
Kantarn Bale – Racing Greyhound
Lizrene – Racing Greyhound
Odearo – Racing Greyhound
Rookie Rebel – Racing Greyhound
Temlee – Breeding Greyhound
Wee Sal – Breeding Greyhound

PEOPLE [15]

Graeme Bate – Trainer
Fred Booth – Studmaster
Ned Bryant – Trainer
Ken Carr – Administrator
William 'Bill' Conroy – Administrator
Rod Deakin – Breeder
Jim Gannon – Veterinarian
Henry Harrison – Administrator
Dave Hodgson – Canine Chiropractor
Paul Hogan – Breeder/Trainer
Stan Lake – Administrator
Harold Matthews – Administrator
Ron Nestor – Administrator
Bill Pearson – Media
Margaret Thomas – Administrator
All future Victorian Hall of Fame inductees will be announced at the annual Victorian Greyhound Industry Awards, with a maximum of four inductees in any given year.