Bunyip Bint: speed without heart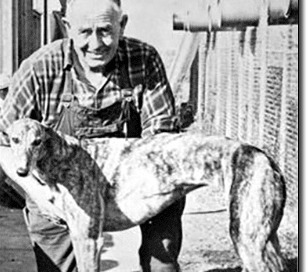 TRAINED by the great mentor Stan Cleverley (pictured), when he was at the height of his powers, Bunyip Bint was arguably one of the fastest staying greyhounds to have ever raced in Australia. Without doubt, she was one of the most erratic and temperamental: a world-beater one day, a dismal non-chaser the next, although a spate of injuries didn't help in her lack of 'heart'.
Bunyip Bint (Armatree Prince x Woburn Lass) was a brindle bitch whelped in August 1966. She had her first start in March 1968 in a maiden final over 580 yards at Wentworth Park, finishing a 14-lengths last of the six runners. Found to be injured after the race, it was just over five weeks before she returned to the track.
It was clear her forte was going to be as a stayer and Bunyip Bint broke her maiden status on 15 April over 800 yards at Temora, scoring by three-and-a-half-lengths.
Brought back to the city, Bunyip Bint contested a Fourth Grade race over 800 yards at Harold Park, but finished a seven-lengths sixth of the seven starters behind Candy Clare. The winner ran a pedestrian 44.6. The best of the night was a sensational 43.3, just 1/10th outside the track record, run by the up-and-coming Zoom Top.
On May 13, Bunyip Bint contested a semi-final of the Jockey and Trainer's Cup over 790 yards at Wentworth Park. Leading into the first turn she suddenly ran off, eased down, and finished in last place, beaten 12 lengths.
Bunyip Bint had injured a shoulder and did not race again for more than four months.
Resuming over 555 yards at Dapto in September, Bunyip Bint ran seventh, just over 20 lengths from the winner. She then won narrowly over 675 yards at Bulli on October 16.
At Harold Park on November 2, Bunyip Bint finally showed why she remained in Cleverley's care, jumping straight to the lead and streaking away and score by 15 lengths, running a sizzling 43.3, easily the best of the night.
A week later she repeated the dose, leading all the way to win by five lengths, again in 43.3.
The Summer Cup beckoned, with only Zoom Top regarded as a serious rival. After winning her qualifying heat, she destroyed Fawn Mink in her semi-final on November 30, leading all the way to score once more by 15 lengths. Her time of 43.0 smashed the hand-timed 14-year-old track record of 43.2 held by Bright Pleasure.
Zoom Top won her semi-final in a fast 43.4, her kennelmate and litter sister Busy's Charm scored in 43.5, and Master Jollywon the remaining run-off in 43.9. These results led to much discussion about the final being a match in two: Bunyip Bint and Zoom Top, with the former favoured to score if she reached the lead early.
More than 13,000 people packed into Harold Park for the December 7 final with Bunyip Bint the 8/11 favourite from box two ahead of Zoom Top (box four) at 2/1.
At box rise, both Tihero and Bunyip Bint began well and raced together towards the first turn. When Tihero managed to hold out the brindle flyer, she virtually gave up. Bunyip Bint came out of the turn in fifth place and steadily lost ground, eventually tailing the field almost 16 lengths adrift of Zoom Top, who downed Busy's Charm in 43.5.
Bunyip Bint returned on December 28 in a heat of the Stayer's Christmas Gift at Harold Park. Once more she was opposed to Zoom Top, and once more was found wanting. Zoom Top notched her eighth successive victory in scoring by six lengths in a fast 43.4; Bunyip Bint ran seventh and last, over 14 lengths away.
Bunyip Bint's first start for 1969 came in January over 754 yards at Gosford where she ran fifth of six starters, beaten almost 13 lengths by the smart Diamond Au Go Go.
Thinking a change of scenery and racing surface (grass to sand) might help, Cleverley took Bunyip Bint to Sandown Park on 20 February. Drawn in box one over the 785 yards journey she began well but pulled up at the first turn and trailed home in seventh place. Once more she appeared to have been injured.
Cleverley sent Bunyip Bint back to her owner Fred Gawne's farm to freshen up. On the farm she was soon looking keen to get back to racing and, when Gawne tailed her over the sprint course at Temora and she broke the track record, he knew she was ready for real racing again.
Eight months had gone by but when she came back Cleverley assured racegoers they would see the best of her. For nearly two months they did.
Resuming on October 23 over 790 yards at Dapto, Bunyip Bint won by two lengths in a best of the night 43.9. As Cleverley promised, the brindle star was back. Perhaps even he wouldn't have believed what she would do in her next four outings.
On November 8, Bunyip Bint clashed with Zoom Top for the third time, again at Harold Park. Zoom Top had raced just two nights earlier in winning the NCA Cup over 785 yards at Sandown Park, looking tired as she passed the post.
A crowd of almost 12,000 turned out to see what proved to be one of the most sensational races of all time. Bunyip Bint began well and drove into the lead in the long run to the first turn. Zoom Top joined her briefly in that surge to the first corner but was unable to put pressure on Bunyip Bint. The track record holder hugged the fence and as the field swept to the back she led Zoom Top by two lengths. Powering away from this point on Bunyip Bint cruised home an official six lengths, but a definite eight lengths, clear of Zoom Top. The time was semaphored at an incredible 42.7, smashing her own mark by 3/10ths. That night no greyhound in Australia could have beaten Bunyip Bint.
It's worth noting Zoom Top's time would have been about 43.23, her fastest run at Harold Park.
On November 15, Bunyip Bint and Zoom Top clashed again, this time in a best-8 trophy event over 760 yards at Goulburn. On a wet day the field went to the boxes wearing plastic raincoats and Hec Watt, the owner-trainer of Zoom Top, erred badly by failing to remove the raincoat when placing his champion in the boxes. Hampered by the raincoat, Zoom Top came home in last place while Bunyip Bint speared out of box one in the six-dog field and scored by seven lengths in 41.5, equalling the track record.
Zoom Top was found to be injured after the race and would not race again for seven weeks.
Bunyip Bint contested the Summer Cup series and on November 29 blazed around Harold Park to win her semi-final by 15 lengths. Once more she ran an incredible 42.7, equalling her track record. It would be five years before another greyhound (Miss High Lo) would run two sub-43-second races at Harold Park.
The Summer Cup looked at her mercy and so it proved. From box seven she gave nothing else a chance, steaming home 10 lengths clear and running 43.2. This equalled the old track record and gave her four of the five fastest victories ever registered at Harold Park to that time.
With five successive wins to her credit, Bunyip Bint contested the Frank Kennedy Trophy over 800 yards at Richmond on 12 December. In a close-fought race Arthur's Jet prevailed by just three-quarters-of-a-length from Flying Holly with Bunyip Bint a half-length away third. Arthur's Jet ran a track record 46.5.
Bunyip Bint's last few races appear to be quite spaced, although no records are readily available.
Included in these was the Gold Cup (an invitation event) over 700 yards at Singleton on March 11, 1970. In what was essentially a four-dog match race it marked the fourth and final clash between Bunyip Bint and Zoom Top. From box one Zoom Top went straight to the lead and was chased all the way by Bunyip Bint, eventually defeating her by just over a length in a fast 37.6.
Bunyip Bint then finished eighth behind Sheer Blonde at Wentworth Park on March 23. She was found to have injured a foot and was off the scene for just over two months.
She resumed on May 30 and finished last behind Heather Revin a semi-final of the Association Cup at Harold Park. According to the Greyhound Recorder, this was her 25th race start and she had registered 12 wins, one second and two thirds.
Bunyip Bint returned on 4 July and scored a six-length win in 43.3 over the smart Mustard Moss in a Harold Park Invitation Stake.
On July 14 the brindle star recorded her eighth and last victory at Harold Park, downing Sheer Blonde, Nateeka, and Mustard Mossby 10 lengths in 43.3.
Cleverley took Bunyip Bint back to Victoria where she contested an 800 yards event at Olympic Park, on July 27. She finished last behind the classy Saki Dasher (who had now won six of her previous seven starts), and once more was injured, this time in the shoulder.
The very last start I have for her is on August 22 when she ran sixth behind the mighty Travel Revat Harold Park. She was more than likely retired soon after this.
Adding in the Greyhound Recorder's statistics, it looks as though Bunyip Bint raced 29 times for 14 wins, one second, two thirds, and 12 unplaced runs.
Bunyip Bint remains as perhaps the most classic example of a greyhound possessed of immense speed and ability, but one which lacked that key ingredient of the true champion: a will to win against all odds.
Sign-up with Crownbet and get $650 in free bet bonuses.